Today I'll be writing about the I14 TWS Earbuds. Obviously, they're almost an identical clone of a well-known brand, the one named after a piece of fruit.
Clones of AirPods are everywhere, they all seem to have the same capabilities of their branded counterparts. Some even have more!
True Wireless Stereo (TWS) are great for a cable-free audio listening experience, and if decent enough, more enjoyable than a cabled pair of earphones.
The I14 TWS Earbuds are even recognised as a pair of genuine AirPods on my iPhone. So, must be some technology copying somewhere.
But are they any good? Sound Quality? Time to test them out!
Packaging and Contents.
The I14 TWS Earbuds come packaged in a white cardboard box which features product images and specifications printed on it. The box measures 9.0cm x 9.0cm x 3.5cm and weighs 85G.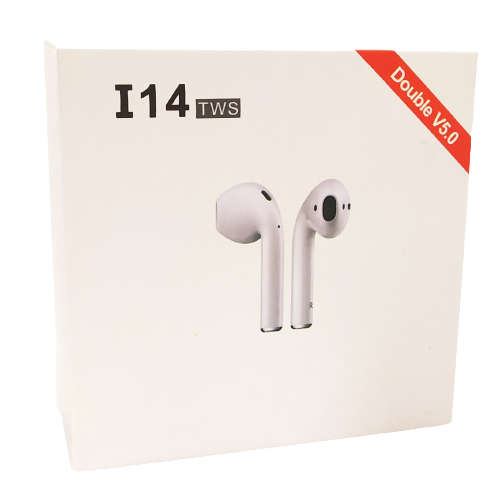 Inside the box you'll find the following: 1x Pair of Earbuds, 1x Charging Case, 1x Lightning Cable, 1x Chinese/English User Guide.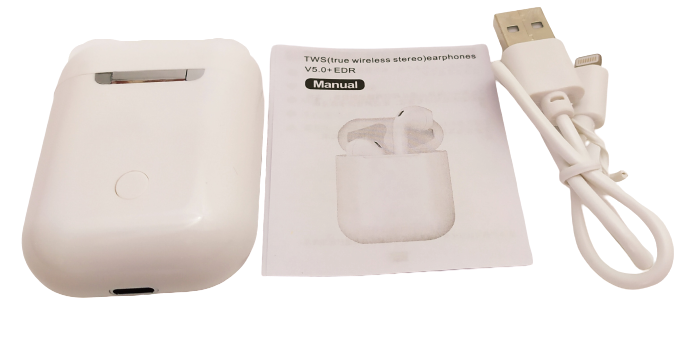 I14 TWS Earbuds.
The I14 TWS Earbuds are white in colour, each earbud measures 4.2cm in length and weigh just 3.2G each. The included Lighting Cable measures 30.0cm in length, and even works on your iPhone too, without the dreaded accessory not supported message.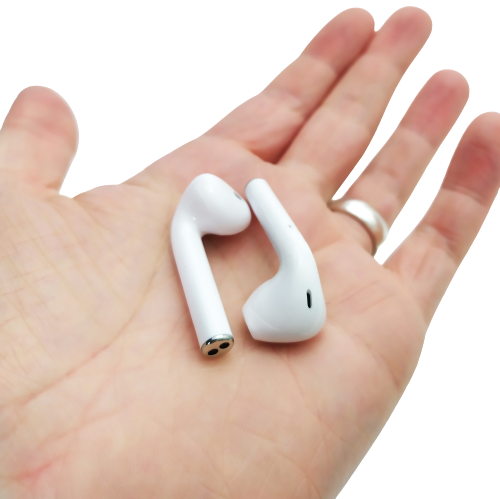 The charging case has a built-in 320mAh lithium-ion battery, this takes around 1.5 hours to charge. To charge use the supplied Lightning Cable, or your usual iPhone cable and plug it into the charging port on the underside of the charging case. There's a flashing red LED light to indicate charging, the light will be a constant red light when charged. The charging case measures 5.5cm x 4.cm x 2.0cm.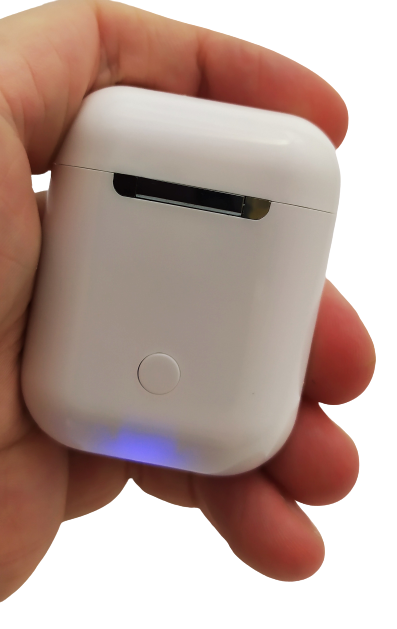 On the front of the charging case you'll see a button. This button is used to help initial pairing of the earbuds. It's also used to instruct the charging case to charge the earbuds. Once pressed the case will glow with a blue LED light, the earbuds inside the case will have a red LED charging light next to them. This red light goes out when the earbuds are charged.
Charging and Pairing.
The I14 TWS Earbuds each feature a 35mAh rechargeable lithium-ion battery. This battery takes around 1.5 hours to fully charge and will last upto 3 hours (dependant on use and volume levels). You're able to charge the earbuds around 3-4 times on a fully charged battery case.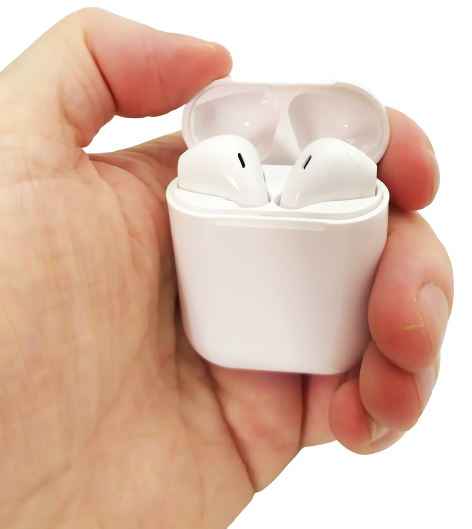 To pair to your iPhone you need to ensure you've charged the charging box, then ensure the earbuds are charged too. Then press the button on the front, to awaken them, go to your phones Bluetooth menu and perform a search and connect to 'i14'. That's it!
Every time you use the earbuds after that they'll automatically connect to your device. My iPhone recognised them as AirPods too, even showed the remining battery levels in my widget area too.
The Bluetooth V5.0 signal has an advertised distance of 15-25M, I managed to get to 20M within my home before the signal dropped out, which is exceptionally good. I also couldn't manually block the signal either, despite numerous attempts.
Touch Sensitive Control.
Surprisingly the I14 TWS Earbuds feature touch-sensitive user controls. You're able to control volume, tracks selections, summon Siri and control phone calls too.
The touch area is located towards the top area, the bit that you see when they're inserted in your ears.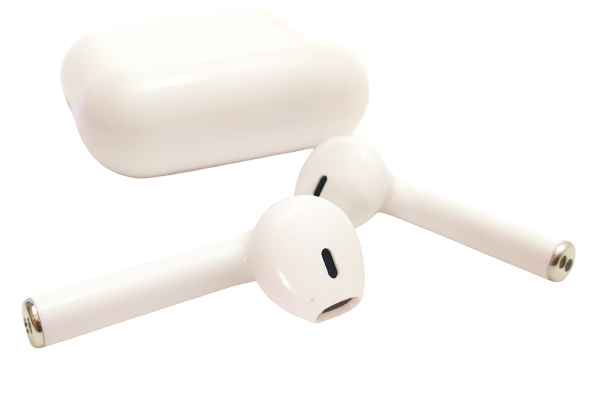 To use these features, you need to do the following:
Pause/Play: Tap either earbud.
Answer/End a Call: Tap either earbud.
Increase Volume: Tap and hold the left earbud.
Decrease Volume: Tap and hold the right earbud.
Skip a Track: Double tap the left earbud.
Reply/Go Back a Track: Double tap the right earbud.
Siri: Triple tap either earbud.
It's a pain in the arse remembering the left earbud increasing and skips a track, and the right earbud decreases volume and selects a previous track. It's the way they've been designed. I did a left and right earbud test and they're correct. Please audio manufacturers make sure the right earbud does the increase/skipping function.
Sound Quality.
I wasn't expecting too much for the I14 TWS Earbuds. But they're not too bad, bass is nice and punchy, vocals are clear and distinct and overall, the sound is quite good.
Another surprising feature is the built-in noise cancellation, it works, this surprised me the most, especially as these earbuds don't enter your inner ear canals. Most brands advertise some sort of noise cancellation, and most lie. But these have some noise cancellation. Obviously not Active Noise Cancellation (ANC) level of cancellation, but certainly enough to notice the difference.
Noise isolation is also quite high, your audio is your audio without pissing off anyone nearby, although this is my least favourite feature in earphones, I'm all about the cancellation for my own purposes, couldn't care what others hear second hand, and besides my musical taste is banging.

The in-built microphone also works very well. You're able to make clear phone calls without any issues. But, if you move 5M away from your device, the microphone starts to lose signal and quality. But close contact will ensure a clear microphone experience.
And there's no lag when watching video either, lips are in sync with the audio, which is great.
Technical Specifications.
Brand: Bilikay
Model: I14 TWS Earbuds
Model Code: N/A
EAN: N/A
ASIN: N/A
Driver Unit: 10mm
Bluetooth Version: V5.0
Bluetooth Distance: 15-25M
Frequency response: 20~20KHz
Impedance: 32ohms
Sensitivity: -92dB
Plug Type: 8 Pin (Lightning Port)
Compliance: CE Marked, RoHS
Conclusion.
I really like the I14 TWS Earbuds. I was prepared to hate them, but surprisingly they work rather well. It's clear to anyone that they're a copy of a well-known pair of earbuds.
Maybe I'll call these I14 TWS Earbuds…
Banana Oxygen Capsules.
I would happily recommend them, the only annoying thing to mention is the touch-sensitive user control, I cannot abide by a left earbud increasing volume, It's not correct. Also, the supplied user guide is hard to follow, basically it's poorly translated and the text is too small to easily read.
If you want the I14 TWS Earbuds for yourself, they're available for purchase only on GearBest. The RRP for this product is £17.77.
Product sample provided by Bilikay in exchange for a detailed, unbiased review.
---
Thank you for taking the time to read my post. If you'd like to add a comment or thought on this post, please use the section below. I can also be contacted via the online contact form. Please subscribe for the latest reviews, news, and discounts. Please follow My Helpful Hints on Twitter, Instagram & Facebook too!