The Hearprotek Earplugs have been designed to reduce or even block out any unwanted background noise.
You get two different pairs of silicone ear tips, and three different filters that block out low, medium or high noises.
Not only are these designed to be comfortable, but there're also reusable and can be used multiple times without any issues.
But are they any good? Do they block out sound? Time to test them out!
Packaging.
The Hearprotek Earplugs come packaged in a Blue cardboard box with product images and printed specifications on it.  The box measures 8.0cm x 7.5cm x 3.5cm and weighs 65G.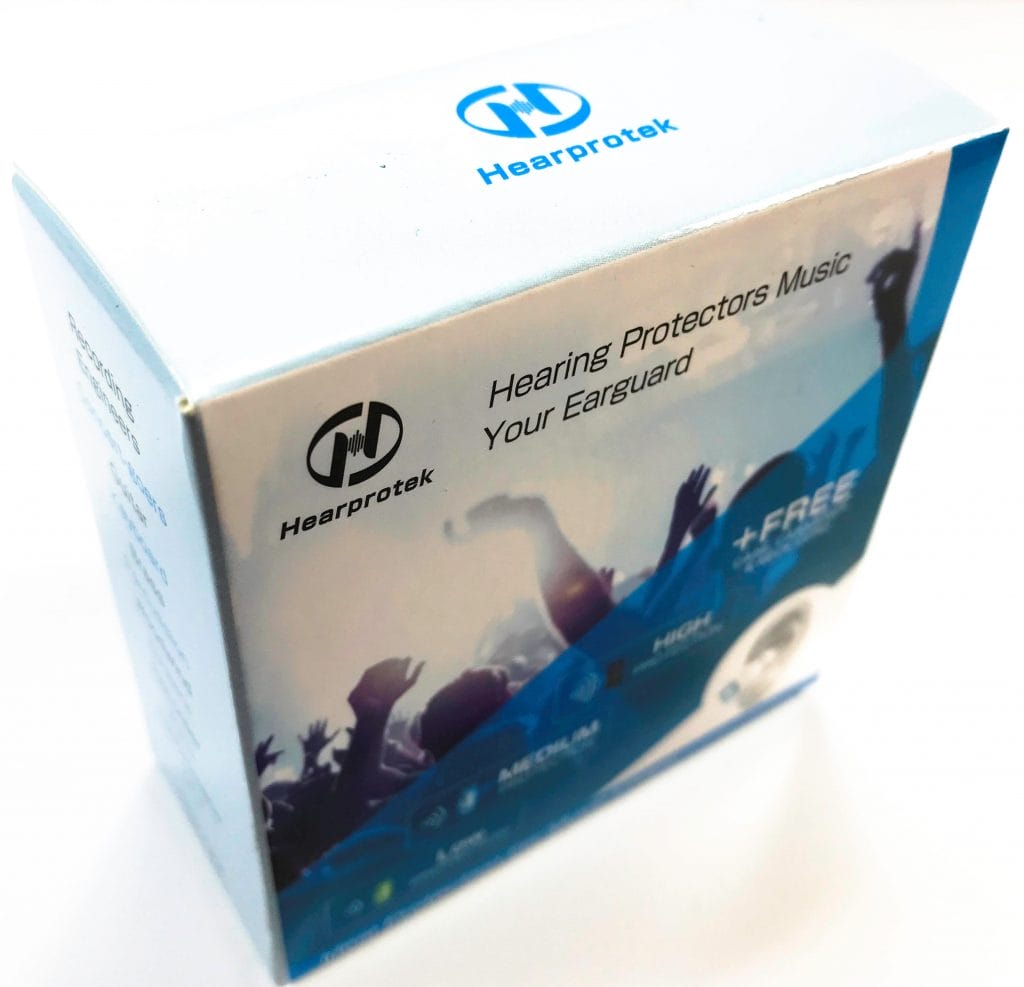 Contents.
Upon opening the Hearprotek Earplugs box you'll find the following items. 1x Hard-Shell Case, 1x Aluminium Case, 1x Clear Plastic Case, 1x Pair of Small Plugs, 1x Pair of Standard Plugs, 3x Pairs of Different Filters (2x Pairs already fitted to plug), 1x Neck Cord, 1x Carabiner, 1x English User Guide.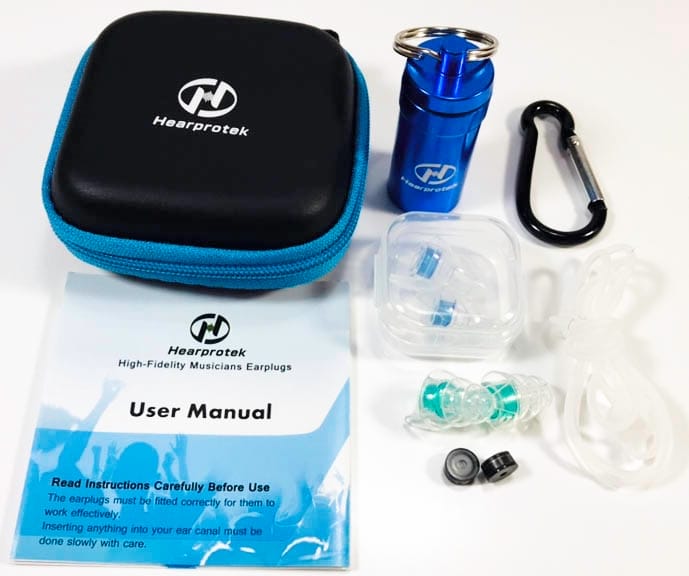 Hearprotek Earplugs.
The Hearprotek Earplugs are small, flexible and made from soft silicone materials.  Each one has been designed to fit comfortably into the inner ear.  The smallest one measures 20mm in length with a 14mm diameter, whilst the standard plug measures 25mm in length and has a 15mm diameter.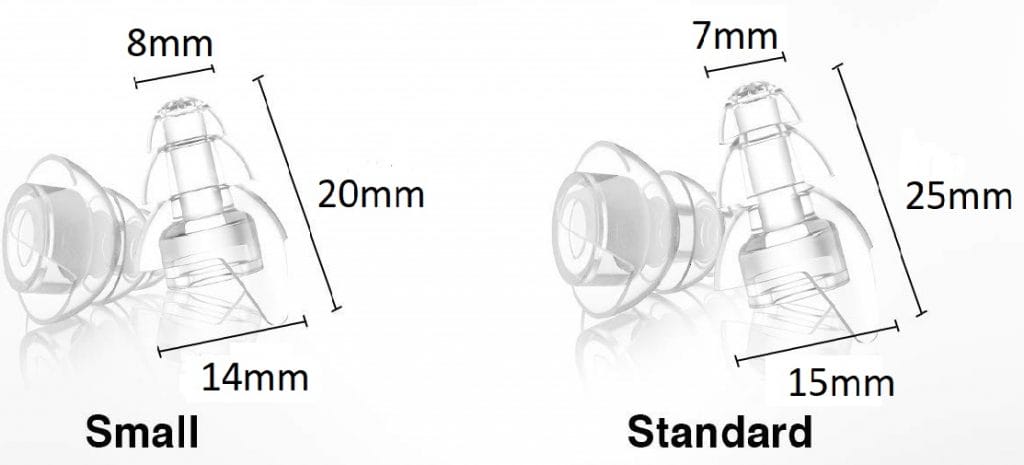 You also get a soft and removable silicone neck cord with the Hearprotek Earplugs, this cord measures 75.0cm in length.  You can use these earplugs with or without this cord, but I'd suggest using it as it can be a little difficult to remove the plugs from your ears without it.
Storage.
You'll never be short of ways to store your earplugs, you get in total 3 different storage solutions!  The main one is the zipped hard-shell case.  This case also features a netted inner that can keep all your accessories together.  The small clear plastic case can be used to store your plugs in and then store this case into the main hard-shell case.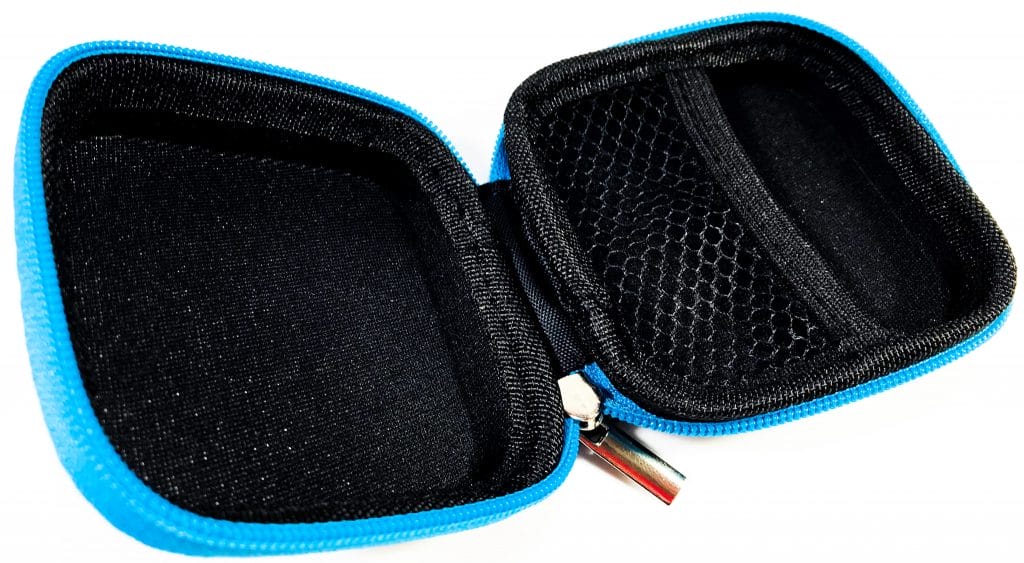 Another way to store your earplugs is with the Blue aluminium case.  This screw-top case measures 5.0cm in length and has a diameter of 2.0cm.  The lid also has a rubber O-ring that will stop any moisture from into your case.  You also get a keyring split-ring to attach to your keys, or you can use the supplied carabiner clip to securely store this case or the hard-shell case to your belt or bag.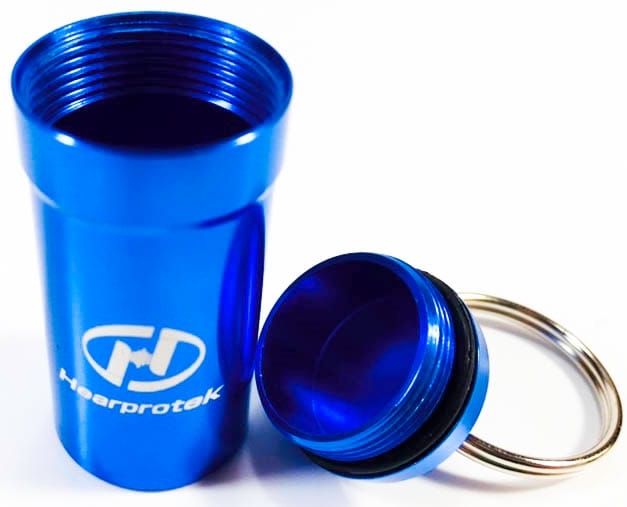 Using the Earplugs.
You firstly need to establish if the small or the standard sized earplug fits you best.  The earplug should fit snuggly into your ear canal without hurting you and without falling out.  It can take some practice to insert the plug correctly and there's a method that's suggested by Hearprotek that works!
Pinch the earplug's silicone tab using your index finger and thumb, it's critical to keep hold of this tab when inserting them into your ears as this will position the tab to assist you in removing them afterwards.  Whilst you keep hold of the tab, reach over the top of your head with your other hand and use it to pull up your ear and then lay it flat as possible to the side of your head.  Now slide the plug inwards and use your thumb to push on the flat area of the earplug.  You can give it wiggle to help further if you wish.  Do not release the tab until the earplug has been correctly inserted into the ear, and do not push the earplug in further once you've released the tab.  Now, you should be fully protected from the noise around you.
To remove, hold the tab section and gently remove using a slow twisting motion.  Once removed you might want to give them a clean, especially from any ear wax!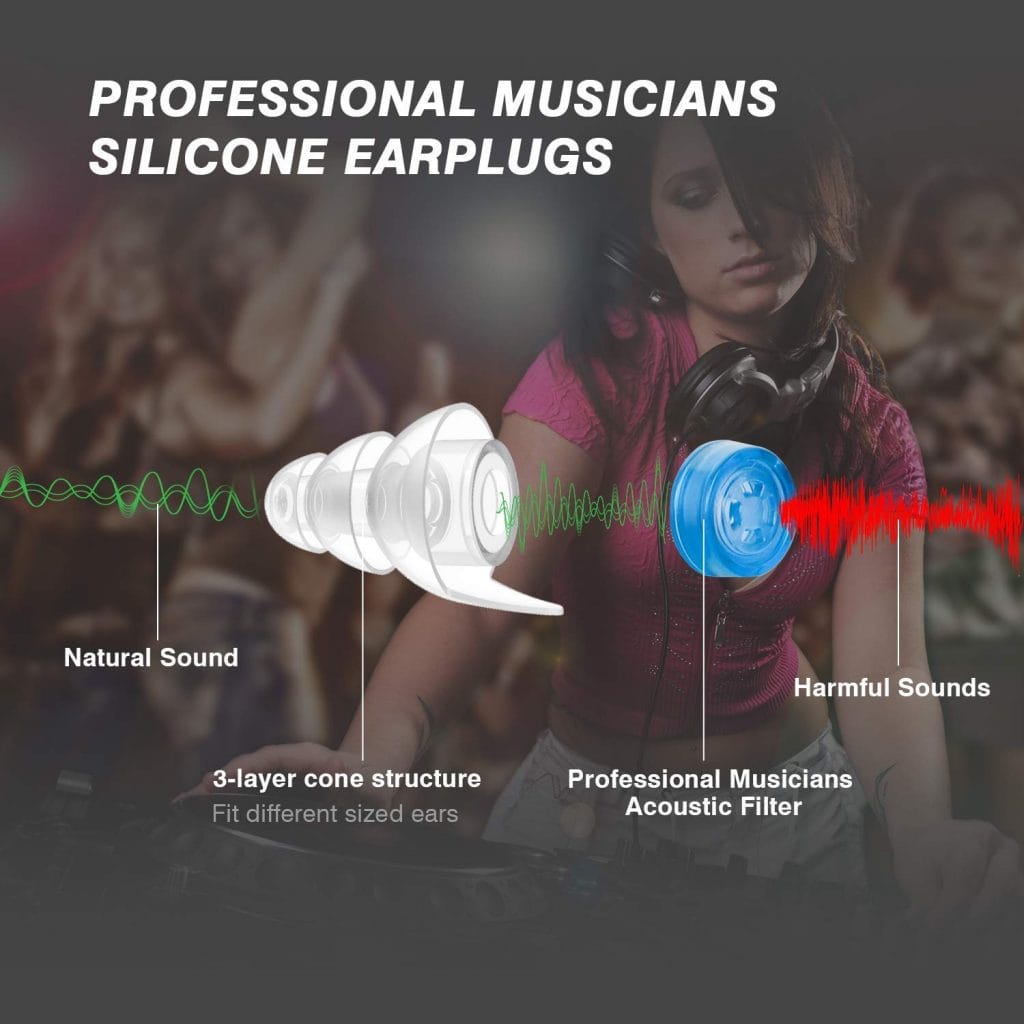 Changing Filters.
You get 3 different filters with your earplugs, Low, Medium and High.  Each on is colour coded, which is great!  To change a filter, you need to simply pop out the filter that's installed and push in a different one.  Be careful not to drop them as they're very small and you could also damage them.
Each filter has a different purpose and number in NRR (Noise Reduction Rating) and SNR (Single Number Rating), I will explain what each one is capable of below:
Low (Green) – These are suitable for most loud noises, such as music rehearsals, they have a rating of NRR17 and SNR17.
Medium (Blue) – These are more suited toward louder live music concerts, they have a rating of NRR14 and SNR20.
High (Black) – These are the highest form of protection from Hearprotek, they're great for blocking out any unwanted background noise, they have a rating of NRR19 and SNR26.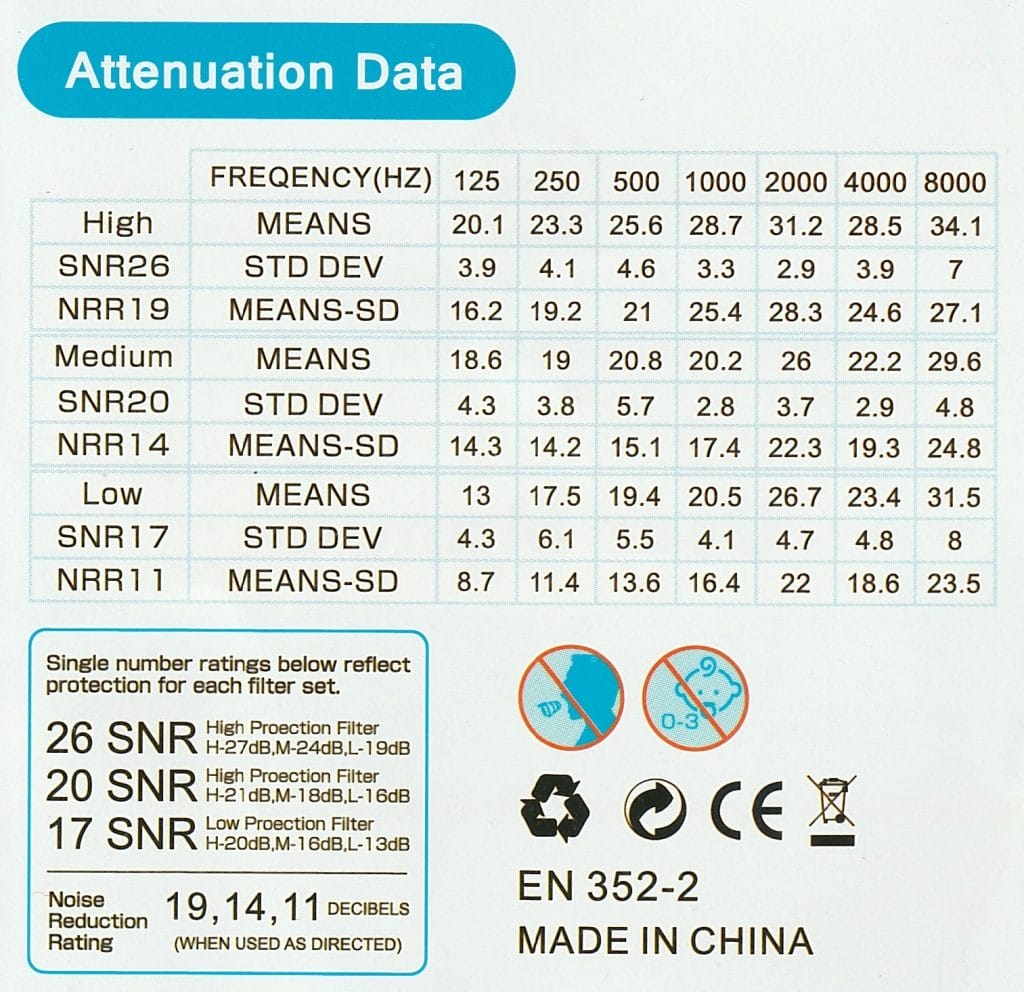 Technical Specifications.
Brand: Hearprotek
Model: Earplugs
EAN: N/A
ASIN: B07GSZ5TZF
Certification: EN 352-2
Compliance: CE
Conclusion.
The Hearprotek Earplugs are a great idea, and suitable for many different applications, especially for musicians, DJ's and party goers.  They do take a little practice to master the art of inserting, but once this has been cracked they're very comfortable. They don't entirely block out sound, but certainly reduce noise to a comfortable level.  Even the Black (NRR19) filter you're still able to hear background noise, but it's dampened down to a softer level.
They seem easy to keep clean and as mentioned above storage doesn't seem to be an issue.
Overall, I like these a lot, I can see why so many people are purchasing them, they're comfortable, reusable, and best of all there're affordable!
If you want the Hearprotek Earplugs for yourself, it's available for purchase only on Amazon. The RRP for this product is £16.99.
Product sample provided by Hearprotek in exchange for a detailed, unbiased review.
---
Thank you for taking the time to read my post. If you'd like to add a comment or thought on this post, please use the section below. I can also be contacted via the online contact form. Please subscribe for the latest reviews, news, and discounts. Please follow My Helpful Hints on Twitter, Instagram & Facebook too!