Today I'll be reviewing the GT SONIC Ultrasonic Cleaner. Ultrasonic cleaners are a popular way of cleaning many items, including jewellery, laboratory and other industries.
The market is currently flooded with different models, with a range of prices and volume capacities. There're many people who'd benefit from an ultrasonic cleaner. But it's a financial investment many can't justify, unless they know for sure to gain some benefit from using an ultrasonic cleaner.
The brand I have today for review is GT SONIC, it's a middle of the road, well-known brand with a variety of volume models available. The model number I have is VGT-1730QT, it's a 3L cleaner and has the added benefit of an internal heating element.
For this review I'll be using mostly the manufacturers images, mostly because I don't have the photographic setup for larger appliances, but also for pure laziness.
So, is this ultrasonic cleaner any good? Time to test it out!
Packaging and Contents.
The GT SONIC Ultrasonic Cleaner comes packaged in a plain cardboard box. The box measures 30.6cm x 21.6cm x 28.5cm and weighs 3737G.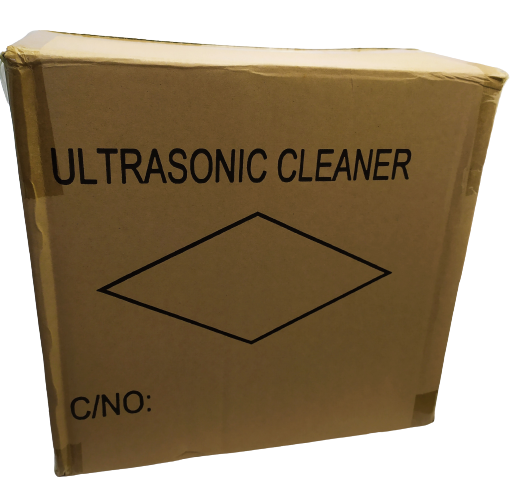 Inside the box you'll find the following: 1x Ultrasonic Cleaner, 1x Basket, 1x UK Power Lead (Other options available dependent upon country selection) and 1x English User Guide.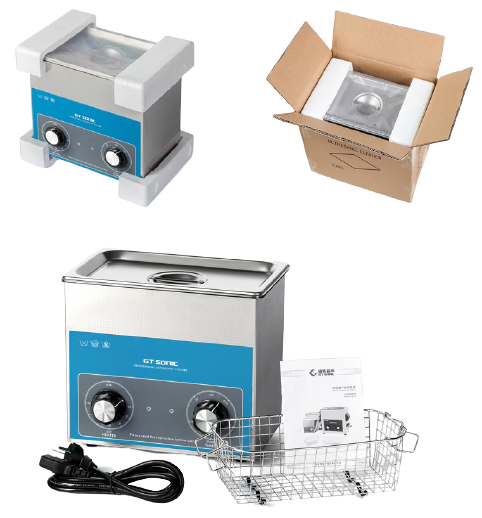 GT SONIC Ultrasonic Cleaner.
The GT SONIC Ultrasonic Cleaner is made from stainless steel and the model (VGT-1730QT) I have measures 26.0cm x 16.0cm x 23.0cm and weighs 3315G.
On the front there is two mechanical knobs (other models feature a digital LCD display). One is the timer and the other selects the heating setting.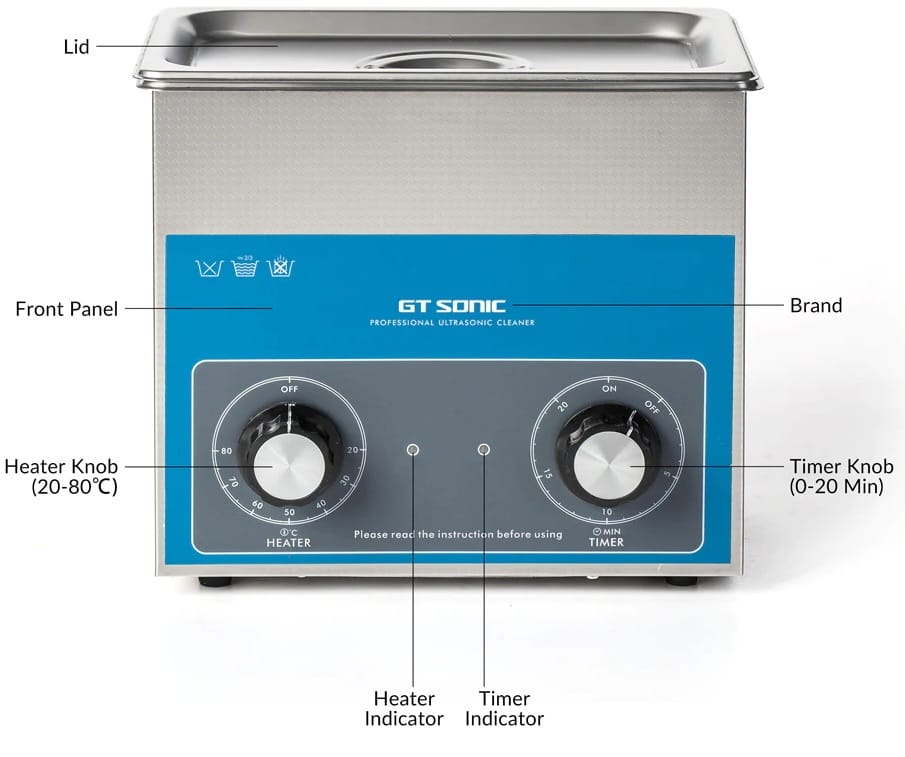 On the back is a 3 pin UK kettle plug input and the supplied UK BS1363 plug (with 5A BS1362 fuse) measures 180.0cm in length. Also, 4 rubber feet on the bottom ensure both stability and surface protection. An additional quick blow cartridge glass (F5L250V) is located on the reverse area. This is quite impressive and an additional safety measure. So, if there's an issue with the ultrasonic machine, you have at least 3 electrical safety cut-out methods, glass fuse, plugtop fuse, and your household electrical RCD/RCBO electrical system. The stainless casing is also earth protected too. I managed to get a continuity reading of 0.02Ω from the outer casing to plugtop. Very impressive and reassuring!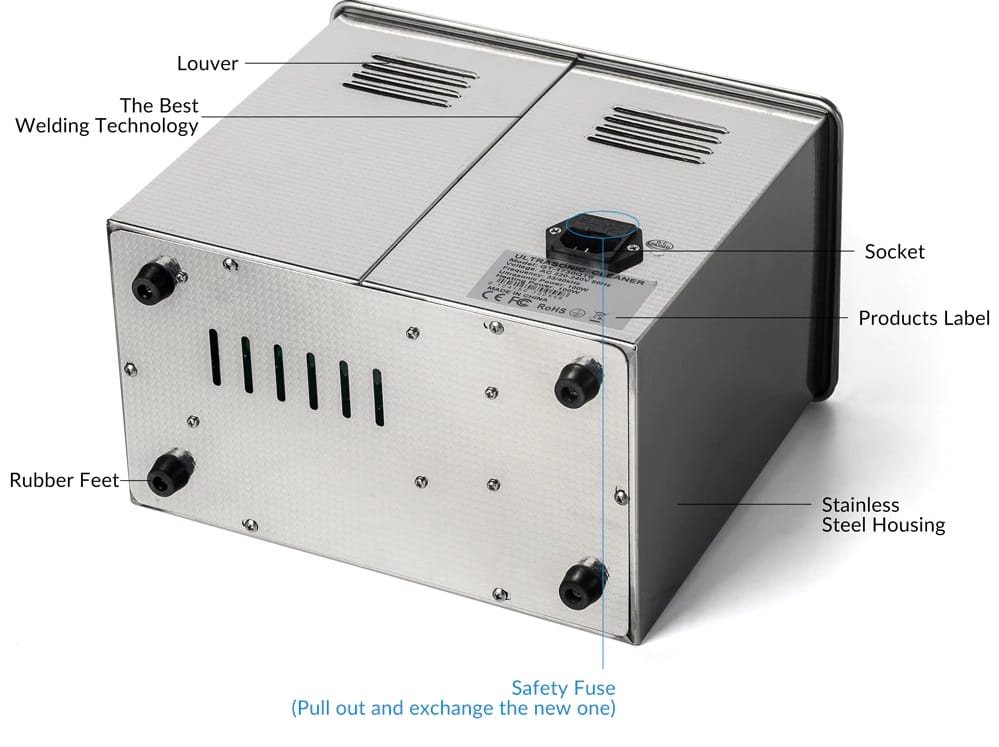 Using the Ultrasonic Cleaner.
Firstly, you need to plug in the lead (obvious to some, but others ?‍♂️) and then fill the machine to at least halfway of either solvent cleaner or water. I used tap water and a drop of washing up liquid as recommend from the user guide. The basket measures 23.0cm x 13.0cm x 7.0cm and is recommend for a better clean.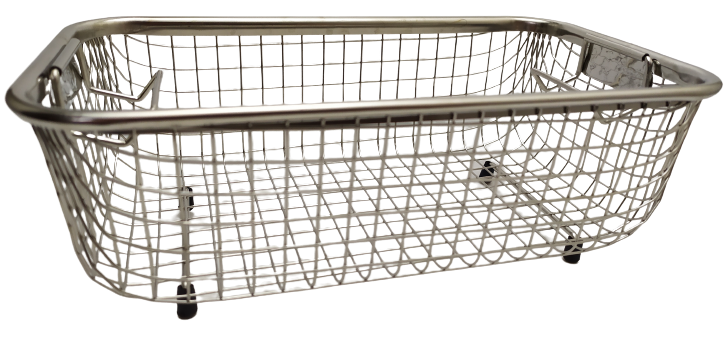 It is possible to use the ultrasonic cleaner without the basket, but you'll lose your hearing if you do. It sounds like a ton of stones in a washing machine and will certainly wake you up if you're feeling sleepy. So, I highly recommend the basket.
So, once you've filled up water, you'll then need to select whether you need some heated water, for best results it's suggested to set this setting to 40°C to 60°C.
You then need to select the time you'd like the ultrasonic cleaner to run for. Don't be alarmed by the worst sounding sizzling sound in the friken world that immediate follows when you turn this dial. It's normal, although super scary! Certainly, made me panic.
The heating element takes an age to heat up the water, most of the heat is generated from the mechanical heat produced from the 100W motor. I also got bored and used hot tap water to speed things up.
In Use.
Whilst the ultrasonic machine is doing its thing, you might want to leave the room. The sound is unbearable. I know I'm autistic and sound triggers me, but honestly the sound is unbearable. It's an ear killer, but luckily, I have a new pair of noise cancelling headphones sent to me for review (future review hint), and impressively they worked. The sound was still noticeable. but reduced.
The 100W motor produces 40kHz of energy into the water, which basically then creates millions of microscopic cleansing bubbles to clean items.
I tried a sterling silver necklace and ring. The ring was knackered from the start and after a 20-minute cycle, was still knackered. I was informed the ring had oxidised and no ultrasonic cleaner would help. But the necklace came out looking brand new. I was impressed. I then got bored and washed a rock, and to my surprise the rock came out looking brand new. Meet The Rock!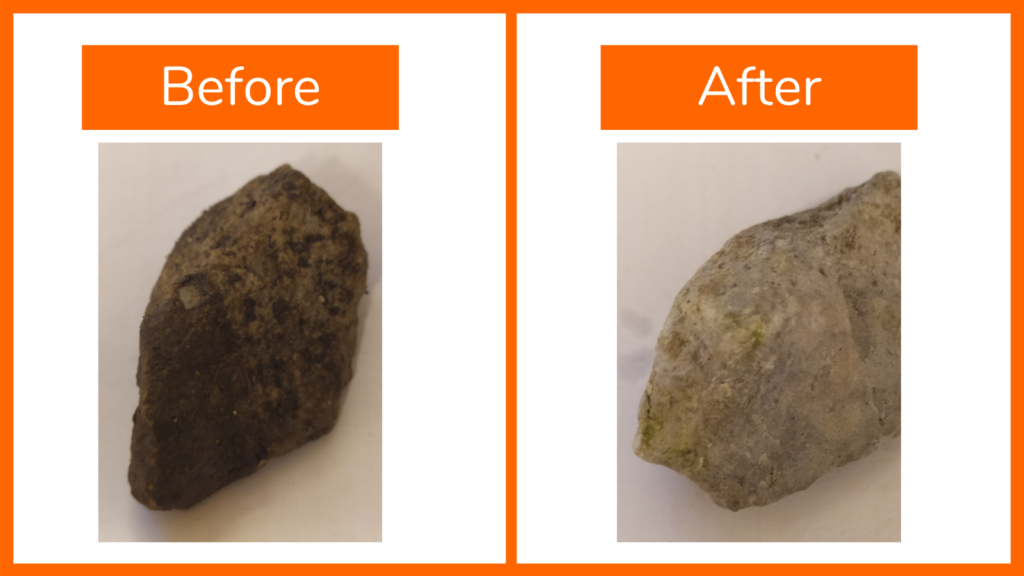 GT SONIC have a list of available items that you can apparently use. Some I wouldn't recommend, such as printed circuit board (PCB's) and other electrical equipment. Water and electricity don't mix, and this includes 'washing' internal electrical parts. I almost laughed up my breakfast when the manual suggests you can wash golf clubs, yes actual golf clubs. I suppose this would work if you snapped them into tiny pieces ?.
Technical Specifications.
Brand: GT SONIC
Model: Ultrasonic Cleaner
Model Code: VGT-1730QT
EAN: 0704181800434
ASIN: N/A
Voltage: 220-240V AC 50Hz
Frequency: 40kHz
Ultrasonic Power: 100W
Heating Power: 100W

Material: 

Stainless Steel SUS304

Tank Size: 

240x140x100mm

Unit Size: 

270x140x240mm

Time Setting: 

1-20 min

Temperature adjustable: 

20-80 degree

Net Weight: 

3.3kg

Gross Weight: 

3.8kg

Compliance: CE Marked, FCC, RoHS
Conclusion.
I was surprised just how good the GT SONIC Ultrasonic Cleaner is. It certainly cleans intricate (and rocks) jewellery easily. The sound is unbearable though, but this isn't a fault with this model, it's how ultrasonic cleaners operate, recommend running away or wearing noise cancelling headphones or other methods of hearing protection.
The heating element is a bit crap and relies heavily on the heat generated from the running 100W motor, this can be overcome with using warm water in the first place and using the heater dial to maintain that temperature.
But aside from that, the GT SONIC Ultrasonic Cleaner is exceptionally good. I don't have a lot of jewellery (I do have rocks though, not the gemstone type, but B&Q gravel ?), so won't use too often.
I can however recommend this ultrasonic cleaner if you're planning on using frequently.
If you want the GT SONIC Ultrasonic Cleaner for yourself, it's available for purchase only on AliExpress. The RRP for this product is £108.32.
Product sample provided by AliExpress in exchange for a detailed, unbiased review.
---
Thank you for taking the time to read my post. If you'd like to add a comment or thought on this post, please use the section below. I can also be contacted via the online contact form. Please subscribe for the latest reviews, news, and discounts. Please follow My Helpful Hints on Twitter, Instagram & Facebook too!
GT SONIC Ultrasonic Cleaner