The GLIME LED Strip Light is a self-adhesive strip of surface mounted LED lights that can be used anywhere in or outside of your home.
Within a matter of minutes, you'll be able to enjoy a fully functioning and remote-controlled lighting system that'll produce over 20 different static colours, various lighting patterns and speeds.
You can even cut them to length to suit your requirements.
But are they any good? How easy are they to use? Time to test them out!
Packaging.
The GLIME LED Strip Light comes packaged in a dark coloured cardboard box with product images on the front and a contents picture on the reverse.  The box measures 19.0cm x 17.5cm x 8.0cm and weighs 880G.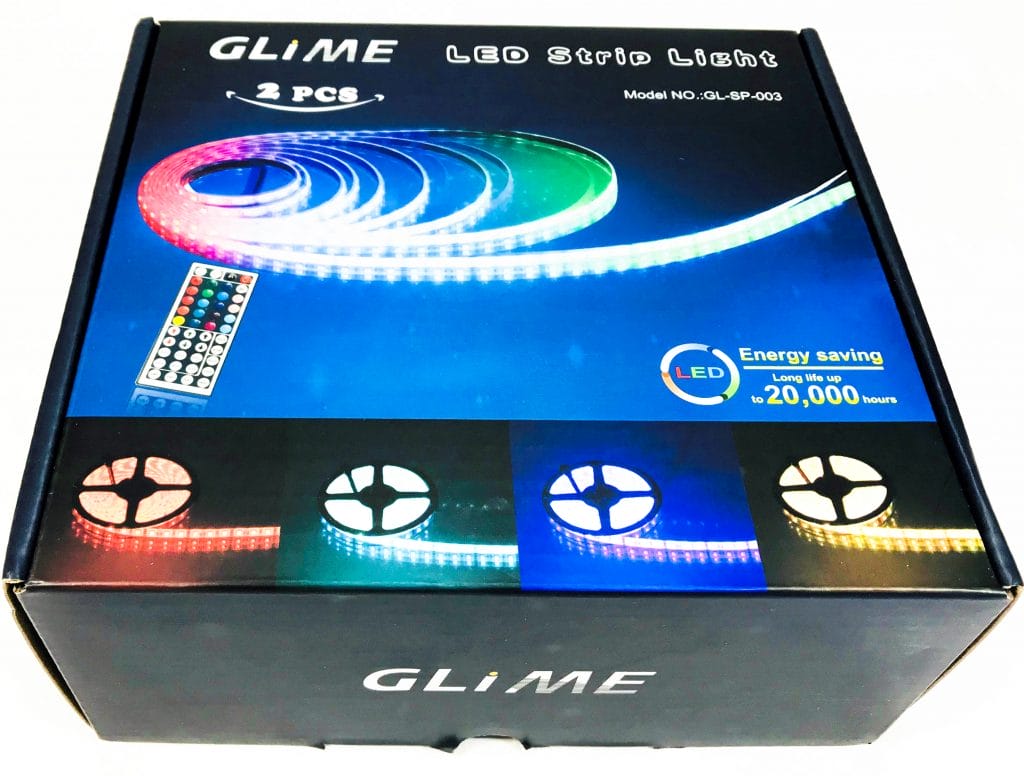 Contents.
When you open the GLIME LED Strip Light box you will find: 2x 5M Light Reels, 1x Power Supply, 1x RGB Control Box, 1x Remote Control, 1x Multi-Lingual User Guide.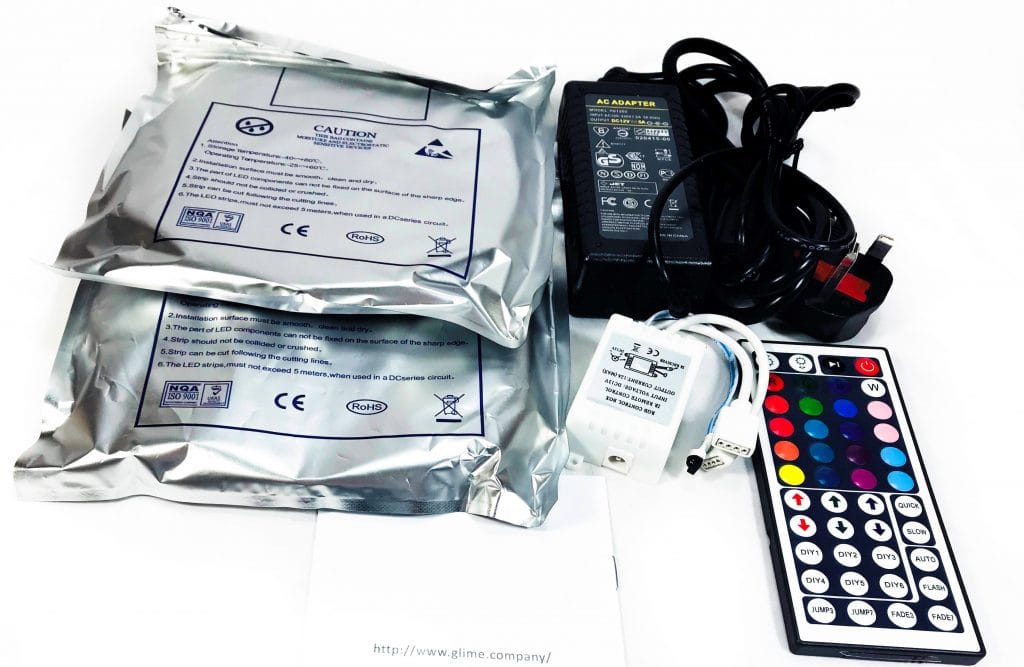 GLIME LED Strip Light.
The GLIME LED Strip Light comes as two separate 5M cable reels and packaged in anti-static packaging.  Each reel contains 300 RGB 5050 SMD LED's.
The AC power adapter features a UK standard 3 pin fused plug.  The AC power plug and lead have a cable measurement of around 2.5M.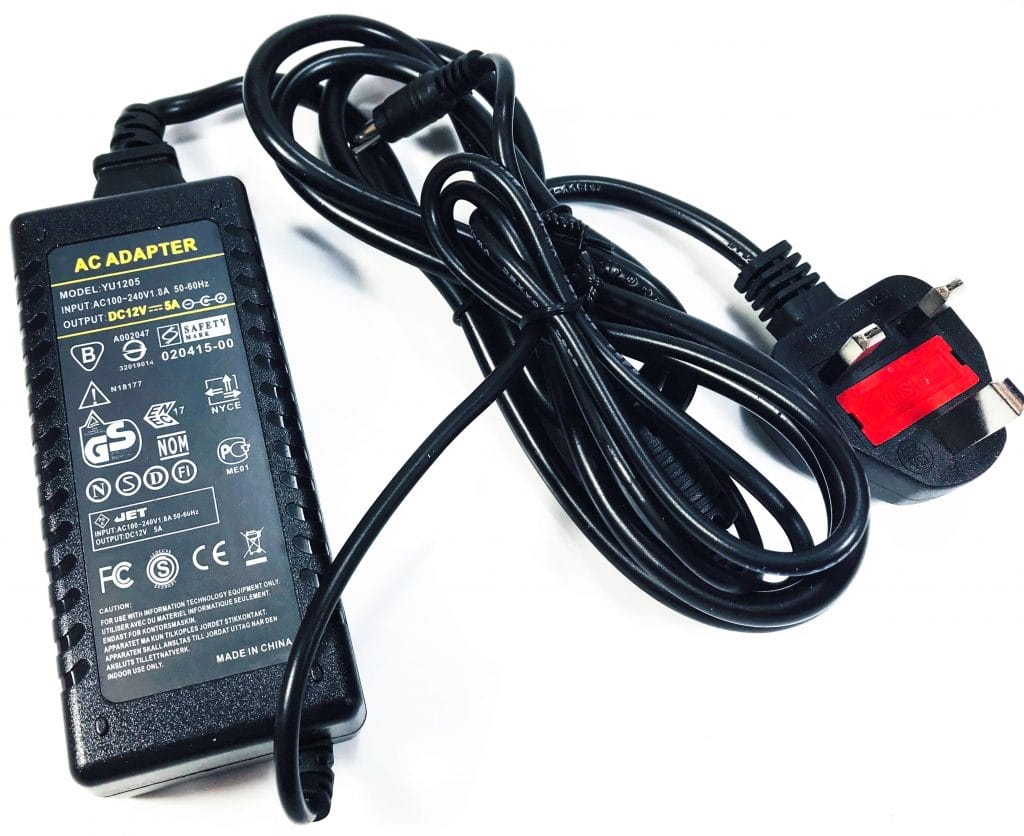 Part of the setup requires you to use the control box, on one side there's the AC power input port, the other sides features two connector outputs (For each light reel) and an infrared receiver.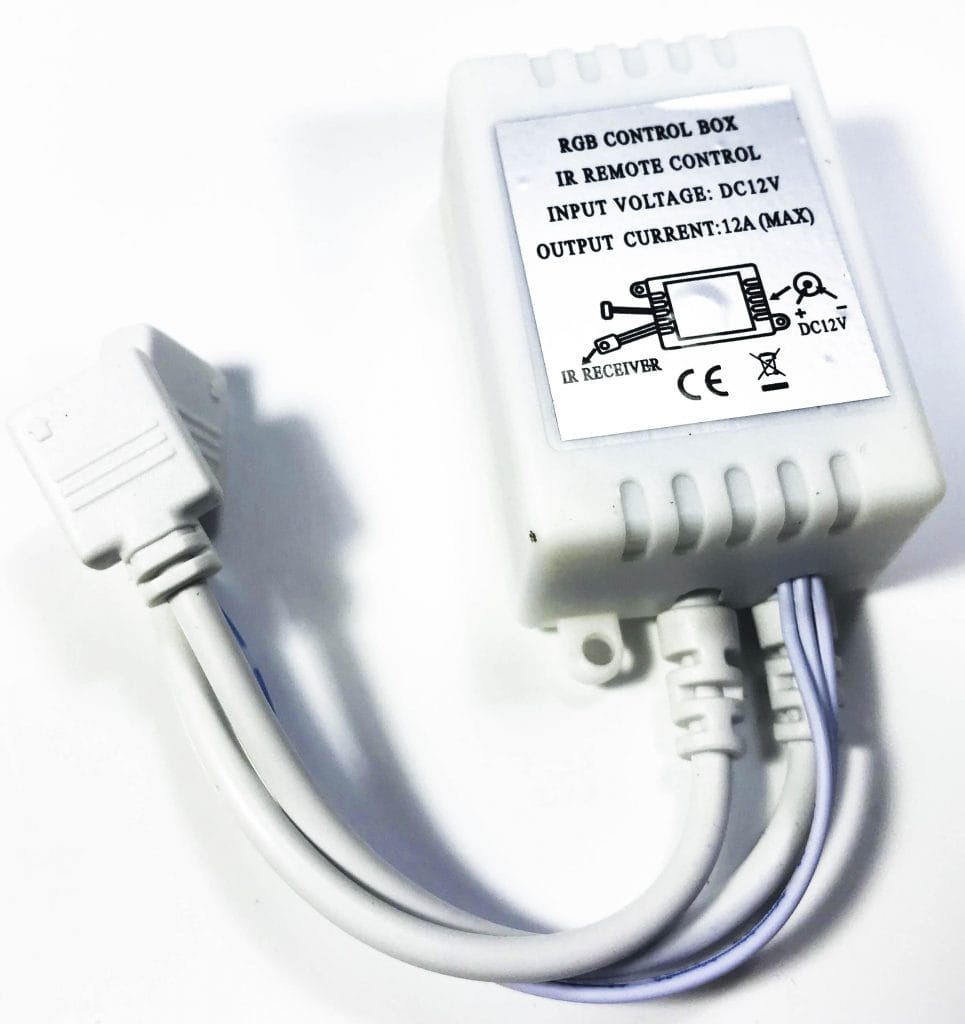 Installation of the Light.
The first thing you'll need to do is plan.  Plan where you want this lighting strip before you start.  You'll need to consider your power source, where you'll want the control box to be located for both reels or for the one.
Also clean the area free of dust and debris before you start work!
When you're happy with your setup, simply remove the strip of plastic on the back of the lights and using the self-adhesive glue, press down firmly onto a smooth surface.  If the glue fails to adhere correctly you can use a hairdryer on a very low heat settings (Otherwise, you'll melt the cable!) which will act as an activator for the glue.
You'll need to ensure that your plugs are the right way. GLIME have impressively thought about this and you'll see an arrow to indicate correct polarity.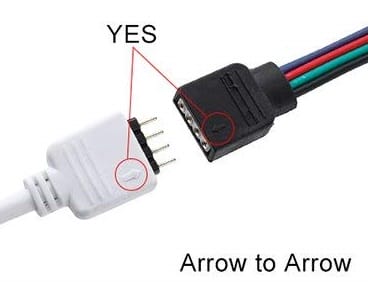 You can use this light for both indoor and outdoor use.  The cable is rated to IP65 standards which means it will work in an outdoor environment (Rain etc).  But it is not rated for water submersion.  Also, only the cable itself is IP65 rated, not the connectors, control box, or the AC power adapter.
Cutting the Cable.
One of the best things about the GLIME LED Strip Light is the ability you have to cut the cable if it's too long!  On the cable itself you'll need to cut on the Copper connectors (There's a scissor icon), please only do this when the power is off!

You can in fact run two reels of the same output of the control box, you can cut and solder a bridge between the cables to form one connected cable, but I found the last 1-2M to suffer quite badly with voltage drop and dim down more than the first 8M length.  I would suggest maybe only running to 8M in length.
If you don't feel confident in your soldering abilities, you can purchase a 5050 LED strip joiner and simply plug them together.  You can even purchase right-angled joints too!
Remote Control.
You get a remote control supplied within the kit, you'll need to be within 8M of the infrared sensor on the control box for it to work.
The remote features many buttons for lighting colour, speed, patterns and more.
A CR2025 button cell battery is already installed.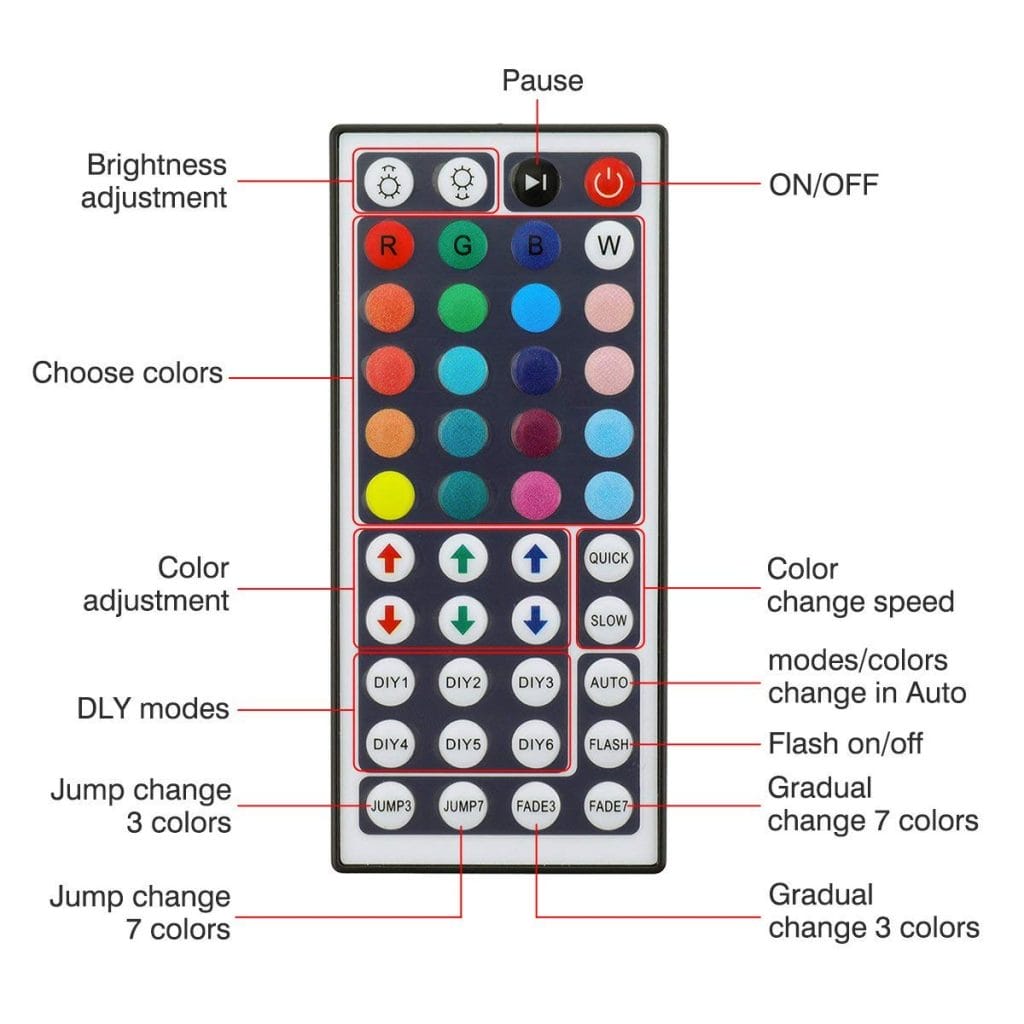 Using the Light.
Once installed you'll want to quickly play around with the colour selection, speed, patterns until you're happy.  The colours you get form a spectrum of Red, Green, and Blue and you get 20 different colours using these 3 LED base colours.  You can also brighten or dim the colour to suit.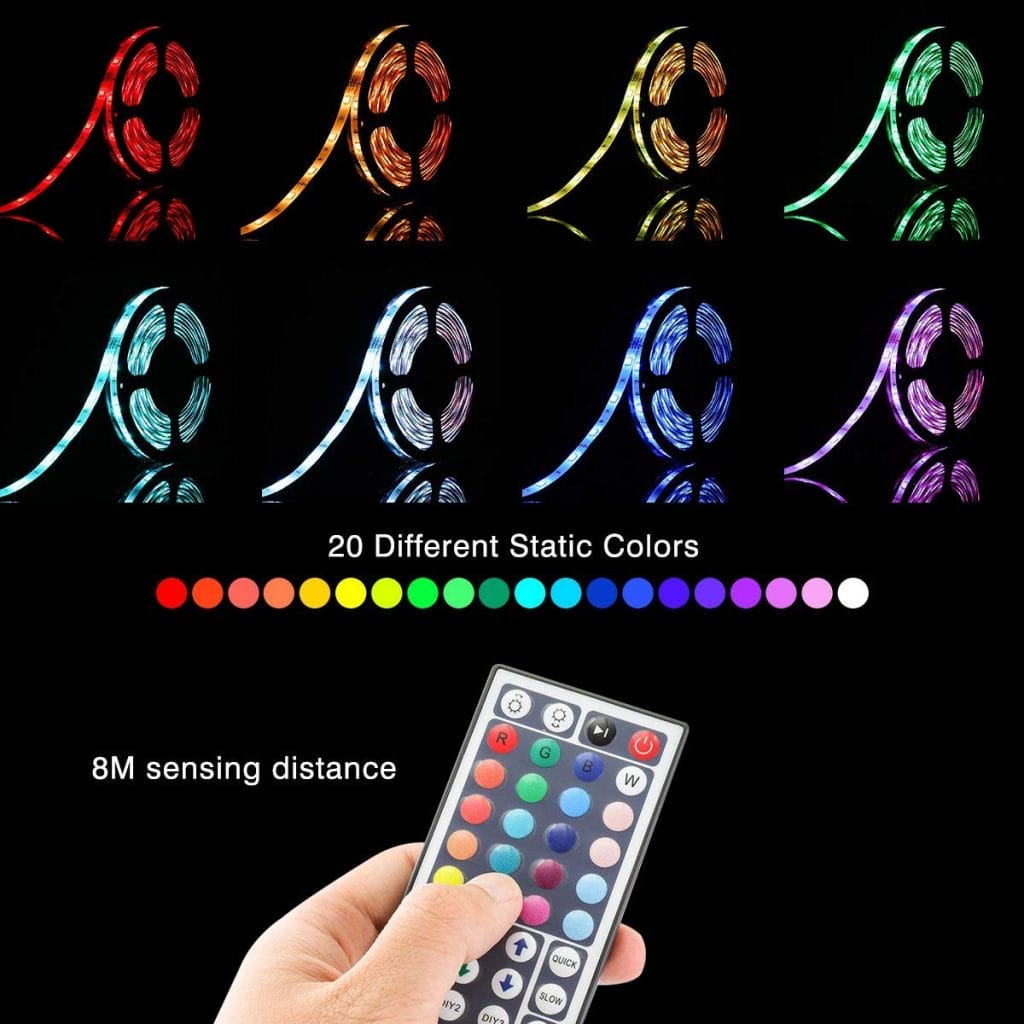 Technical Specifications.
Brand: GLIME
Model: LED Strip Light
Model Code: GL-SP-003
EAN: N/A
ASIN: B07CWNP46W
Input Voltage: 100-240V AC 8A 50-60Hz
Output Voltage: DC12V 5A
Output Power: 34W
Max Current: 3.0A
Colour: 5050 RGB LED
LED Amount: 300 on Each 5M Reel (600 in total)
Remote IR Distance: 8M
Beam Angle: 120°
Shape: Linear
Life Cycle: 50,000 Hours
Standards: P65
Compliance: CE, FCC, RoHS
Conclusion.
I quite like the GLIME LED Strip Light.  It's a great all year-round LED strip light that can be used for both indoor and outdoor use.  The remote control works very well too.  I also love the varied colours and settings that you can choose.
I think a few connector blocks included in the packaging would be a great idea though, especially a couple of right-angled ones!
Overall, I like this lighting setup and highly recommend it.
If you want the GLIME LED Strip Light for yourself, it's available for purchase only on Amazon. The RRP for this product is £29.99
Product sample provided by GLIME in exchange for a detailed, unbiased review.
---
Thank you for taking the time to read my post. If you'd like to add a comment or thought on this post, please use the section below. I can also be contacted via the online contact form. Please subscribe for the latest reviews, news, and discounts. Please follow My Helpful Hints on Twitter, Instagram & Facebook too!