The ETEKCITY Smart Fitness Scale is a Bluetooth enabled fitness weighing scale that accurately record your weight, body mass, muscle mass and much more.
For accurate readings and recording you'll need to download the VeSyncFit App.
You get a large 31 x 31cm platform, 6mm-thick Super white tempered glass with ITO coating and concealed LED display for easy-viewing at any angle.
But are these scales and good? Are they accurate? Time to test it out!
Retail Packaging.
The ETEKCITY Smart Fitness Scale comes packaged very neatly in a Brown cardboard box which features product images and specifications printed on it.  The box measures 36.5cm x 35.5cm x 4.2cm and weighs 2150G.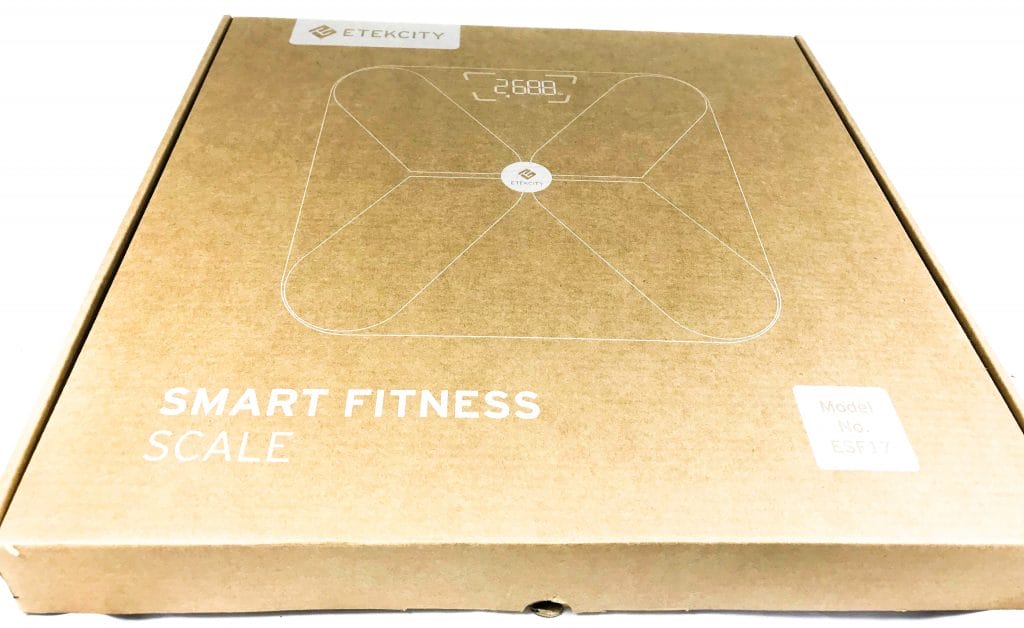 Contents.
Upon opening the ETEKCITY Smart Fitness Scale box you'll find the following items. 1x Scale, 4x AAA Batteries, 1x Warranty Card, 1x English Written User Guide.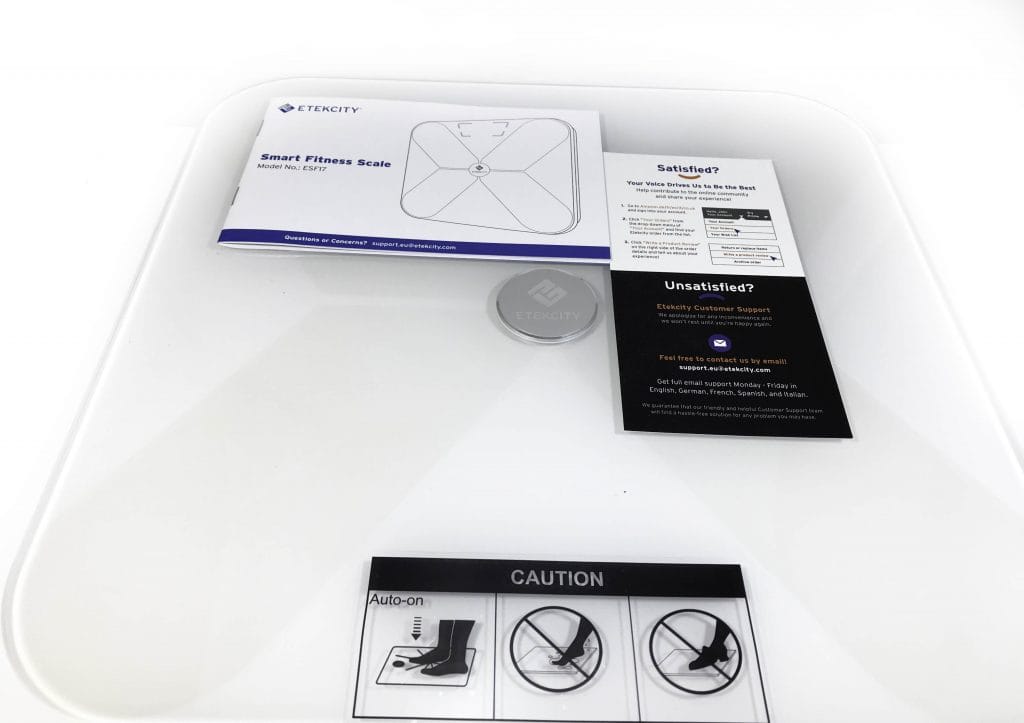 ETEKCITY Smart Fitness Scale.
The ETEKCITY Smart Fitness Scale is made from mainly Glass with a Plastic underside, it's White in colour.  On the top of the scale there's a large LED display, on the bottom there are four non-slip rubber feet and the battery compartment.  The scales measure 31.0cm x 31.0cm x 2.5cm.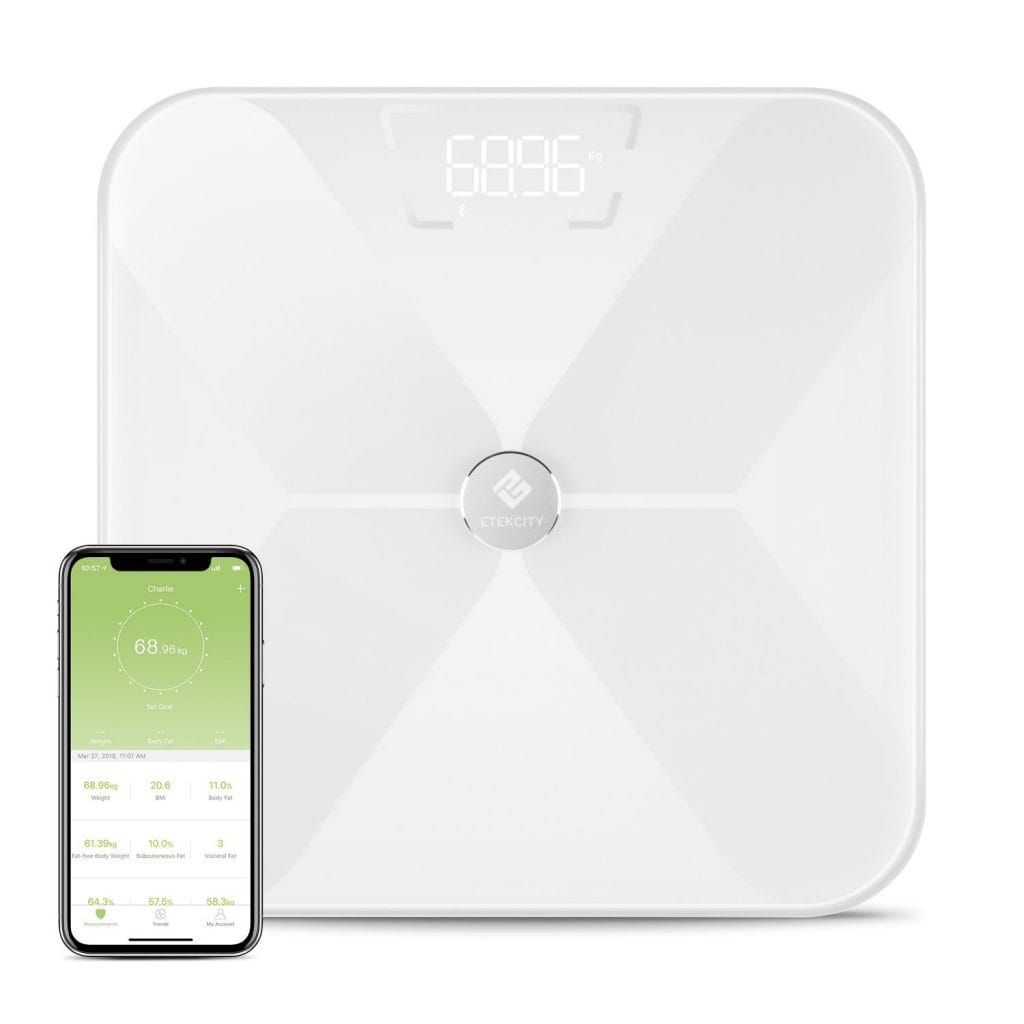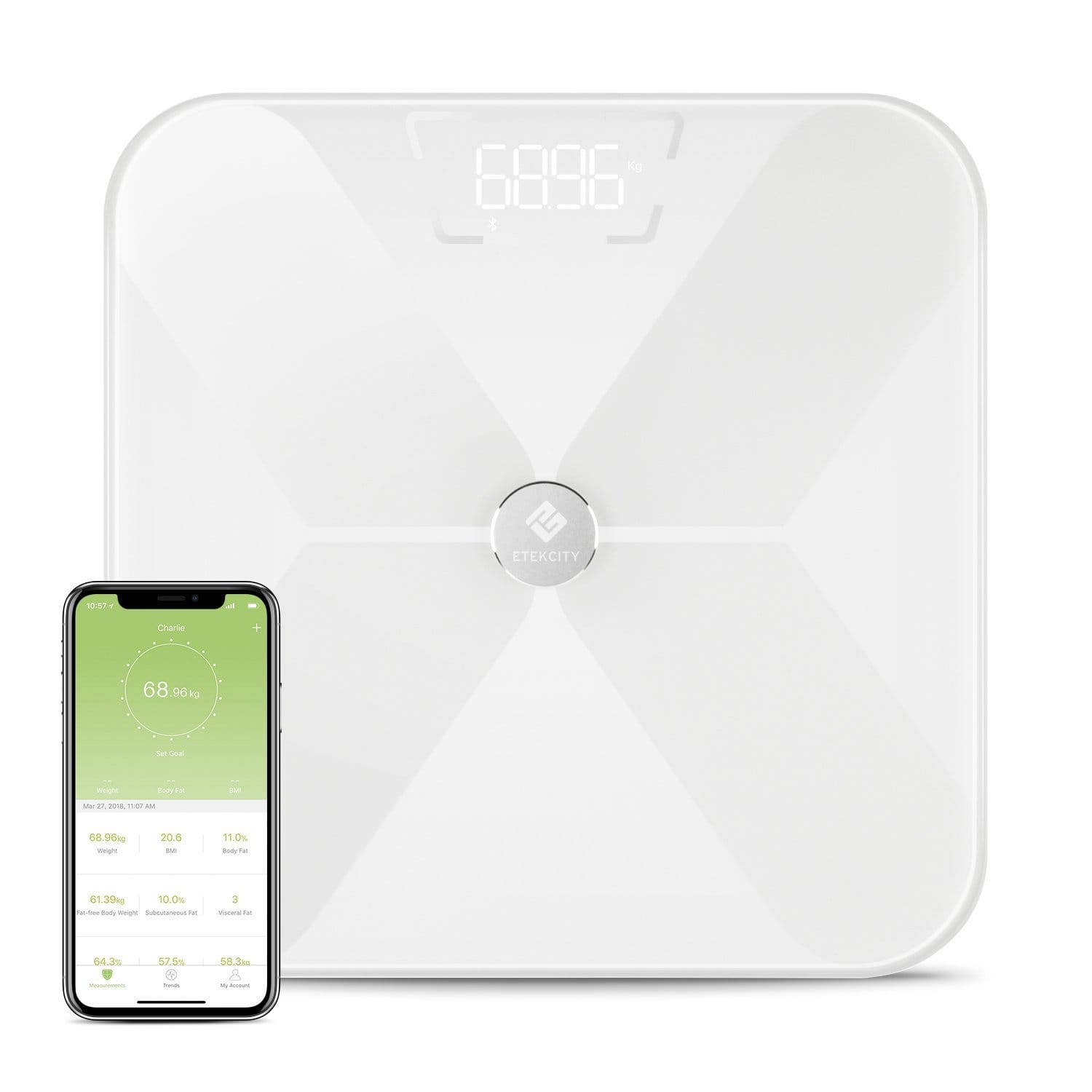 Installation of the batteries is a simple process.  Slide away the cover on the bottom and insert 4x AAA batteries ensuring correct polarity.
To be able to use the scale you'll need to ensure that you operate only with dry bare feet, if you are wearing socks or any other foot covering the scales won't operate.
Operation.
You can use the ETEKCITY Smart Fitness Scale without downloading any Apps, simply stand on the scales.  But you won't be able to change the weight units unless you download the App.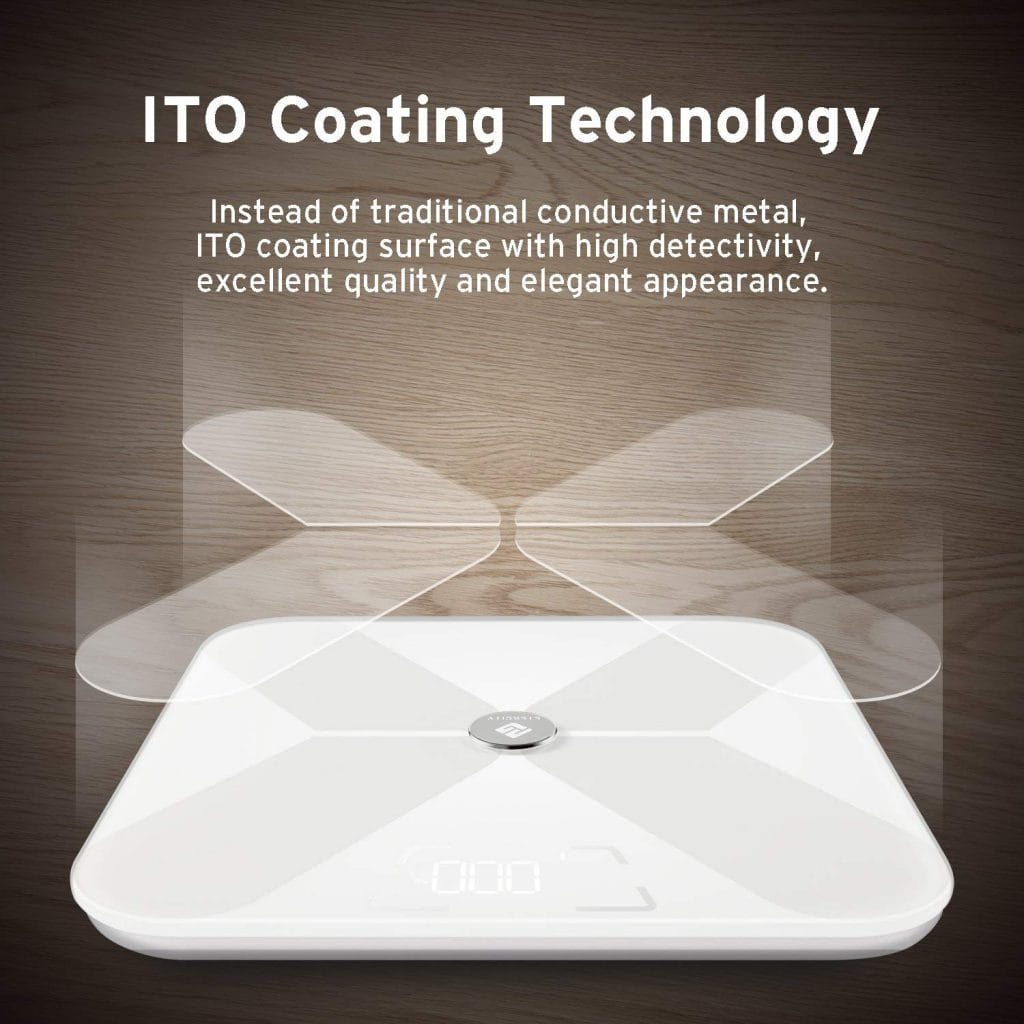 It's far more better to use these scales in combination with the App. The App is called VeSyncFit and is available for both Android and iOS users.  Download it from your App provider.
Now you'll need to pair your phone with your scale. This is done by turning on Bluetooth on your device and then selecting the + icon in the App, this is found on the top right-hand corner.  Step onto the scale with bare feet and add the device "ESF17".  Stand for around 5-10 seconds and if the pairing has been successful your weight measurement appears.
For ease I suggest you set up a user account, you'll need to input details like, gender, name, birthday, and height to provide inciteful measurements.  If you want you can upload your mugshot, but that's up to you!  You can set up an account for other members living in your household, that way each person's data can be accurately recorded.
Once you have set up your account, you'll need to ensure you select your account every time you start using the scale.  If you have multiple users, you'll need to press "My Account" on the bottom bar and select the correct user.
Readings.
To start a reading, you'll need dry bare feet.  Stand on the scale and the scale will start to measure.  Stay standing until you hear an audible tone and the weight reading will be showing on your device.  Not only do you get a weight reading but you'll also record other vital information too.  These readings are: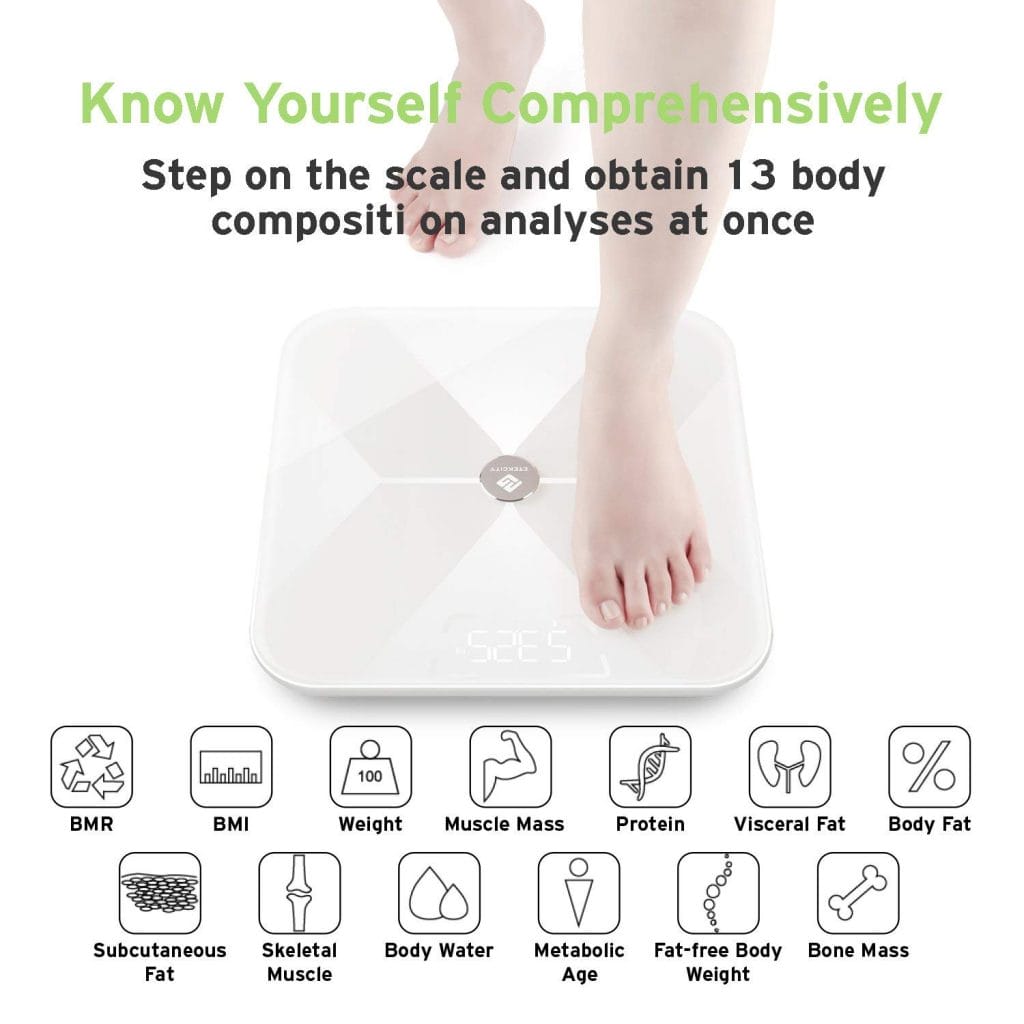 BMI – Body Mass Index.
Body Fat – Body composition fat tissue ratio.
Fat-Free Body Weight – Muscle in addition to body fat is a major component of body weight.
Subcutaneous Fat – The ratio of subcutaneous fat stored in your skin to your body weight.
Visceral Fat – A type of body fat that is found around the human organs and which mainly resides in the abdominal cavity.
Body Water – Water weight, which includes the blood, lymph, extracellular fluid, etc.
Skeletal Muscle – The ratio of muscle involved in the mechanical system of our limbs and other parts of the body.
Muscle Mass – The total muscle weight, including skeletal muscle, cardiac, and smooth muscle.
Bone Mass – Bone tissue consists of bone minerals (Calcium, Phosphorus etc) and bone matrix (Collagen Fibre, Ground Substance, Inorganic Salt, etc) per unit volume.
Protein – Protein plays a vital role in the body, as it builds and maintains muscles, organs, and other tissue.
BMR – Basal Metabolic Rate.
Metabolic Age – Ideal physical body age is 2/3 of the actual age.
Using the App.
All data collected from the ETEKCITY scale is obtained through bio-impedance and data regarding body composition.  Such data is a great reference point, even when compared to data obtained professionally, and can help you monitor your weight and long-term fitness.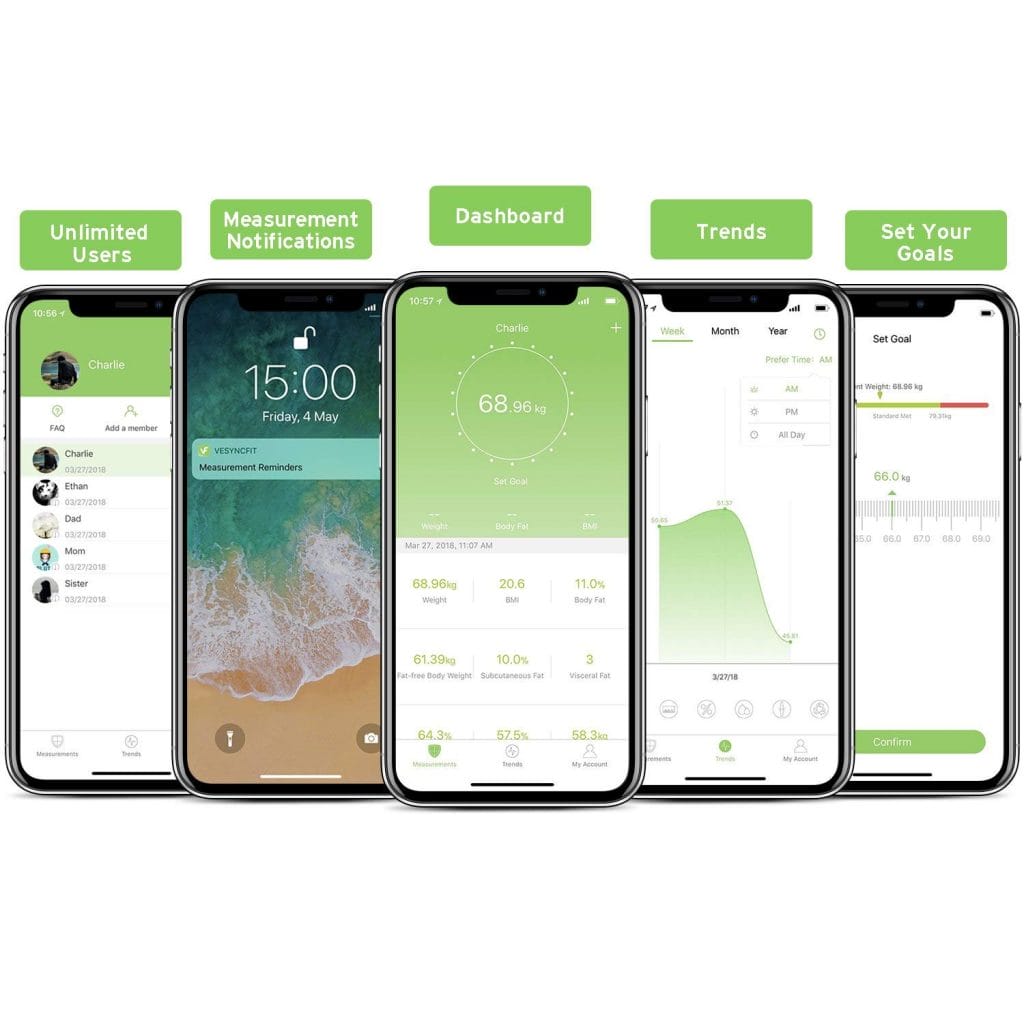 The App is easy to navigate and use and you can see all data by pressing the Trends icon on the bottom bar.  Here you'll' see your current readings along with your previous recordings.  You can see Weekly, Monthly, and even Yearly results.
You're also able to set goals for weight loss.  You'll also see what weight you'll need to be to be on the Green scale.  Each reading has a scale which is easy to follow and see how healthy you generally are.
You can also export your collected data via other Fitness Apps.  You can share information with Apple Health, Google Fit, and Fitbit.
Technical Specifications.
Brand: ETEKCITY
Model: Smart Fitness Scale
Model Code: ESF17
SKU Code: HBHWFE28GE
EAN: N/A
ASIN: B0798P943F
Weight Capacity: 400lb, 180KG, 28st
Graduation: 0.2lb (0.05KG)
Weight Units: lb/kg/st
Platform: Tempered Glass
Battery: 4x AAA Batteries (Included)
Compliance: CE, RoHS
Conclusion.
I absolutely love these scales from ETEKCITY.  They are easy to use and record very accurately.  You get accurate data recording and vital information.  This is great if you're starting to look after your body and wanting to get into shape.  I honestly cannot praise these scales enough, they're excellent.  I strongly advise you purchase these and start accurately recording your body information.
If you want the ETEKCITY Smart Fitness Scale for yourself, it's available for purchase only on Amazon. The RRP for this product is £29.99.
Product sample provided by ETEKCITY in exchange for a detailed, unbiased review.
---
Thank you for taking the time to read my post. If you'd like to add a comment or thought on this post, please use the section below. I can also be contacted via the online contact form. Please subscribe for the latest reviews, news, and discounts. Please follow My Helpful Hints on Twitter, Instagram & Facebook too!
ETEKCITY Smart Fitness Scale