Today's review is for the BigMouth Giant Doughnut Pool Float. A personal favourite brand of mine who I've reviewed for many times now. This pool float is an over-sized inflatable doughnut, complete with sprinkles.
BigMouth Inc have many different pool floats available for sale along with multiple giftware product ranges too. They're a fun, quirky brand.
The doughnut pool float measures 119.0cm (4ft) in diameter when fully inflated.
But is this pool float any good? What is the quality like? Time to test it out!
Packaging and Contents.
The BigMouth Giant Doughnut Pool Float comes packaged in a colourful cardboard box which features product images and warnings/specifications printed on it. The box measures 25.0cm x 18.5cm x 4.5cm and weighs 755G.
Inside the box you'll find: 1x Inflatable Doughnut, 1x Puncture Repair Patch, and 1x English Warning Guide.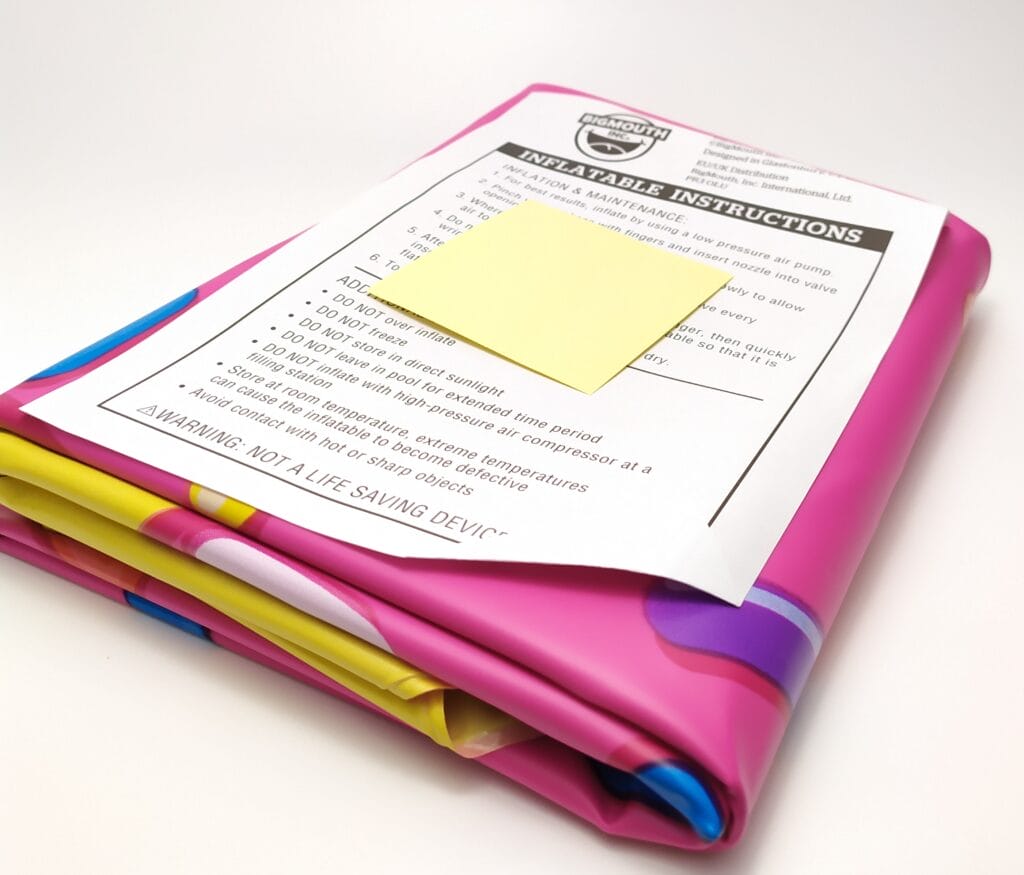 BigMouth Giant Doughnut Pool Float.
The BigMouth Giant Doughnut Pool Float is made durable vinyl. The pool float measure (when inflated) 119.0cm in diameter x 36.0cm in height, the hole in the middle measures 37.0cm in diameter.
You'll see the vibrant pink colour frosting colour to one side of the float, on the reverse is the typical plain doughnut colour.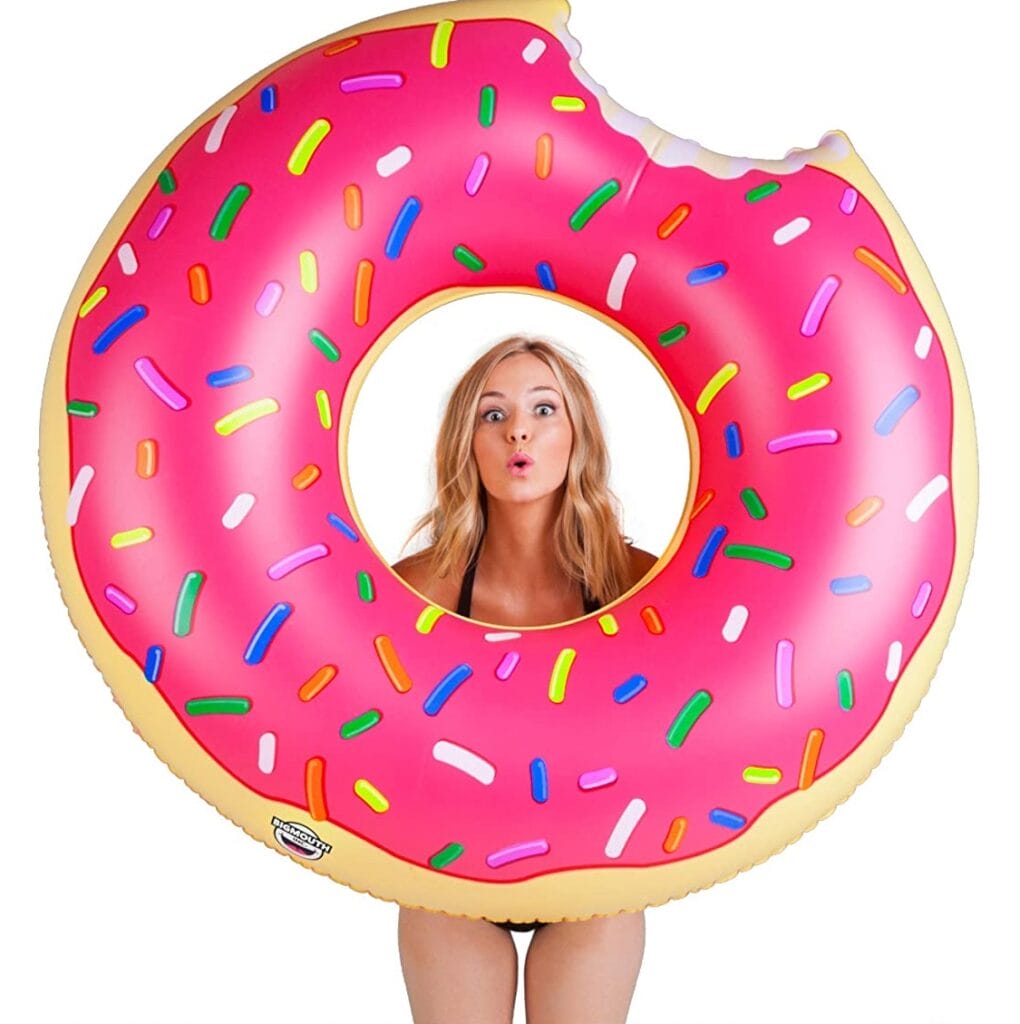 The design of the pool float even features a bit mark from the doughnut itself. It's shaped that way. The only issue with having this bit mark design is when fully inflated the pool float creases inward on this area. It's impossible to get a taught inflated design like the image above.
To inflate I suggest the use of a pump, you do not want to manually mouth inflate this pool float. You'll be there for hours as the float is exceptionally large.
BigMouth Inc advertise the use of the float for persons aged 8+ years. The perfect adult sized pool float. I'm 5ft 10″ and easily and comfortably fit in the centre hole.
The quality of the design is incredibly good. The colour is vibrant and professionally printed too.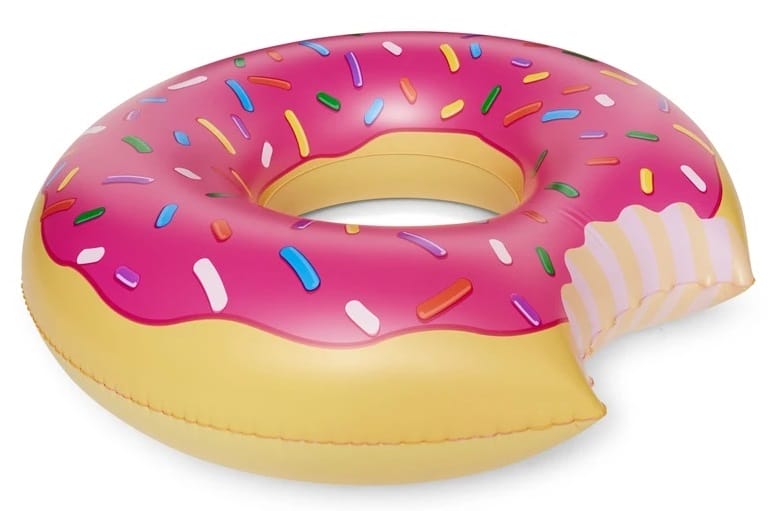 Deflation is a simple squeeze of the valve. Once deflated you're able to fold it flat for storage.
Technical Specifications.
Brand: BigMouth Inc
Model: Giant Doughnut Pool Float
Model Code: BMPF-0003
EAN: 817742021220
ASIN: B007Q2KZU0
Materials: Vinyl Plastic
Ages: 8+ Years
Usage: 1 Person
Regulatory Standards: EN 15649-1, EN 15649-2, EN 15649-4
Compliance: CE
Conclusion.
The BigMouth Giant Doughnut Pool Float is another fantastic product from BigMouth Inc. I like the vibrant pink colour with multi-coloured sprinkles. I'm overly impressed with the overall quality of the design and the print work too. Having a puncture repair patch supplied is also a huge bonus.
Can't really find too much to say, the bite mark looks realistic, but comes at a design cost too.
I quite like the doughnut pool float and would recommend this.
Check out BigMouth Inc directly, they have a massive product range and even have a gift finder tool to assist you to find the right gift for the right occasion.
If you want the BigMouth Giant Doughnut Pool Float for yourself, it's available for purchase only on Amazon. The RRP for this product is £17.99.
Product sample provided by BigMouth in exchange for a detailed, unbiased review.
---
Thank you for taking the time to read my post. If you'd like to add a comment or thought on this post, please use the section below. I can also be contacted via the online contact form. Please subscribe for the latest reviews, news, and discounts. Please follow My Helpful Hints on Twitter, Instagram & Facebook too!
BigMouth Giant Doughnut Pool Float