The Betron E45 Speaker is another wonderful addition from the Betron speaker range.  It's wireless 4.2 Bluetooth connection ensures that the signal is strong between the speaker and your device.
You get a sleek, modern looking electronic speaker that also has fantastic sound quality.
The Betron E45 is compatible with any device including the iPhone, iPad, iPod, Android Smartphones, Windows Smartphone, Tablet, Laptop and even your PC.
You also get a fantastic built-in handsfree call function too!
Packaging.
The Betron E45 comes packaged very neatly in a Grey cardboard box, there is product images and specifications printed on it too.  The box measures 24.0cm x 9.0cm x 7.5cm and weighs 770G.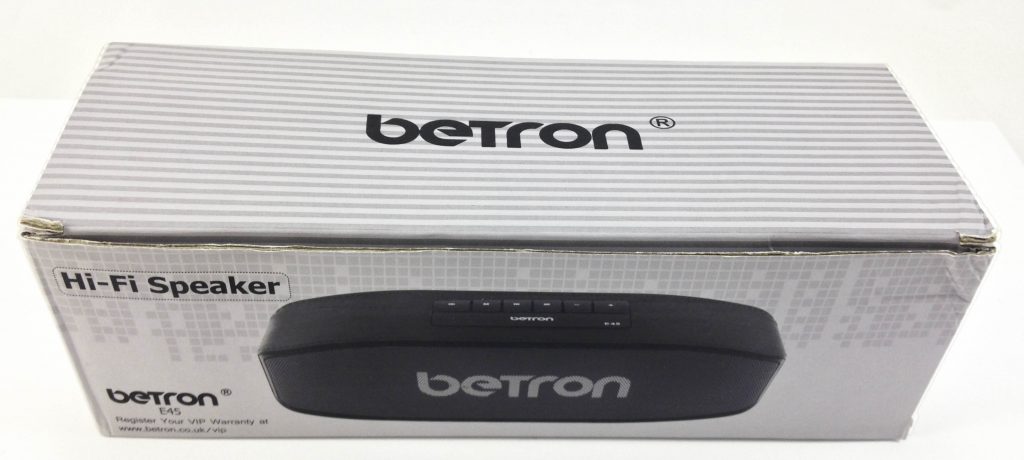 Contents.
Upon opening the Betron E45 box you will find the following items. 1x Speaker, 1x USB Cable, 1x AUX Cable, 1x English Written User Guide, and 1x Betron VIP/Warranty Card.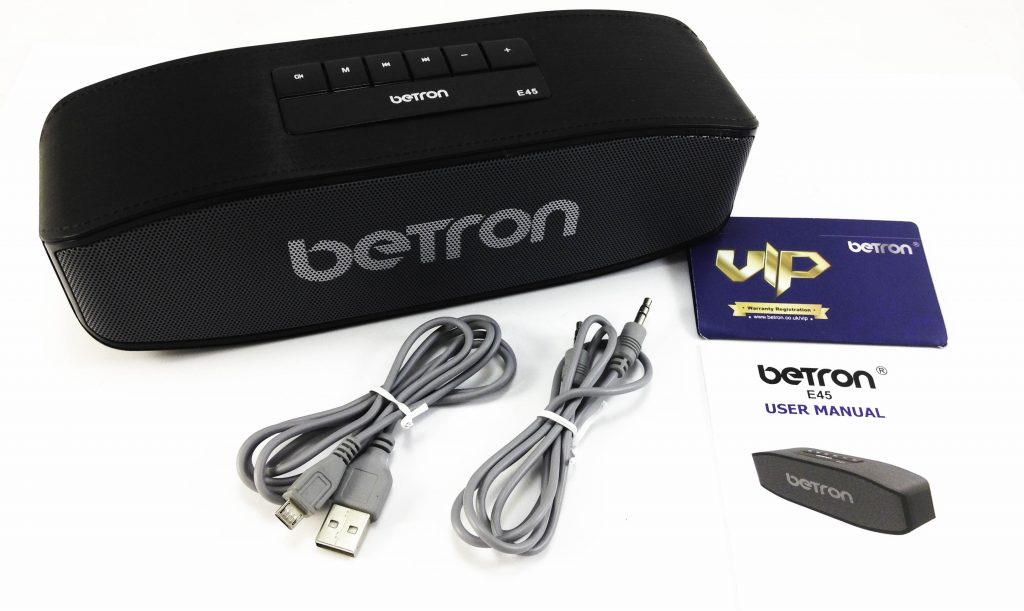 Betron E45 Speaker.
The Betron E45 speaker is Black and Grey in colour, it also has a matt textured feel to it and styled with Black glossy user buttons.  The speaker measures 23.0cm x 6.5cm x 7.0cm and weighs 665G.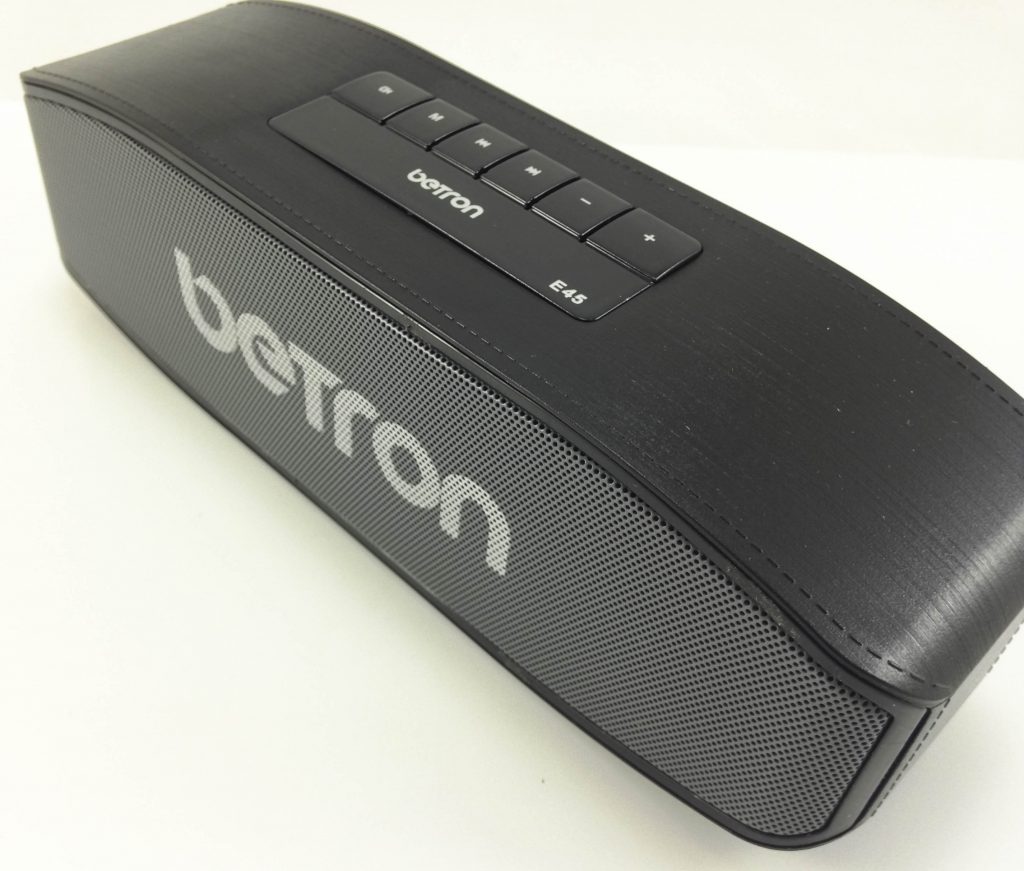 On the top you will see 6 user control buttons.  These are from left to right Pause/Call Button, Menu Button, Previous Button, Next Button, V- Button, and V+ Button.
On the back of the Betron E45 there are 5 function control input slots, these are from left to right, Power On/Off Toggle Switch, TF Card Input, Micro USB Charging Port, USB Port, and AUX Port.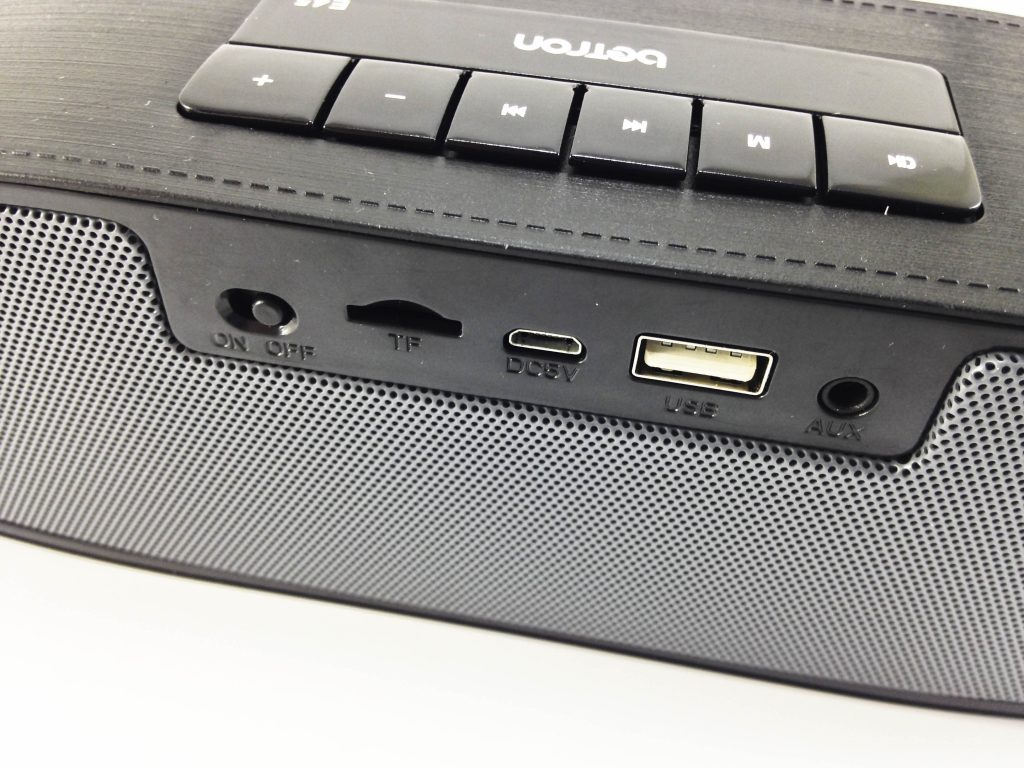 You also get rubber non-slip feet on the bottom of the Betron E45, this provides grip and protects the surface on which you've put the speaker on.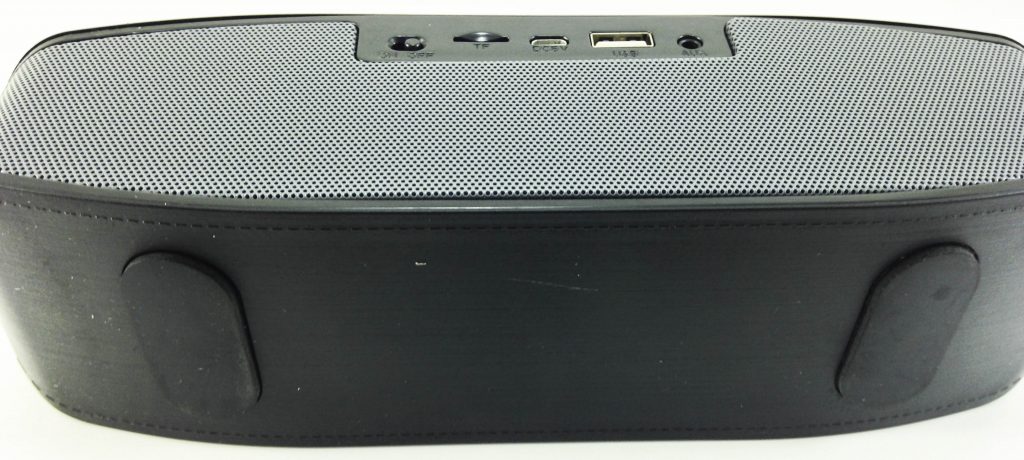 Using the Speaker.
I found pairing the Betron E45 speaker to my iPhone a breeze.  Simply power on the speaker and perform a Bluetooth scan on your device and connect to "E45" and that's it! You're connected and ready to start using the speaker.
You can control the volume and track selection directly from the speaker without the need to control these from your device.
The Bluetooth connection was good and very strong and i managed to keep signal for around 10M.  You can also answer telephone calls when a Bluetooth connection has been established.
You can also use and charge the Betron E45 at the same time, it takes around 4 hours to fully charge and you get around 8 hours of use on a full charge.  The supplied Micro USB cable has length of 100cm.
You are also able to play music without using a Bluetooth connection, you can either use the supplied 3.5mm AUX cable or use a USB input to play audio.  A TF Card can also be used to play music.
Technical Specifications.
Brand: Betron
Model: Bluetooth Wireless Speaker
Model Code: E45
EAN: 5060264025916
ASIN: B077SKKJ2S
Input: DC 5V 1000mA
Connection Type: Bluetooth V4.2 +EDR
Operating Distance: 10M
Battery Type: Li-ion 3.7V 4000mAh
Output: 10W (2x 5W Speakers)
Loudspeaker: 40mm
Frequency Response: 120Hz ~ 20KHz
Charge Time: 4 Hours
Charging Port: Micro USB
Usage Time: 8 Hours
Microphone: Yes
Micro SD Card: Support up to 64G
Compliance: CE
Conclusion.
I have reviewed a few Betron products over the past few months and have loved them all, this speaker is no exception.  I genuinely really like it, the design, the sound and the Bluetooth connection is fantastic.  Honestly the Betron range is very good quality and the price range is also unbeatable.  I can't praise this speaker or the Betron range enough.
If you want the Betron E45 Speaker for yourself, it's available for purchase only on Amazon. The RRP for this product is £9.99.
Product sample provided by Betron in exchange for a detailed, unbiased review.
---
Thank you for taking the time to read my post. If you'd like to add a comment or thought on this post, please use the section below. I can also be contacted via the online contact form. Please subscribe for the latest reviews, news, and discounts. Please follow My Helpful Hints on Twitter, Instagram & Facebook too!