I am part of several EDC (Everyday Carry) groups on social media platforms as some of you may know – one of my favourite groups being "EDC Cooperative" on Facebook. Over time, I realised that fewer and fewer people carried traditional, bulky wallets and many people were carrying more streamlined wallets.
I had a think about my current wallet and decided that if I cut down on my wallet size, I could carry more EDC gear such as a flashlight or Swiss Army Knife. As always, I started researching and finally decided on one company: A-Slim. A few emails later, I received the A-Slim Origami Wallet in the post.
What's in the Package?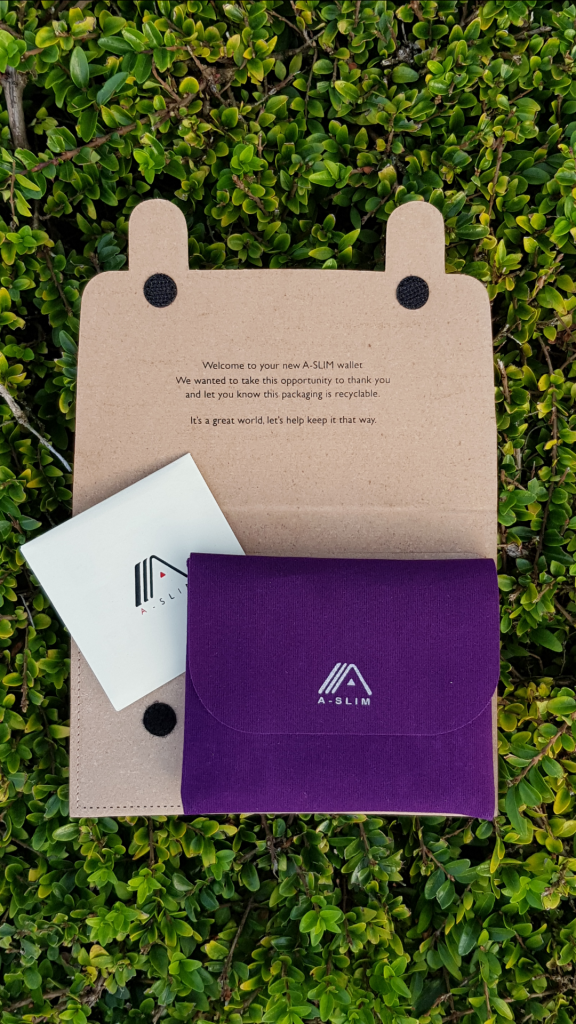 The "Origami" wallet comes in a very fine envelope, with the "A-Slim" logo centred on the envelope. I couldn't put my finger on the materials used to make the envelope, as it felt like leather, smelt like leather but didn't look like leather. Upon contacting A-Slim, I discovered that they use all their leather cutoffs and recycle them into their envelopes. This is amazing, as it reduces waste. Instead of using glue to stick the edges, it has been stitched with cream coloured thread. There are two circular Velcro fittings that prevent the contents from falling out. Inside the envelope, you receive another envelope. This one is made from a soft, purple fabric containing a card with information about the product and a note from A-Slim, thanking you for your purchase. In this purple envelope, you will also find the most important part – the "Origami" wallet.
The A-Slim Origami Wallet.
The wallet I chose was the "Origami" in rainforest green and Havana tan. It was dark  when I opened the envelope(s) and at first I thought that the wallet was black and tan. The first three words that came to mind were "luxury", "exquisite" and "wow". The green is very dark and it complements the tan fantastically.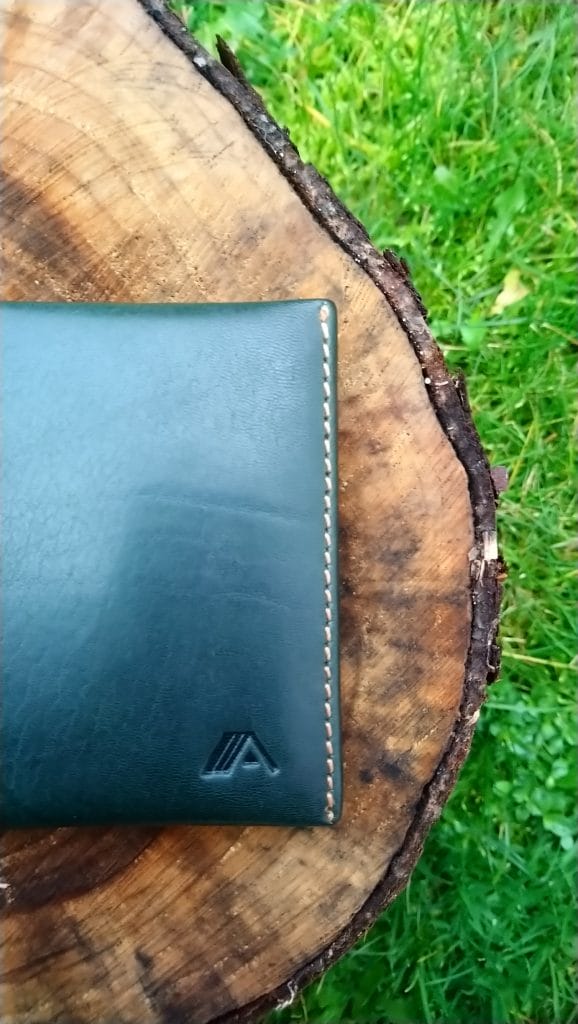 On the front of the wallet, the A-Slim logo has been discreetly embossed. Then, upon opening the wallet, the words "A-Slim London" are embossed on the right hand side. It is very light, weighing just fifty grams.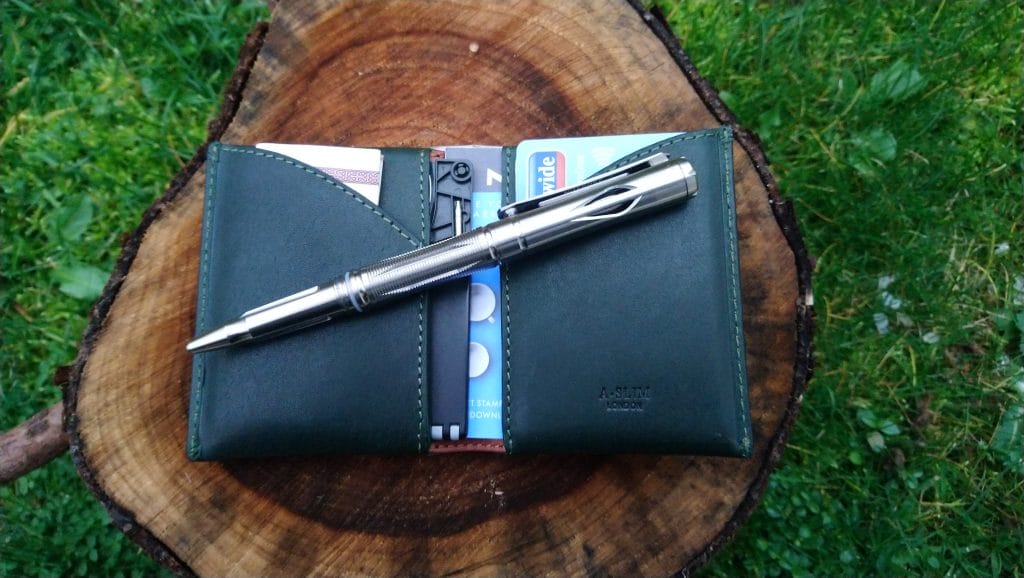 It is a bi-fold wallet, which makes it even more compact (939 millimetres high by 763 millimetres wide by 118 millimetres deep). There are two slots for you to store the cards you use most and banknotes (which are easy to store when folded in three), as well as two larger slots behind these, where you can store even more cards or other thin items. For example, I tend to carry around four or five cards on a daily basis, a few banknotes and a multitool in my wallet (I've really taken to the Victorinox Swiss Card). This normally takes up a lot of space, however, in the Origami, you hardly realise that they're there. The sections for the cards you use most easily holds 3 cards each (plus my Victorinox Swiss Card which is quite thick, in the section behind the cards).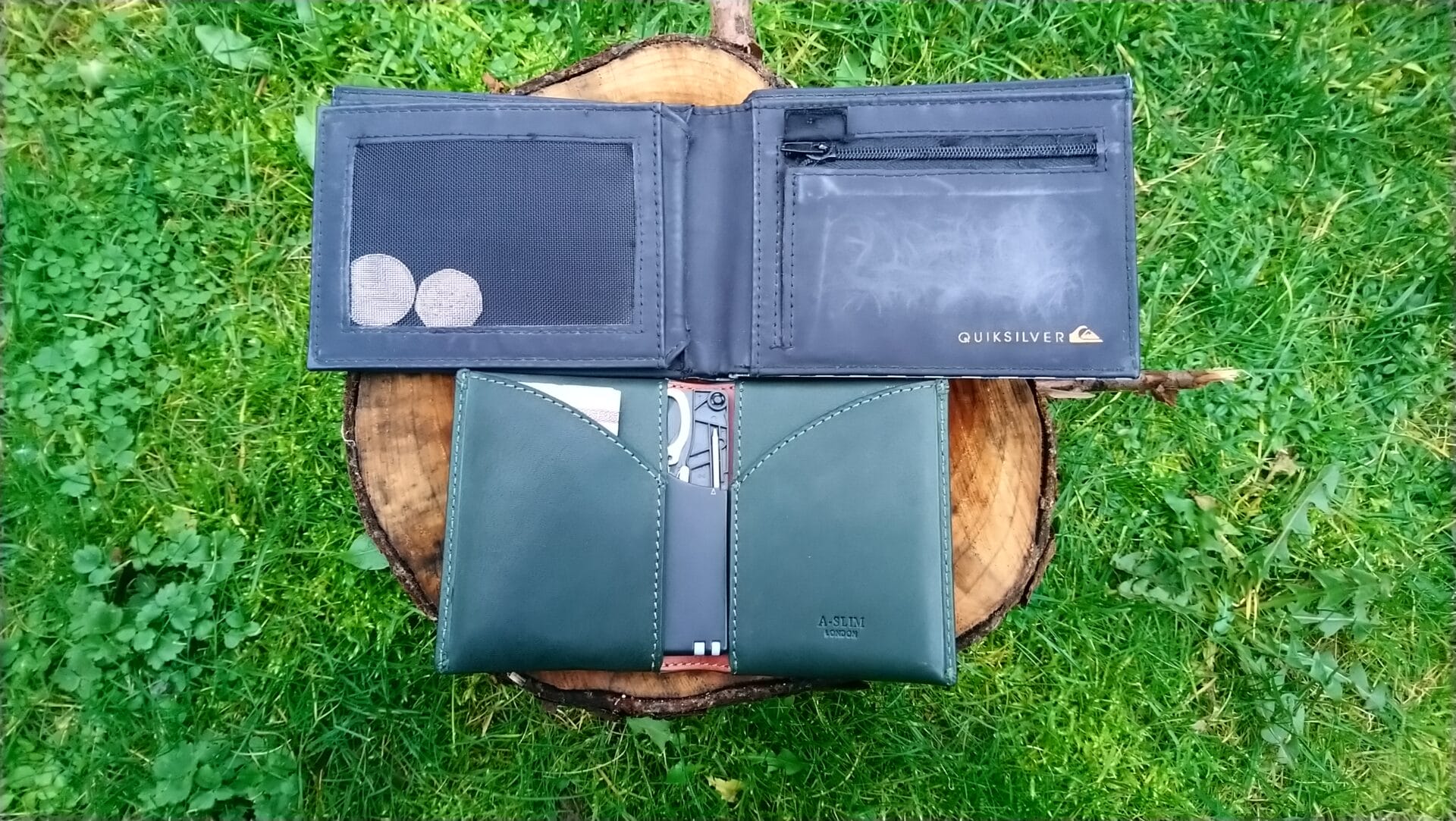 The Materials Used.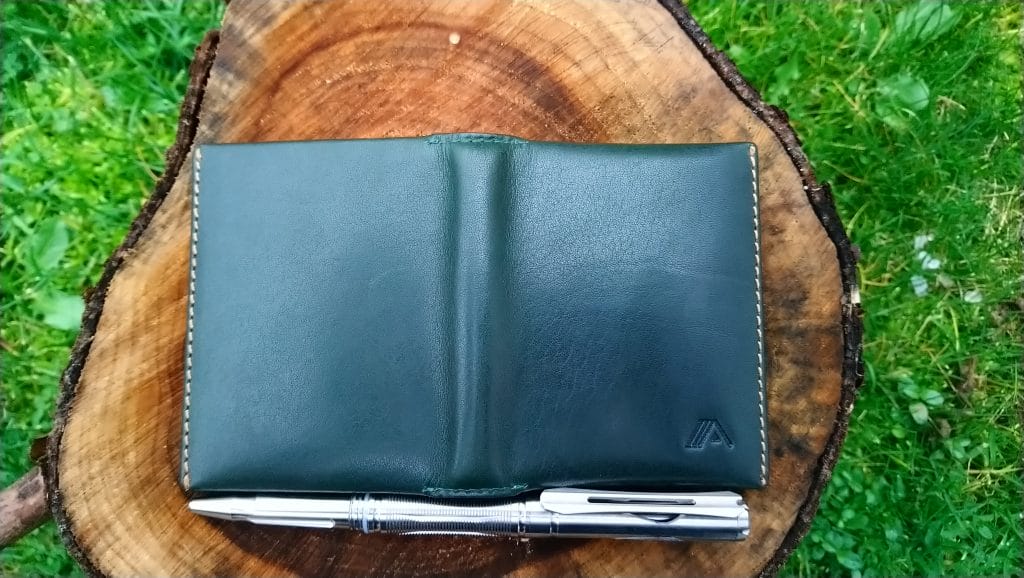 The A-Slim Origami Wallet is made from two high quality premium, soft pieces of leather. Viscous, 4-ply thread holds these together (in my case, the thread is Havana tan coloured thread is used). The Origami features RFID (radio frequency identification) protection, which means that criminals with skimmers can't steal the money on your credit or debit cards.
The premium leather used is very smooth – this means that it will, over time, develop a patina. The leather will also scratch easily as it is very soft, however this adds character to the Origami. This is why I prefer leather over other materials when it comes to wallets. Don't get me wrong – other materials may have different benefits (for example water resistance), but when it comes to what looks the classiest, leather always wins by miles.
Some Time Later.
I have been using this wallet for almost two weeks now. Honestly, I don't think I could ever go back to using my old one. The Origami is so much lighter and compact than my usual wallet. This has allowed me to carry my favourite things without having to sacrifice one to carry the other. For the first few days, it was unusual not having a space for coins, but I rarely need coins as almost all my transactions are done via contactless card payments. If I get change from a banknote, the coins go in the tiny pocket in my jeans. I love the Origami wallet – affordable, yet exquisitely crafted.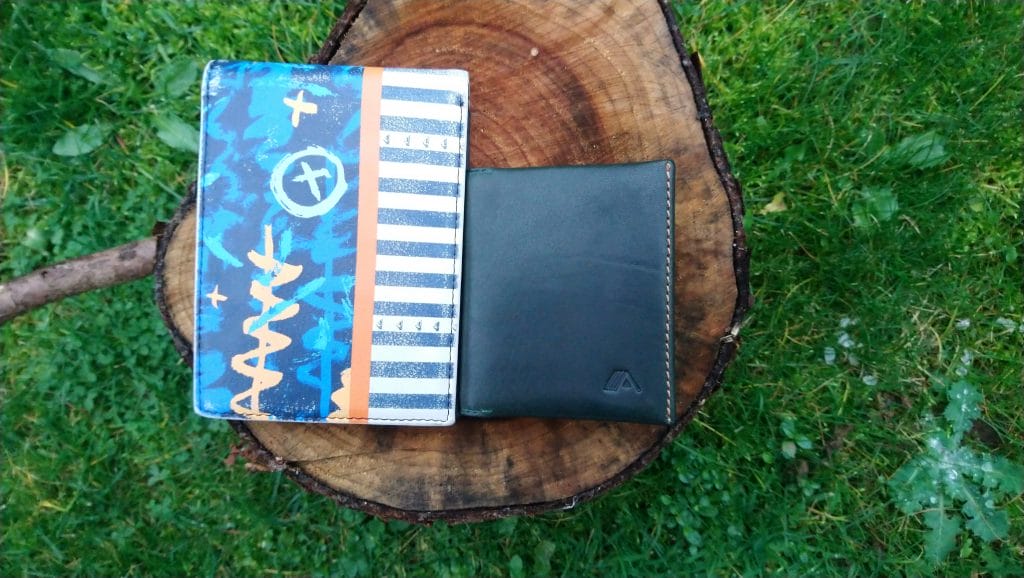 Improvements and Suggestions.
I honestly wasn't able to find any faults with the Origami wallet. It is everything that I need a wallet to be – compact, light and classy. My only suggestion would be to treat the leather with a waterproof or water resistant finish. This would protect the leather if it started to rain while you were out. Apart from that, I can't think of any other way to improve the Origami.
If you want the A-Slim Origami Wallet for yourself, it's available for purchase only on Amazon and their website. The RRP for this product is £34.99.
Product sample provided by A-Slim in exchange for a detailed, unbiased review.
---
Thank you for taking the time to read my post. If you'd like to add a comment or thought on this post, please use the section below. I can also be contacted via the online contact form. Please subscribe for the latest reviews, news, and discounts. Please follow My Helpful Hints on Twitter, Instagram & Facebook too!