Today I'll be reviewing Creation Crate. This subscription box service allows you to receive many different tech related DIY projects every month.
Each kit is part of an education curriculum that ranges from a novice right upto an expert level in the fields of tech.
The kit I have is the Mood Lamp kit which is part of the electronics section designed for people aged 12+. Creation Crate's Upgraded Electronics curriculum is made up of 12 Uno R3 (Arduino Compatible) projects that, just like the standard curriculum, teaches circuitry, programming, and high-level problem solving. Projects are a multi-stage progression and offer display-ready projects using the Creation Crate box.
But what is the kit like? Is it easy to build? Time to test it out!
Packaging.
The Creation Crate comes in a colourful cardboard box, this box is also part of your build, so be sure to look after it.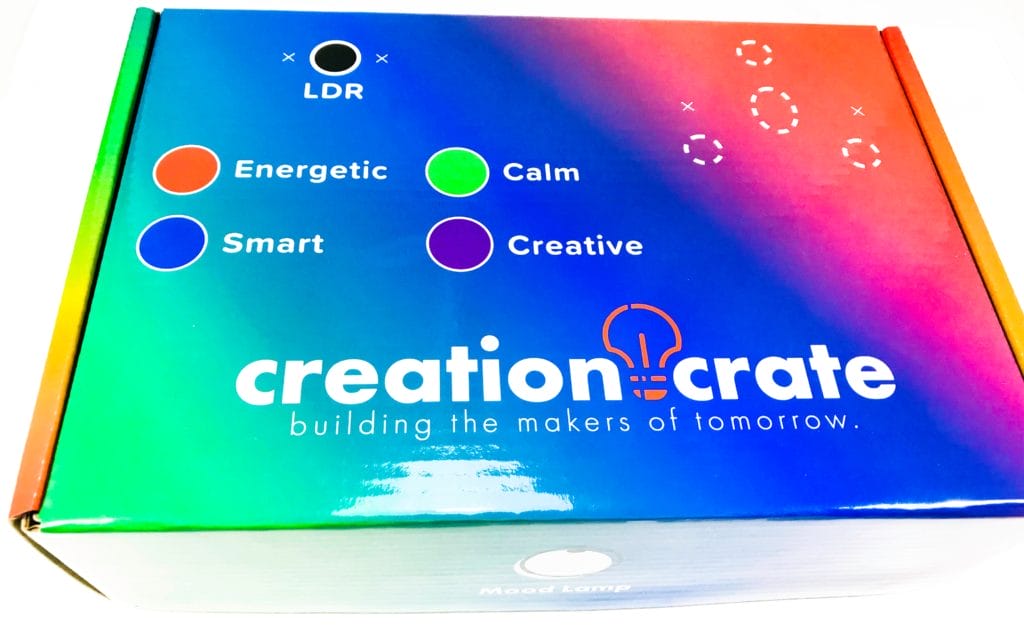 Contents.
Upon opening the box you'll find the following contents; 1x Uno R3 PCB, 1x Breadboard, 10x F/M Jumper Cables, 5x M/M Jumper Cables, 2x Red LED's, 2x Green LED's, 2x Blue LED's, 3x Tape Squares, 1x 2.2K Ohm Resistor, 1x USB Cable, 1x Light Dependent Resistor, 1x Paper Lantern, 1x EU Power Supply.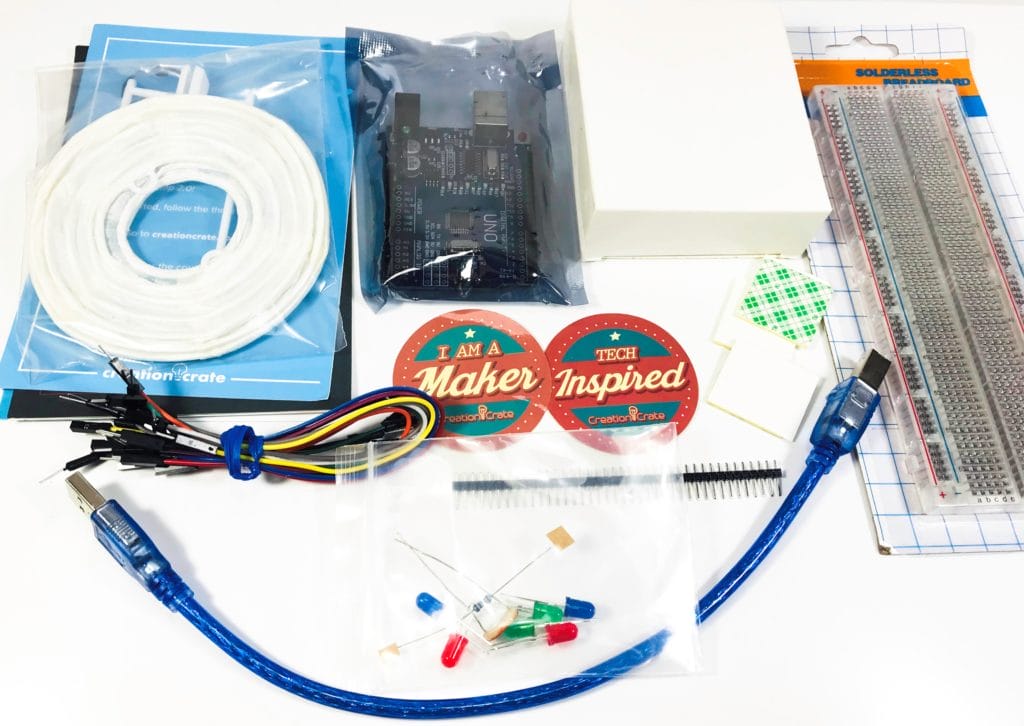 Creation Crate.
As previously mentioned, Creation Crate provide numerous kits designed for all abilities and ages. The one I have for review is the Mood Lamp 2.0, this kit enables me to build my own mood lamp whilst also following a step-by-step instructional guide.
To start your build, you'll need to go the Creation Crate website and create a user account. One created you'll need to login in the classroom that applies to your build. The classroom gives you a basic introduction to your kit and the components and shows you how to create your Mood Lamp following a step-by-step guide.
I did find however some of the instructions hard to follow, especially where they show you the location of where to install the PCB and Breadboard. If you follow this instruction, you'll find the Female/Male Jumper cables won't reach both boards.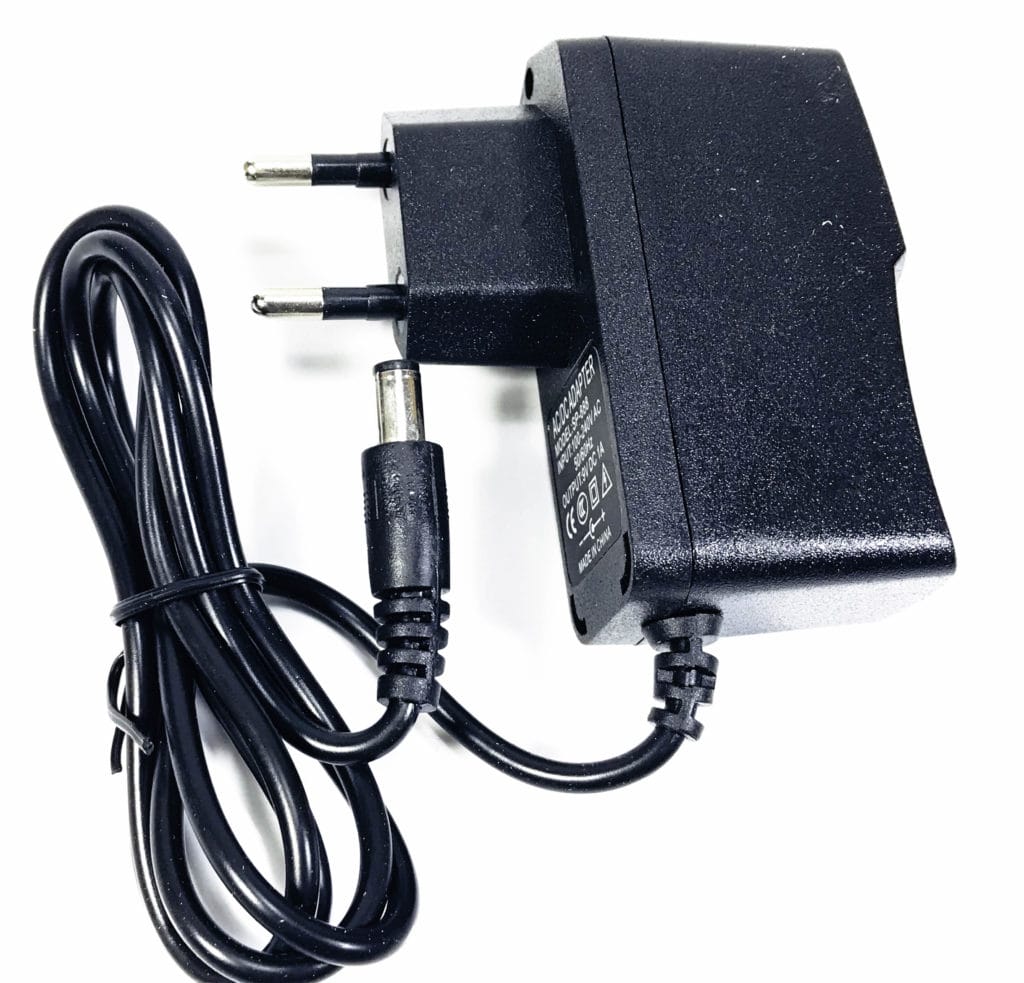 Also, some of the text used was confusing, maybe this is because I'm British and Creation Crate is Canadian.
Is Creation Crate value for money?
This all depends on the type of kit you wish to receive. The junior kit starts from $11.49 per month, the electronic and coding kit starts from $22.49 per month and the wearables for girls' kits starts from $29.99 per month.
Delivery is not included in these costs! The kit I have is part of the electronic and coding kit. Every month you'll receive a new project. Considering the number of parts/components and the step-by-step guides that goes into each build I think it's very good value for money.
Conclusion.
I like the idea and kit Creation Crate, it's fun, educational and gives a great insight into learning about electronics. However, there's still some room for improvement. Being from the UK a power supply having a EU plug is no good to me whatsoever, unless I use an adapter. I think if your shipping a subscription box into the UK you should supply a UK plugged power adapter.
Also, some of the lingo needs to better reflect for the UK market and a paper user guide would be preferred over an online classroom version only.
But aside from my moans the kit itself is very good. It's a great educational kit that teaches you the world of electronics.
If you want a Creation Crate subscription box for yourself pop over to the Creation Crate website .
Product sample provided by Creation Crate in exchange for a detailed, unbiased review.
---
Thank you for taking the time to read my post. If you'd like to add a comment or thought on this post, please use the section below. I can also be contacted via the online contact form. Please subscribe for the latest reviews, news, and discounts. Please follow My Helpful Hints on Twitter, Instagram & Facebook too!
Review Update.
After my review was published Creation Crate got in touch with me to discuss the points I made above. I mentioned the online aspect of the user guide and Creation Crate provided me with a PDF version of the user guide, so I was able to print out and use a paper instructional guide. So, if like me you wish to have a paper manual you can simply contact Creation Crate and they'll provide you with a PDF version too.
Now for the AC power plug, I was sent an EU plug in error. Creation Crate normally send the correct type of power plugs to the destination country. Somehow, they made a mistake and sent me an EU plug instead of a UK plug. They're investigating this as to why this happened, but are sending me the correct plug regardless, which is pretty good of them!
Overall, I'm very impressed with the customer service for Creation Crate. They took my criticisms very well and handled them with respect. They also addressed my concerns quickly and resolved them too. I'm sure they'll do the same for you too if you should ever need their services.