The ZaKitane ZT22 Mini Desktop Tripod is a universal camera table tripod that fits almost any camera or smartphone.
You can produce professional quality video and it's the perfect choice for any YouTube content channel.
The legs are fully adjustable too and you can easily and effortless pan and tilt with a smooth action.
You also get a smartphone clamp kit which allows you to record on this tripod using any branded smartphone.
But is it any good? Is it easy to use? Time to test it out!
Retail Packaging.
The ZaKitane ZT22 Mini Desktop Tripod comes packaged in a cardboard box.  The box measures 30.0cm x 10.5cm x 10.5cm and weighs 835G.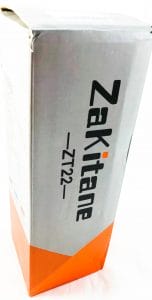 Contents.
Upon opening the ZaKitane ZT22 Mini Desktop Tripod box you will find the following items. 1x Tripod, 1x Carry Bag, 1x Mobile Phone Clamp, 1x Multi-Lingual User Instructions.
ZaKitane ZT22 Mini Desktop Tripod.
The ZaKitane ZT22 Mini Desktop Tripod is Black in colour and is made from lightweight Aluminium alloy tube and ABS Plastic.  You get a tripod that is 30.0cm in height and can adjust to a maximum size of 57.2cm in height and weighs just 640G.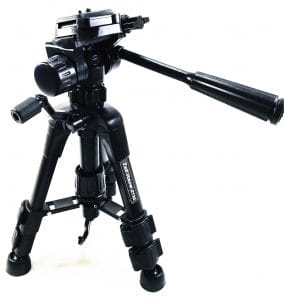 The feet are made from durable rubber materials and are also fully movable to accommodate any ground level and keep your tripod firm and level.  The legs are secured by a flip-lock design and you're able to select the height of the tripod easily and securely.
A great feature of the ZaKitane ZT22 is in the in-build spirit level bubble located under the mounting screw plate, this is fantastic for ensuring your setup is perfectly level and adds a more professional touch to your video recordings.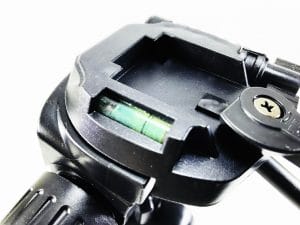 The mounting area is fully adjustable too, you're able to easily mount almost any device using the 1/4″ mounting screw and can pan, tilt and even raise the height of the mounting plate without any video jerky recordings.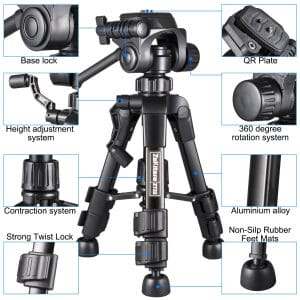 Once you've finished the tripod is easily folded back down and stored in the carry case for next time without taking up much space.
Technical Specifications.
Brand – ZaKitane
Model – Mini Desktop Tripod
Model Code – ZT22
EAN – N/A
ASIN – B07CXJGCQL
Colour – Black
Material – Aluminium alloy tube and ABS Plastic
Mounting Screw – 1/4″
Minimum Height – 30cm / 11.8in
Maximum Height – 57.2cm / 22.5in
Fold Length – 29.5cm / 11.6in
Load Capacity – 5KG/11Lbs
Tilt Range- 270 degree
Panning Range – 360 degree
Tripod Weight – 0.64kg
Compliance – N/A
Conclusion.
This is a good tripod, the movement of the handle when in use does not impact on the quality of your recordings.  The tripod is lightweight and very easy to transport around with you.  You also get the feeling that the tripod is stable and has been designed to last.  And, being made from Aluminium also means it's rust-proof.
Overall, I like this tripod and highly recommend you purchase one today.
If you want the ZaKitane ZT22 Mini Desktop Tripod for yourself it is available only on
Amazon and comes with a full 12 Month Warranty.  The RRP for this tripod is £29.99.
As a special bonus I've also been given a 30% off Amazon Discount Code to share with you, simply enter the code ZVLYQ7AX by the 30th September 2018 using this
link.
---
Thank you for reading this, feel free to comment down below, your input really matters to me.  I can also be contacted here.  Why not check out my other product reviews here.
Darren