The UGears Chronograph is wooden model kit that can assembled by an amateur with complete ease.
You get a step-by-step illustrated instruction book and a basic tool kit is all that's required.
The model I chose to build is the Chronograph.  This model actually moves and is a 20-minute self-propelled timer!
But is this kit easy to build? Does it function? Time to test it out!
Packaging.
The UGears Chronograph comes packaged very neatly in a White cardboard box which features product images and specifications printed on it.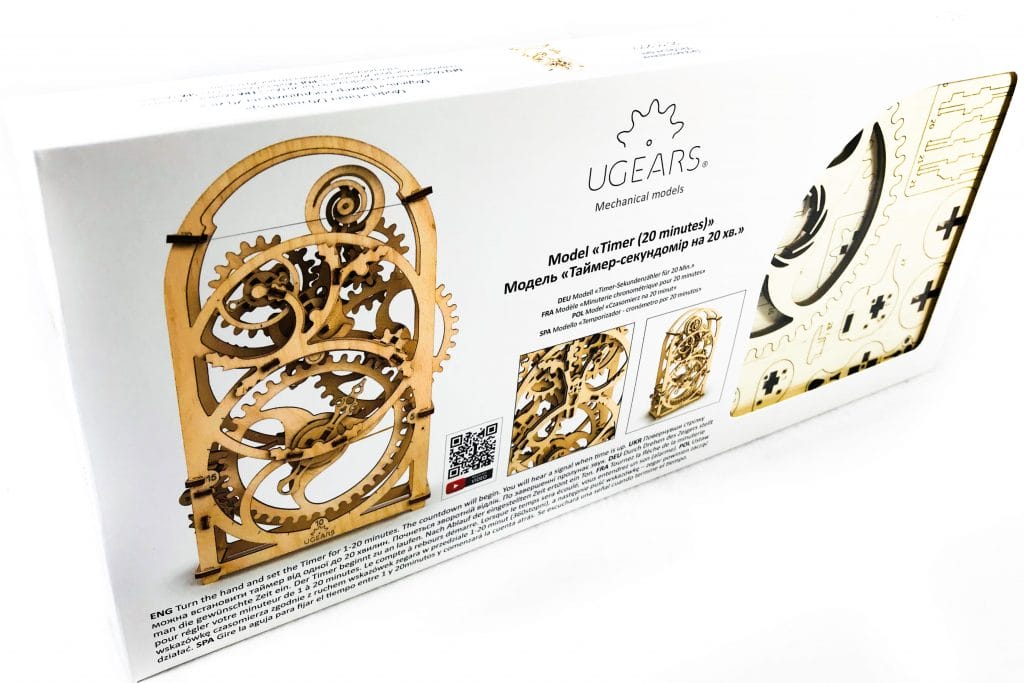 Contents.
Upon opening the UGears Chronograph box you'll find the following items.  4x Cut Wooden Sheets, 2x Elastic Bands, 1x Bunch of Cocktail Sticks, 1x Multi-Lingual Instructional Guide.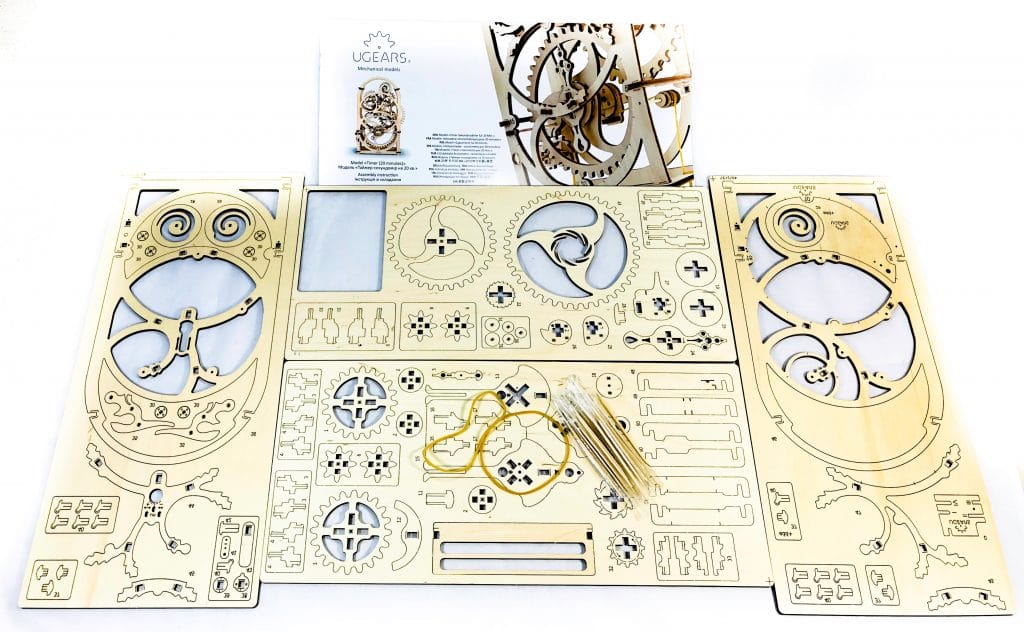 UGears Chronograph.
The kit is made entirely from natural wooden materials and does not require any glue whatsoever.  You'll need a couple of things though before you start constructing your masterpiece.  You need a plain tealight candle, fine graded sandpaper, and a craft/hobby knife.  That's it! Now you're ready to start assembling.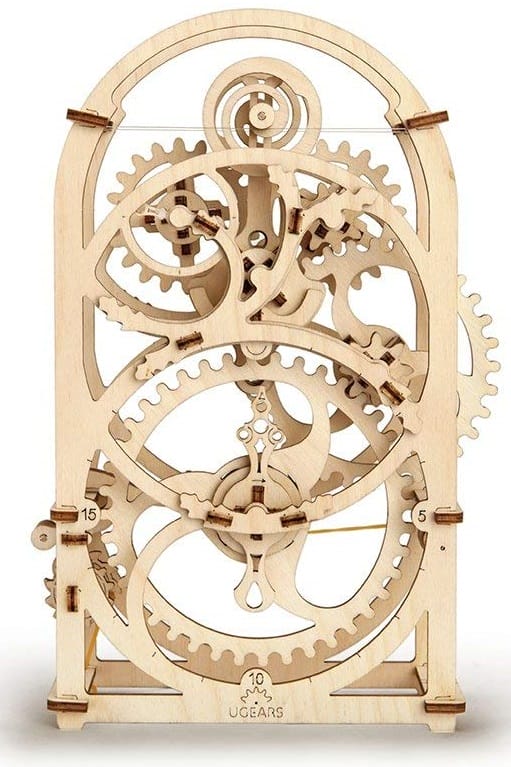 The UGears Chronograph kit has been designed for anyone 14 years or above, this is due to small parts and the complexity of the build.
The illustrated instruction book is simple enough to follow along without any issues.  The important things to note when building come with a Red explanation mark.  You also get a few spare parts too, as some of the pieces are very fragile and can break easily.  You also get double the amount of cocktail sticks too, as these can become damaged easily when building.
Firstly, you need to remove the UGears measurement gauge, this gauge is your lifeline and will assist you in ensuring you have your sticks the correct size.
As mentioned above you'll also require a plain/basic tealight candle.  The wax from rubbing against the parts acts as a lubricant and assists you in both the building process and overall working movements.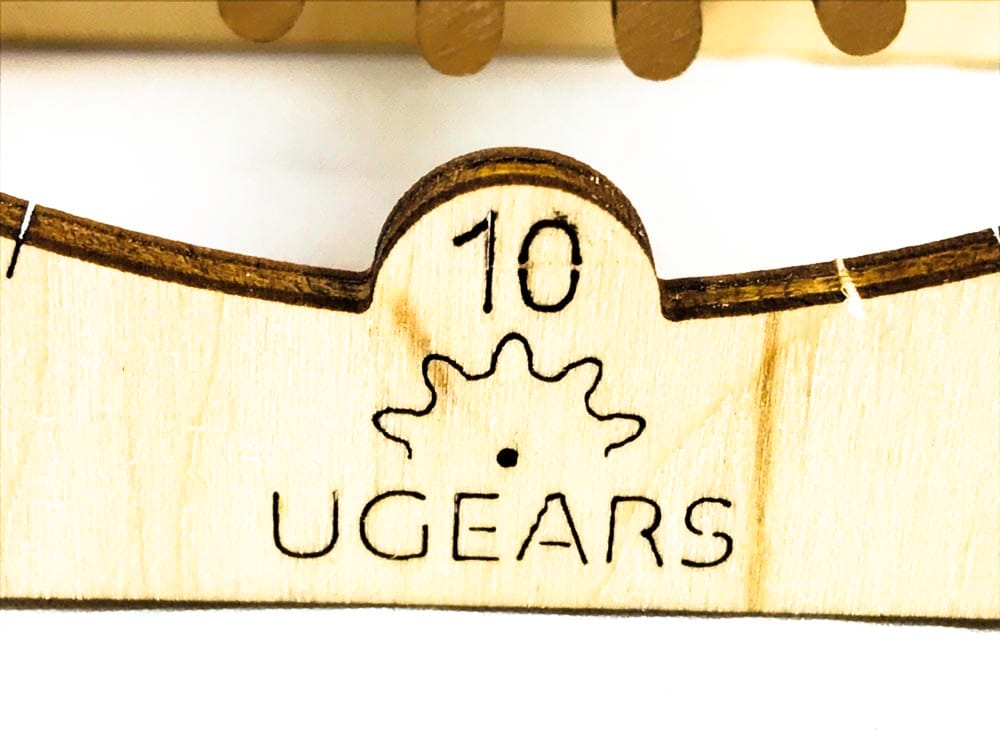 I also used a very fine graded sandpaper as sometimes you get a couple of wooden burrs from removing the pieces from the boards and these need to be removed.
Building.
I took my time and managed to construct my model in around 5-6 hours, but with practice I'm sure you'll be even quicker.
I found the whole build to be very satisfying and I thoroughly enjoyed the whole process.  I'm a person who normally struggles with wood-working crafts, but the UGears Chronograph was assembled by myself without any major issues.  I did snap a few cocktail sticks and had to rebuild a couple of the components due to this, but you get plenty of spares!
Best of all, the Chronograph is an actual working timed instrument.  So not only does it look pretty but, it's a working timepiece.
Once fully assembled the Chronograph measures 25.5cm in height, 16.0cm in width and has a depth of around 7.0cm.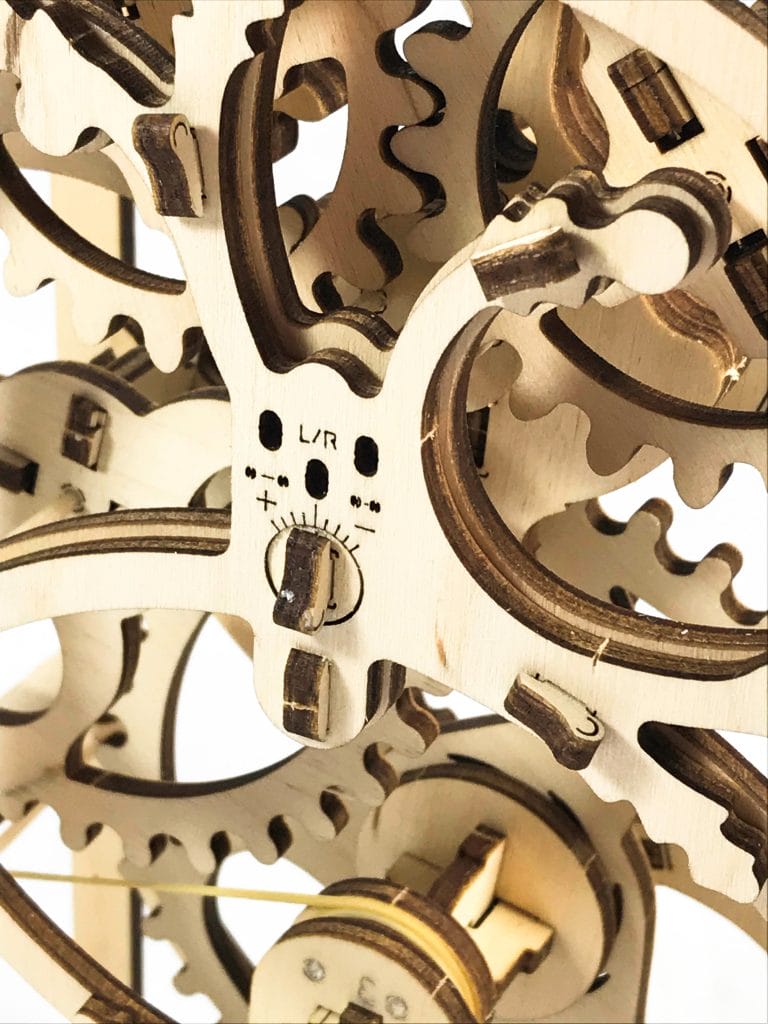 I love the whole mechanised steampunk look to the completed build, it looks great as a working and decorative piece.
Technical Specifications.
Brand: UGears
Model: Chronograph
Model Code: 70004
EAN: 4820184120167
ASIN: B0166WF56O
Compliance: CE
Conclusion.
I thoroughly enjoyed constructing the UGears Chronograph.  I'm also very grateful to the additional cocktail sticks, as I broke a few when assembling all the parts together.  The illustrated guide is very easy to follow on too, which is great!
If you have a candle, knife, and fine graded sandpaper you're good to go!
Maybe in a future kit UGears could supply a small piece of fine graded sandpaper as not everyone will have this to hand.  I'm lucky I've only recently finished decorating and had some left over!
I can't recommend this model enough though, it's very enjoyable being able to sit down and complete this wonderful kit.  UGears have many different model kits available, some with mechanical movements, some not.  They have a product range that'll suit everyone.
If you want the UGears Chronograph for yourself, it's available for purchase only on Amazon. The RRP for this product is £33.99.
Product sample provided by UGears in exchange for a detailed, unbiased review.
---
Thank you for taking the time to read my post. If you'd like to add a comment or thought on this post, please use the section below. I can also be contacted via the online contact form. Please subscribe for the latest reviews, news, and discounts. Please follow My Helpful Hints on Twitter, Instagram & Facebook too!