Today is a rather special day, I'm going to be reviewing the Olight i1R EOS torch. This tiny keyring torch features a rechargeable 80mAh battery and two lighting modes, all in a small 12G torch.
This torch really is tiny, but packs quite a punch, you get two lighting outputs, the first produces just 5 lumens with a 13m range, whilst the second option produces a huge 130 lumens with a 54m range.
Olight have a big fan base for good quality products, and have a massive social media following too!
I've reviewed other Olight products before and have always found them to be high quality and built to last.
Will this little torch be any different? What is it like to use? Time to test it out!
Packaging and Contents.
The Olight i1R EOS comes neatly packaged in a White cardboard box. There's picture illustrations and written product specifications also printed on the box. The box measures 11.3cm x 3.6cm x 1.8cm and weighs 40G.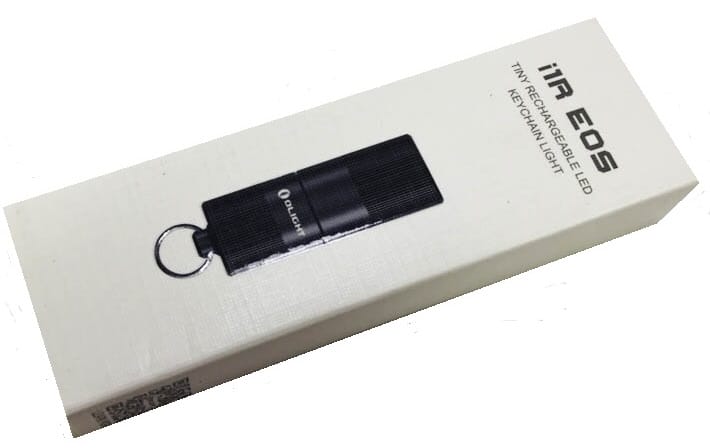 Internally, the torch and accessories are neatly stored in a plastic inner for protection. Upon opening the internal packaging you'll find the following items; 1x Torch, 1x Micro USB Cable, 1x English User Guide.
Olight i1R EOS.
The Olight i1R EOS is Black in colour and is constructed from high-quality and robust Aluminium. As mentioned before this torch is tiny and measures just 41.0mm x 14.0mm and weighs only 12G.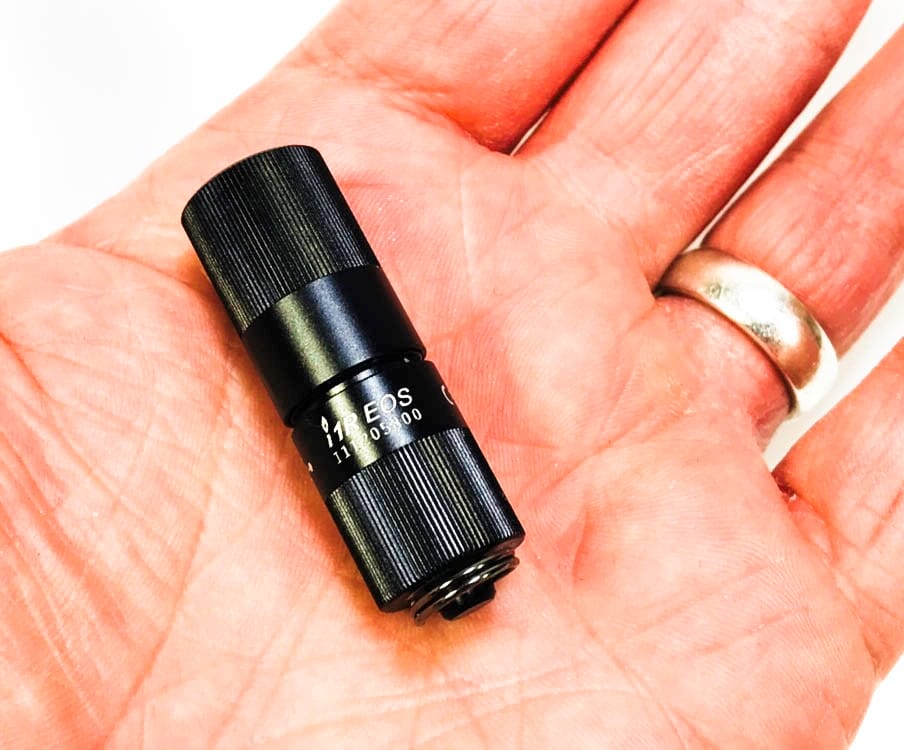 On the end of the body you'll see a small keyring that enables you to attach the i1R to your bunch of keys, this keyring measures approximately 10.0mm in diameter.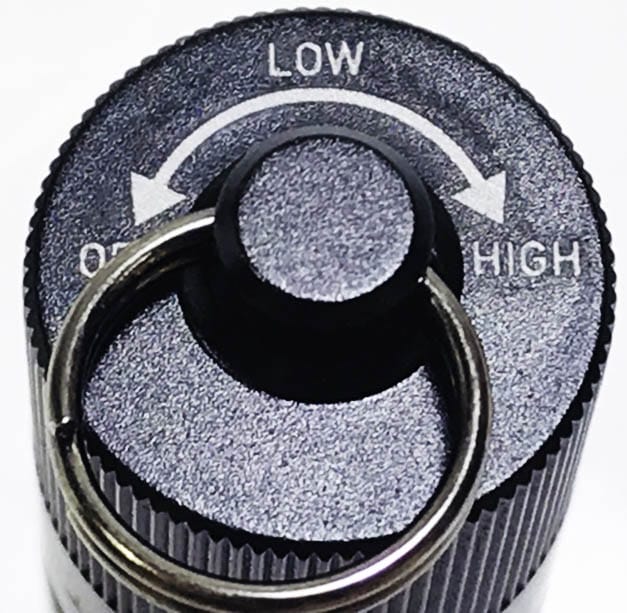 The end cap is also how you operate the torch, simply rotate clockwise and anti-clockwise to go between the low/high light level and to turn it off. The area around the end cap is textured to give you some grip whilst performing this task.
Before you use the Olight i1R EOS.
The Olight i1R EOS features a rechargeable built-in 80mAh 3.7V Li-On battery and to protect your torch during transit comes with a little Yellow insulating film. This prevents contact between the battery and the LED lamp. You'll need to remove this Yellow film by unscrewing the main torch body away from the end cap anti-clockwise until the two halves come apart. Now remove the film from the LED head area and reattach the two halves and tighten up in a clockwise motion.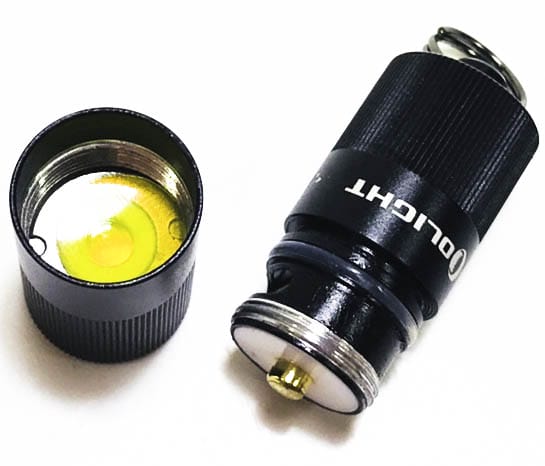 Charging.
You'll need to give the Olight i1R EOS a little charge before you're able to start using it properly. This is a very simple process which involves removing the torch head from the main body (The same process as above) and you'll see a Micro USB port located on the inside of the main body.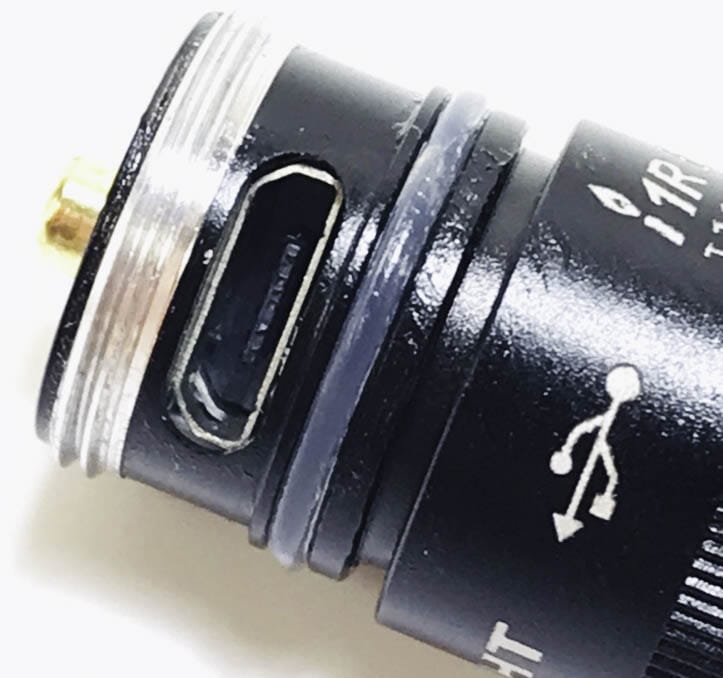 This port is where you're able to charge and recharge your torch. A simple 75-minute charge will give you around 7 hours (On low level) or 20 minutes (On high level) of battery life.
The supplied Micro USB is small and measures a mere 26.0cm in length. But you can use any Micro USB cable (It's the same cable type as a standard Android mobile phone). Next, you'll need to hook up the torch to a 5V DC power source. That's it!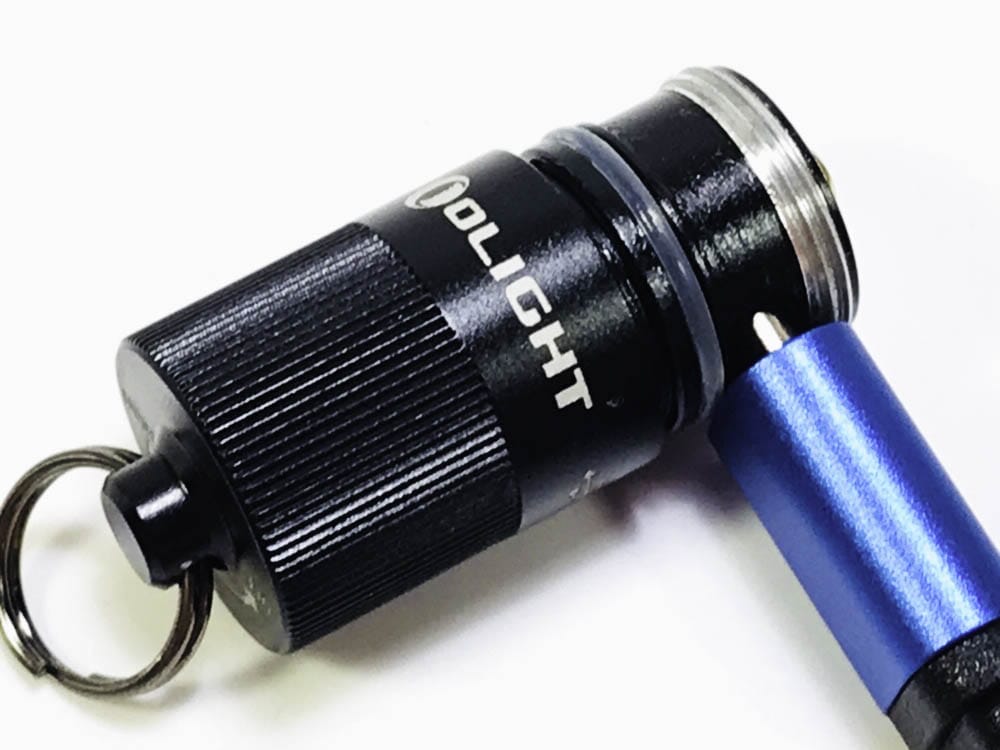 Oh, and another nifty feature of the Olight i1R EOS is the colourful LED charging status lights. The light will illuminate Red for charging and goes Green when fully charged.
Using the Torch.
Now that you've removed the Yellow insulating film, given your torch a charge, all that's left to do is try out and use the torch. To use you need to simply rotate the end cap clockwise, the first light level you get to is the low light level, if you keep rotating the torch will then light up with the highest level of light of possible. To turn off you need to keep rotating anti-clockwise until the light goes out. Don't rotate to much though or you'll start to unscrew the torch body from the cap and leave your torch open to the elements.
I couldn't fault the light output at all, for such a small torch I wasn't expecting much in the way of lighting, but certainly I was shocked, especially on the highest light level.
For those of you who are interested I've attached a little light specification snippet below for you.
Other cool features include an IPX8 waterproof rating, this basically means you submerge your Olight i1R EOS in water at a depth of 3 meters for over 30 minutes without any issues. But you need to ensure you've not completely unscrewed the main body away from the end cap or the rubber sealing ring will let water ingress into the body.
You can also be assured that the body of the torch has been designed to be durable as it's been drop tested and certified to be ok after a 1.5m drop.
LED Technology.
The Olight i1R EOS use the latest in LED lighting technology and features a high-performance Philips LUXEON TX LED which is paired with a TIR Reflector Optic lens. This combination produces a balanced and softer lighting beam.
You get a maximum beam distance of 54M and a 730 Candela light intensity level too.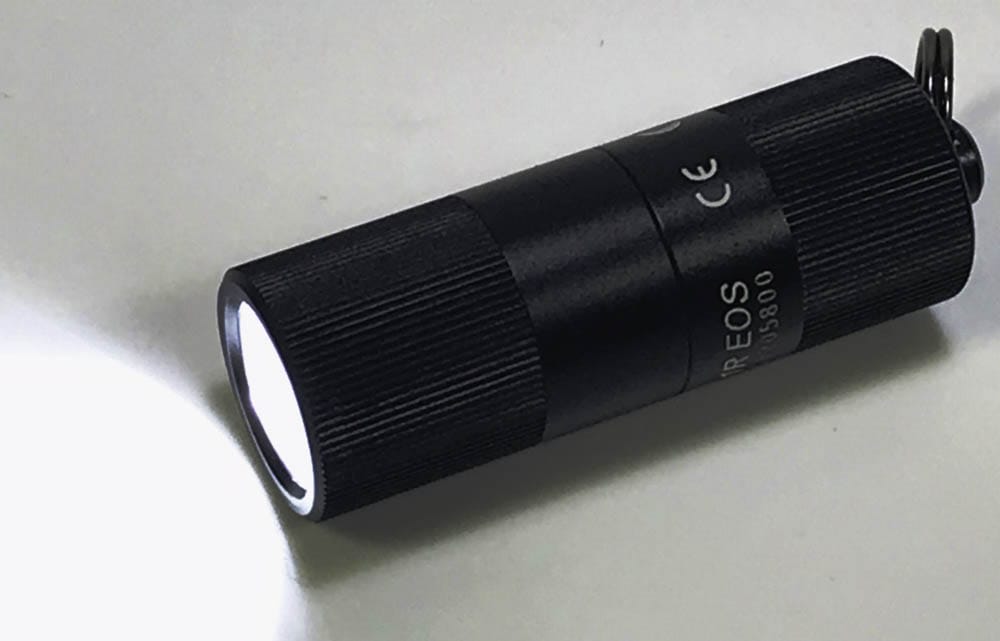 Product Image – Image Source – My Helpful Hints (Subject to Copyright)
Technical Specifications.
Brand: Olight
Model: i1R EOS
EAN: 6926540908450
ASIN: B07BXVGCWY
Beam Distance: 54M (Max)
Maximum Performance Lumens: 130 Lumens
Battery: Built-In Lithium-Ion Battery
Battery Specifications: 80mAh 3.7V
Charge Type: Micro USB
Light Intensity (candela): 730
Light Form: Wide/broad hotspot. Perfect for up close illumination.
Lens / Reflector Type: TIR reflector (big, defined wide hotspot)
Strobe: No
LED: Philips LUXEON TX
Waterproof Rating: IPX8
Compliance: CE, RoHS
If you want to see the user guide for the Olight i1R EOS, I have a PDF copy here. manual_i1r
Conclusion.
I really like the Olight i1R EOS torch. It's very small but packs quite the punch when needed. It's also super handy to keep with you on your keys without taking up too much room in your pockets too.
It feels very durable and you know with a brand like Olight that your torch will last a very long time. I also like the two light levels, keeping things simple and they're both perfect for what a small torch can do.
The only moan in this review is the small supplied Micro USB cable, it looks very stylish, but I just wish it was a little longer as it's too short to be used and means your torch hangs on the plug socket if you're using a wall charger.
Aside from the cable I absolutely love the torch and highly recommend you purchase one, it's also one of the cheapest models Olight do too, which is a bonus.
If you want the Olight i1R EOS torch for yourself, it's available for purchase only on Amazon. The RRP for this product is £14.95.
Product sample provided by Olight in exchange for a detailed, unbiased review.
---
Thank you for taking the time to read my post. If you'd like to add a comment or thought on this post, please use the section below. I can also be contacted via the online contact form. Please subscribe for the latest reviews, news, and discounts. Please follow My Helpful Hints on Twitter, Instagram & Facebook too!