Today is a first for the My Helpful Hints website, a review of a pet related product courtesy of Kennels & Kats Grooming Gloves. This is because on the 30th June 2019 we picked up a kitten.
Tammy who is now 4 months old is a female Torbie cat who loves to explore and get upto mischief. And, when it comes to brushing, she'll spend most of the time attacking the brush. So, could the Kennels & Kats Grooming Gloves be the answer?
She does love a fuss, so in theory stroking her with a glove wouldn't be any different to stroking her without a glove.
Tammy is a short/medium haired cat so doesn't shed a lot of fur, but it's still important to groom your pet, it not only removes uncomfortable loose fur, but also creates a bond between pet and owner.
So, are these gloves any good? Will Tammy be accepting? Time to test them out!
Packaging and Contents.
The Kennels & Kats Grooming Gloves comes packaged in a cardboard box, the box features Kennels & Kats logo. The box measures 24.5cm x 20.0cm x 5.0cm and weighs 470G.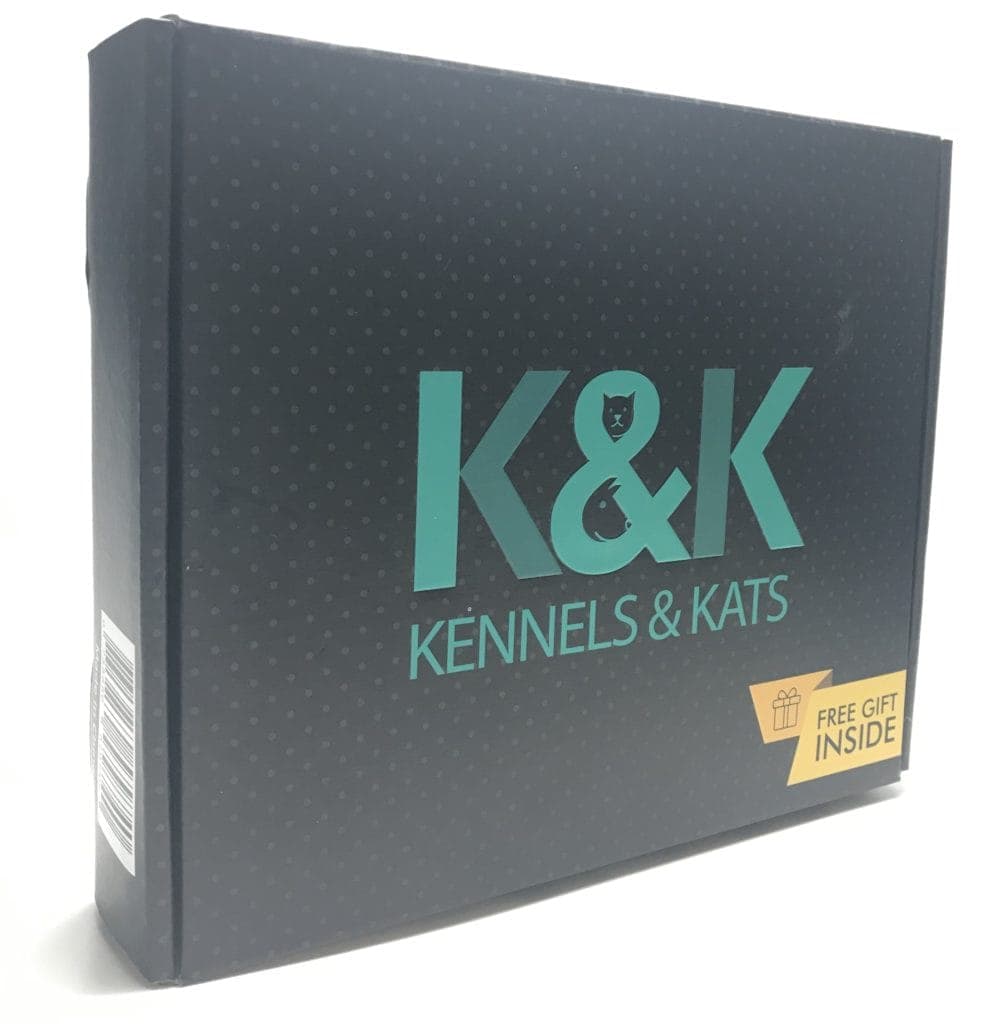 Upon opening the box you'll find the following; 1x Pair of Gloves, 1x Surprise Gift of a Massage Brush, 1x Company Info Sheet.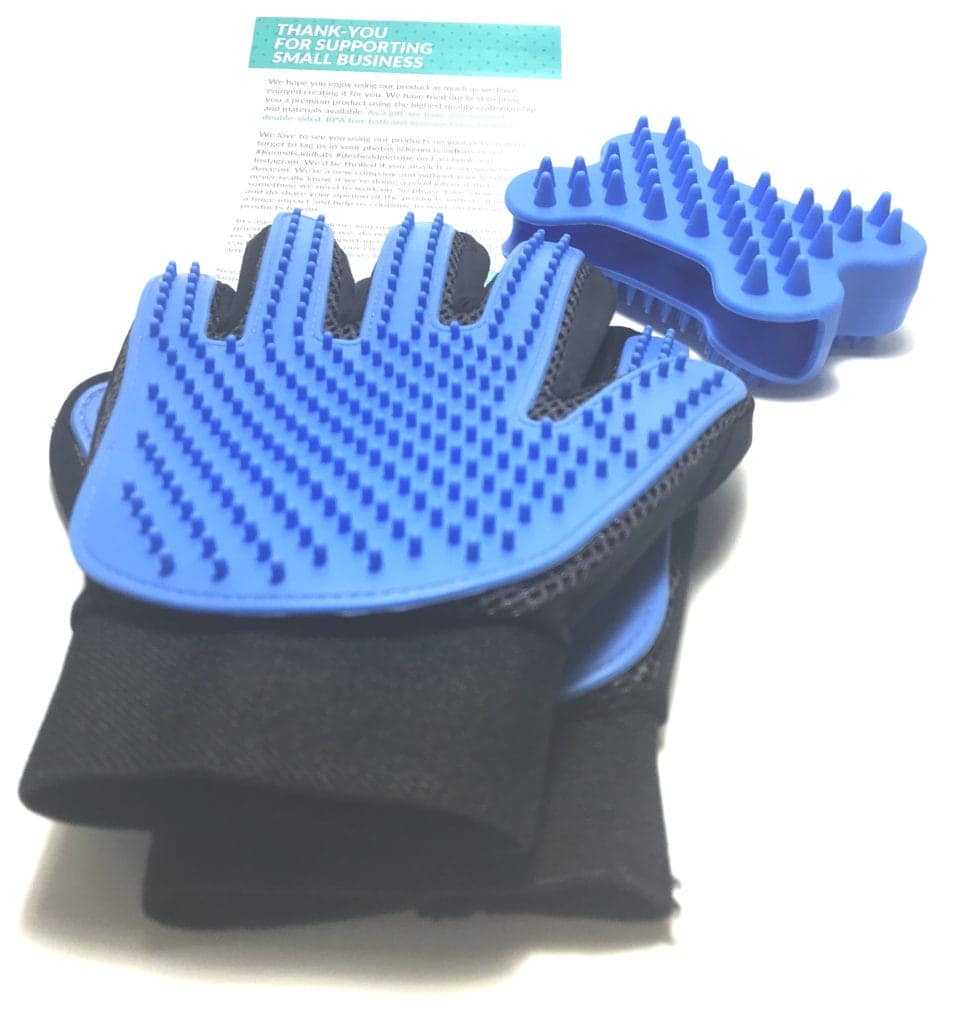 Kennels & Kats Grooming Gloves.
The gloves are Blue/Black and feature BPA-Free Silicone that collect loose fur from all your pets, not just cats! Each glove features an adjustable Velcro wrist cuff to ensure they fit for everyone. I'm normally a standard sized large when it comes to gloves and these gloves fit perfectly. If you have larger hands you might find they will be tight on the tips of your fingers. If you have smaller hands the gloves will still work as the extra length of each fingertip will still collect fur.
The concept of these gloves aren't new, in fact they've been around for a few years now, if you look on Amazon and search 'Grooming Gloves' you'll see over 20,000 results!
So, what sets Kennels & Kats apart? The first thing to note is the fact you get a pair of gloves; many other sellers only sell you the one glove. Also, Kennels & Kats have total faith in this product, in fact it's the only product they sell. They've worked hard to ensure they have the 'best gloves' on the market.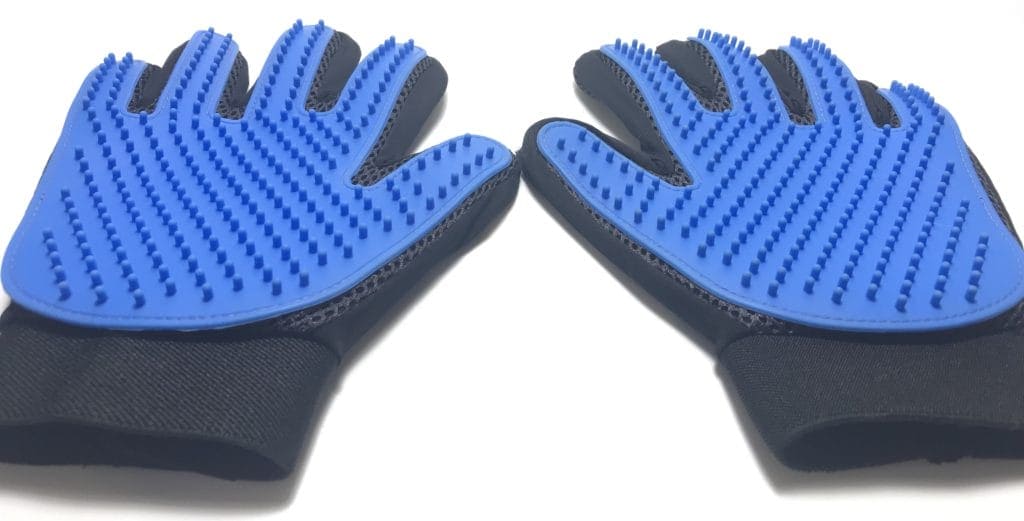 Each glove feature 260 Silicone raised tips that collect fur from your pet, pain free. Some grooming brushes/combs can hurt your pet as the bristles or teeth hurt the skin underneath, but with these gloves you only collect fur from the top or just underneath without pulling on the skin underneath.
Using the Gloves.
I thought Tammy would bolt as soon as I attempted to use these gloves on her, but in fact she allowed me to groom her without attacking me and running off. I'm right-handed so naturally I used my right hand to do the actual grooming, my left-hand became a decoy for Tammy to lick and play with and keep her distracted whilst I go undetected. For a cat/kitten you can only realistically use on glove at a time but having a pair of gloves supplied means they're suitable for both left and right-handed people.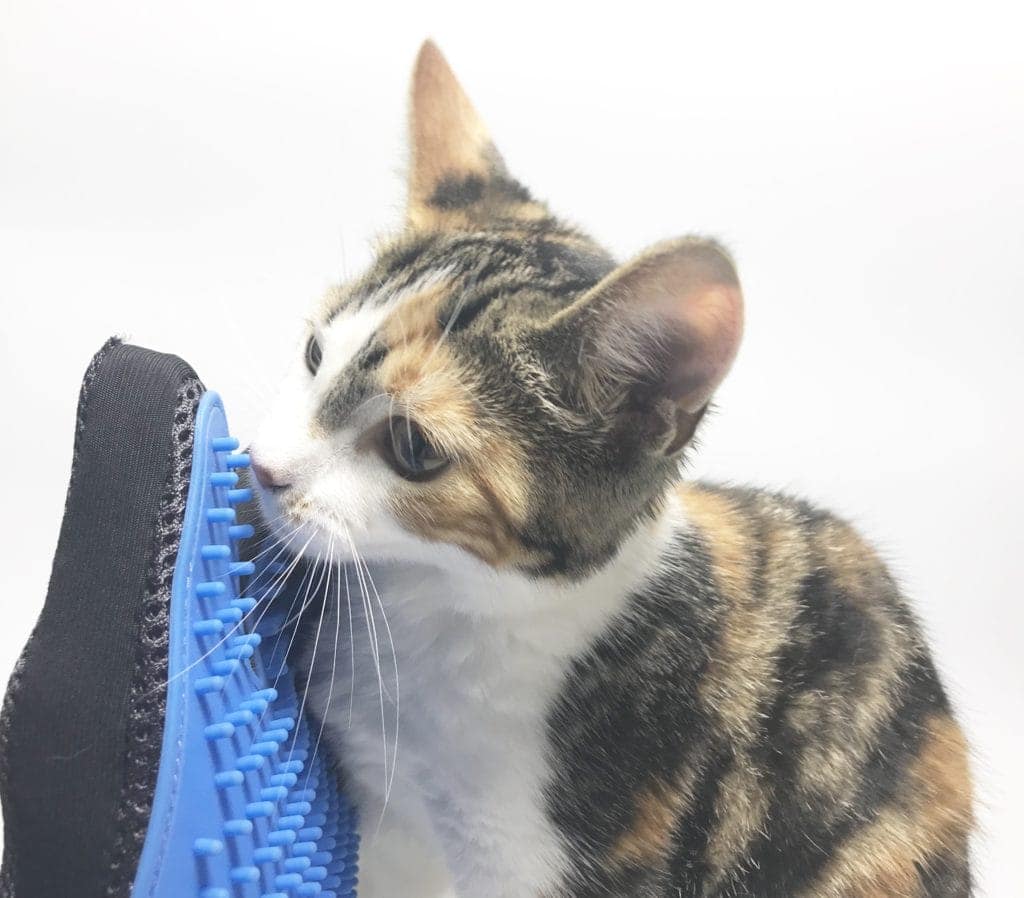 The above image took many attempts to try and capture as Tammy wouldn't sit still long enough for me to take a photo!
I was very surprised by how much fur Tammy shed, normally she doesn't lose a lot of fur, but surprisingly the gloves picked up a bunch of fur. But one thing I did notice is the raised nobbles on the glove failed to keep hold of Tammy's fur. Maybe it's because she's a kitten and the fur not very dense. But they still worked!
The grooming brush has not been used on Tammy yet, I thought it resembled a brush too much to attempt it. I didn't want to ruin any progress in getting her groomed using the gloves. But I'm sure it works great!
Technical Specifications.
Brand: Kennels & Kats
Model: Grooming Gloves
Model Code: N/A
Manufacturer Code: N/A
EAN: 0735850579740
ASIN: B07GD2YTLJ
Materials: BPA-Free Silicone
Compliance: N/A
Conclusion.
I think or rather Tammy thinks the Kennels & Kats Grooming Gloves are excellent. They work brilliantly at removing fur without causing any stress to your beloved pet. They're also comfortable to use too.
I think maybe Kennels & Kats could design another product aimed specifically at kittens and decrease the height of the Silicone nobbles on each glove to groom and capture fur as present not enough fur is being removed from Tammy to 'stick to the glove.
Overall, these gloves are fantastic, and I highly recommend them, they're great if your pet dis-likes being brushed.
If you want the Kennels & Kats Grooming Gloves for yourself, they're available for purchase only on Amazon. The RRP for this product is £8.97.
Product sample provided by Kennels & Kats in exchange for a detailed, unbiased review.
---
Thank you for taking the time to read my post. If you'd like to add a comment or thought on this post, please use the section below. I can also be contacted via the online contact form. Please subscribe for the latest reviews, news, and discounts. Please follow My Helpful Hints on Twitter, Instagram & Facebook too!