Today I'll be writing about the HX-1821 Telephoto Lens. I've previously reviewed a similar product in 2018 and thoroughly enjoyed the review. It was nice to get out in nature and be at one with the surrounding countryside near to my house. That review turned out to be quite popular, and so when I got my hands on the HX-1821 Telephoto Lens naturally my thoughts took me back to that SGODDE Monocular Telescope review.
The HX-1821 Telephoto Lens looks higher quality with an aluminium alloy body and a 15x macro lens, 0.45x wide-angle lens and an impressive 18x zoom lens.
This lens can be used on all smartphones and tablets, so it has more universal use over the SGODDE telescope as that model had a spring-loaded mobile phone adaptor, whereas the HX-1821 features a clip and shoot design.
So, is this any good? Time to test it out!
Packaging and Contents.
The HX-1821 Telephoto Lens comes packaged in a white cardboard box. The box measures 18.5cm x 15.5cm x 4.5cm and weighs 400G.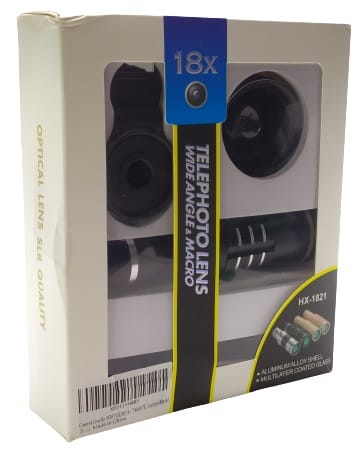 Inside the box you'll find the following: 1x Lens, 1x Clamp, 1x Wide Lens, 1x Macro Lens, 1x Tripod, Selection of lens covers and sights, 1x Bag, 1x Cleaning Cloth.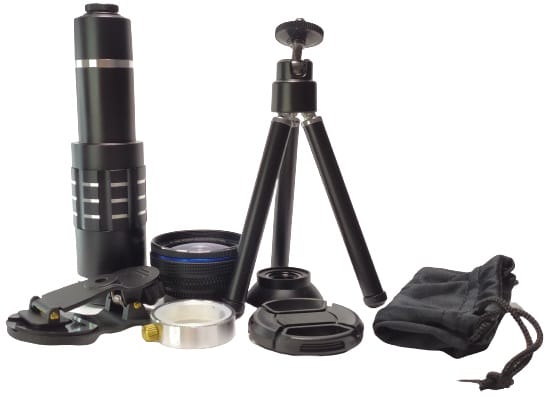 HX-1821 Telephoto Lens.
The HX-1821 Telephoto Lens is made from aluminium alloy, it's black in colour with silver being a choice too. The Lens itself measures 14.5cm x 3.5cm and weighs 135G. The lens clamps onto your device via the spring-loaded clamp, you can adjust tension with a knob on the underside.
The HX-1821 Telephoto Lens can in theory be used on all devices, but you're limited to height of the tripod, which can only extend to a height of 18.0cm, so if your device measure more than 18.0cm in height or when in portrait mode you'll find it useless.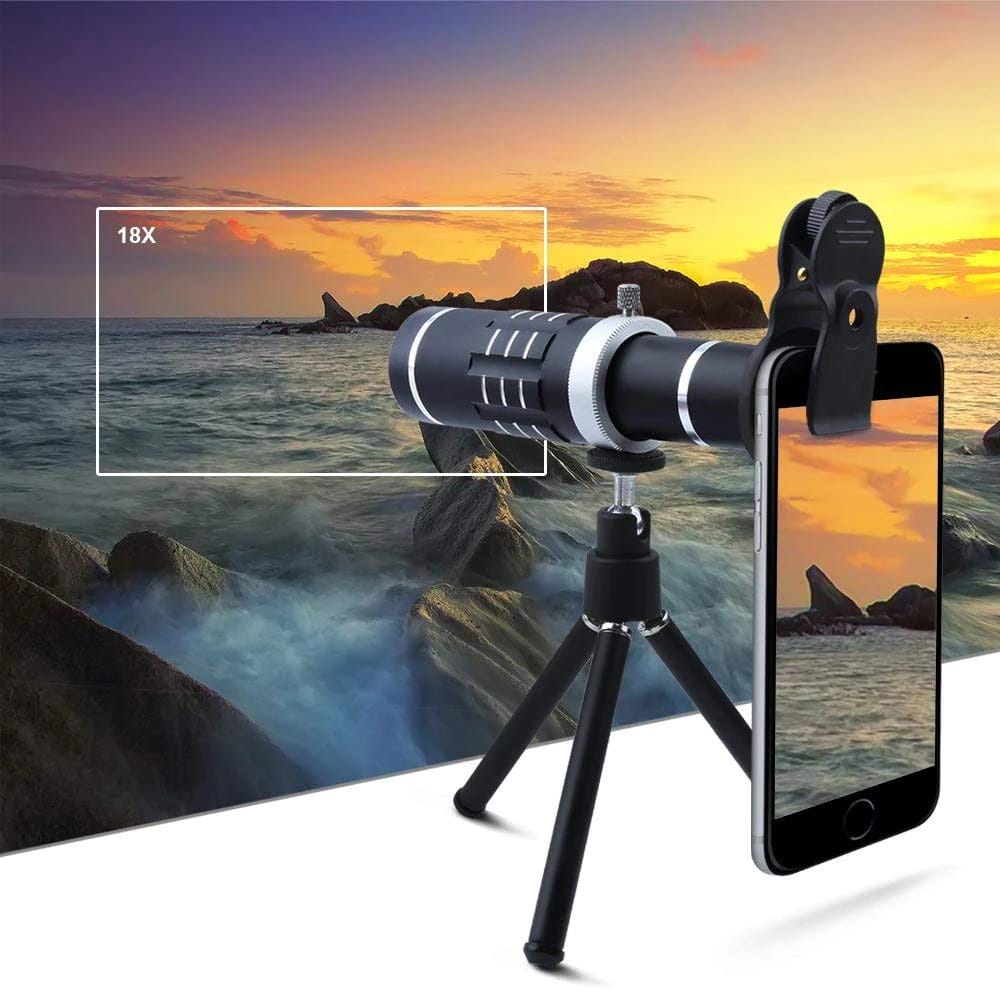 Technically you can the lens without the tripod, but you'll get nothing but shaky photos. It's practically impossible to capture any issues without the tripod. The lens is heavy for use on your device, it slides about, and it won't sit on your device properly.
And now comes the part that seriously annoyed me. The clamp seems to interfere with the capacitive touch system of your device, basically rendering the taking of photos on your device useless. It's like keeping your finger firmly pressed on the screen whilst trying to scroll, it won't happen. You need to use a wireless photo capturing device, such as a Bluetooth remote.
Testing out the HX-1821 Telephoto Lens.
Off I went into the countryside, I had nothing but issues. Firstly, I fell over near my car and hurt both wrists and grazed my right knee like a schoolboy with a playground injury. Secondly, I walked into a field and trod straight into some fresh steaming sheep shit. So already things weren't going well, then I had to use this useless telescope.
In fairness, when you don't use the touchscreen (because you can't) and use the Bluetooth control, and take a million images as the tripod is crap, you'll eventually get a decent image.
I tried the lens on a tree (circled) with a 300M+ distance on a golf course (less sheep business).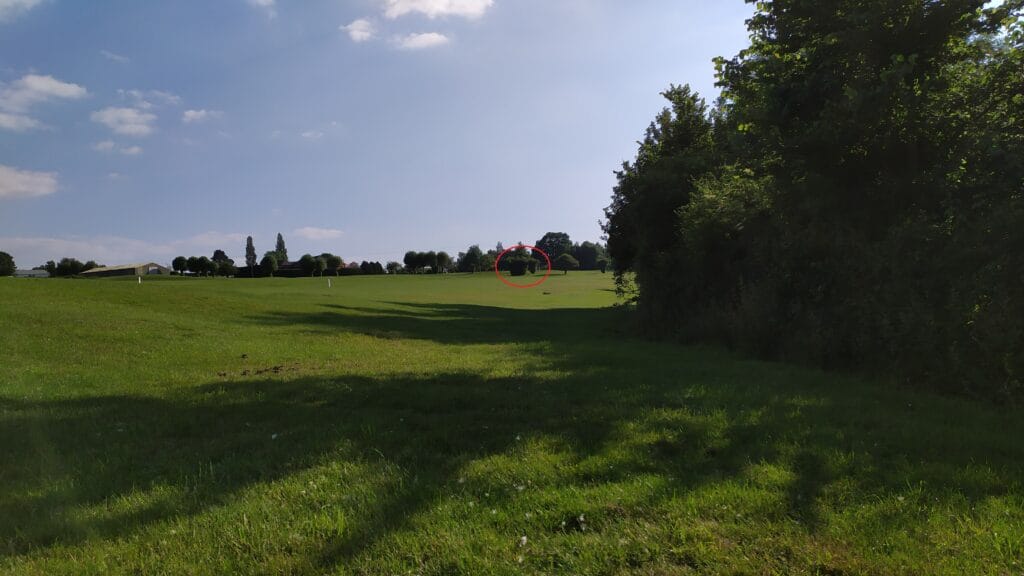 Same tree, but with the lens attached.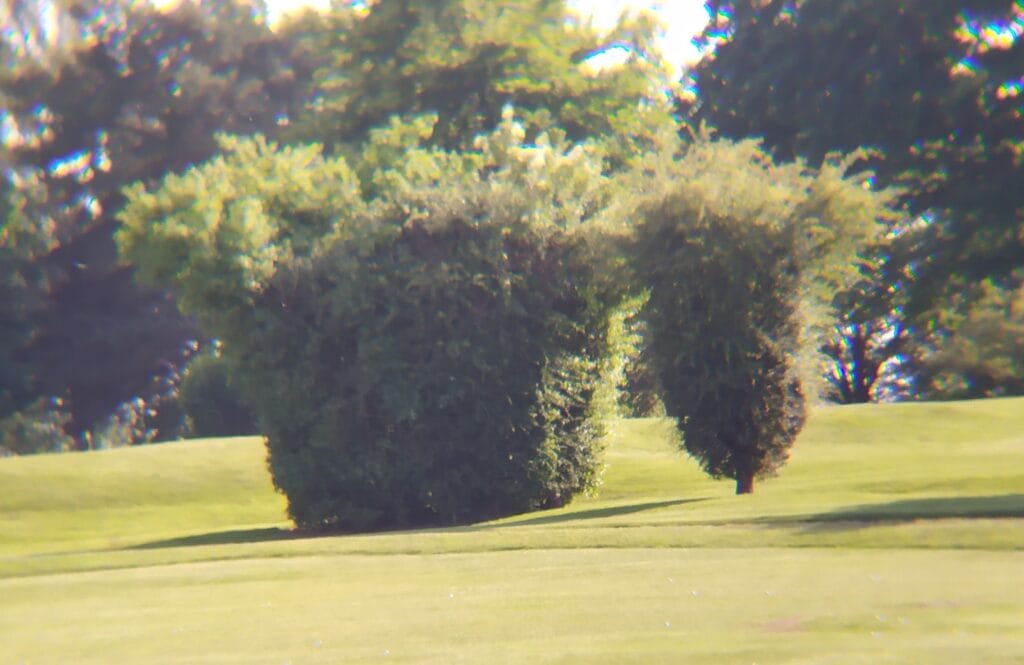 The above clearly demonstrates the distance you can zoom into, but quality is seriously affected. Blurry, lacking in colour and shaky as.
The wide lens made no difference to my standard Xiaomi Redmi Note 7 camera. Macro lens was OK, but I believe my phone has a better standard zoom without colour compromise.
Technical Specifications.
Brand: Unbranded
Model: HX-1821 Telephoto Lens
Model Code: HX-1821
ASIN: N/A
EAN: N/A
Magnification: 

18X

Lens: 30mm
Compliance: CE
Conclusion.
The HX-1821 Telephoto Lens is poor quality, unstable, shaky, and a complete faff. It's a shame as the build quality at first glance is quite impressive. But the weight of the aluminium alloy makes it unsuitable, it's simply too heavy as a mobile phone lens. The clamp is total garbage, why design a product that effectively stops you using it for its intended purpose of taking photos.
I cannot recommend the HX-1821 Telephoto Lens, yes, the zoom is good, but quality is seriously compromised to achieve this zoom. Also, my standard phone camera outperforms much of the telephoto lens too.
Gets a bonus point for perfecting my Captain Jack Sparrow look. Yarr! There be a crap review ahead matey.
If you want the HX-1821 Telephoto Lens for yourself, it's available for purchase only on AliExpress. The RRP for this product is £24.52.
Product sample provided by AliExpress in exchange for a detailed, unbiased review.
---
Thank you for taking the time to read my post. If you'd like to add a comment or thought on this post, please use the section below. I can also be contacted via the online contact form. Please subscribe for the latest reviews, news, and discounts. Please follow My Helpful Hints on Twitter, Instagram & Facebook too!