These sporty looking earphones by Betron promise to offer 6 hours of continuous music or talk time whilst also offering a quality wireless Bluetooth connection.  The V7 earphones offer High Definition and unparalleled rock-solid bass with an ultra-crisp treble.
Built with Bluetooth V4.1+ EDR APT-X audio decoding technology making it easier and faster to pair with iPhones, iPods, iPads, smartphones, tablets, and other Bluetooth enabled music devices.
It is the ultimate earphone for use while running, exercising, jogging, cycling and any other activity.  They are also great just for relaxing too!
With an in-built microphone the V7 also makes for great handsfree calling and can also be used for Skype.
Retail Packaging.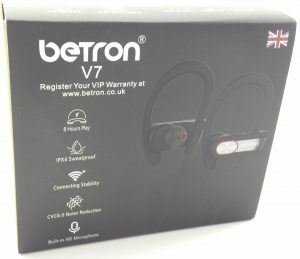 The retail packaging for the Betron V7 earphones has a premium feel to it, with a matt finish sleeve that contains a snippet of what the V7 can do.  The box measures 12cm x 10.5cm x 4.5cm and weighs 110G.
Upon sliding the sleeve, you get to the cardboard box section, this part of the packaging looks quite generic, like it can be used for different Betron models.  To open simply lift the flaps at the front.  Inside there is another cardboard box that contains your Betron V7 earphones and a side section that contains the other contents.
What's Included?
Well you obviously get your Betron V7 earphones, but you also get a Betron VIP card for exclusive offers and to register the warranty of your V7 earphones.  A simple to understand English set of user instructions.  A USB charging cable, and 2 different additional sized earbud tips.  There is also a wire tie to ensure you stay tangle free when using the earphones.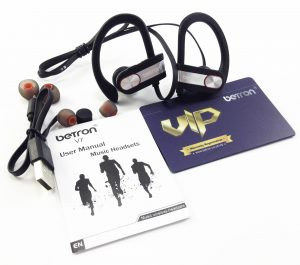 Betron V7 Bluetooth Wireless Earphones.
The Betron V7 wireless Bluetooth earphones have a modern look to them, finished with a brushed steel and a matt black two-tone colour scheme.  The earbud tips are well designed to fit into the ear comfortably and the upper ear hooks provide stability without being uncomfortable too.  Each earphone measures 45mm long x 47mm wide x and 33mm in height.  They weigh in total around 18G.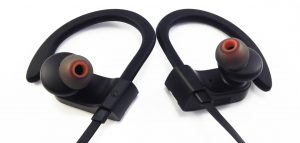 Upon a full charge which takes about 1.5 hours these V7 earphones can last 240 hours of standby and 6 continuous hours of talking or listening to music.  This is all thanks to the in-built Lithium Polymer battery.
Charging.
To charge your V7 earphones look for the right earphone and on the bottom, there is pull out rubber seal, pop it open and you will find the USB charging slot, I did find this rubber seal tight to open, but I guess it needs to be in order to be sweatproof.  The USB Charging cable is only around 20cm in length and could do with being a bit longer.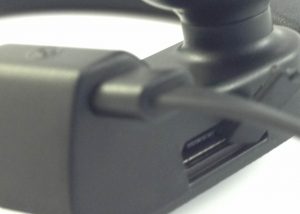 These V7 earphones by Betron also have in-built function buttons, you can control volume and accept phone calls all again on the right earphone only.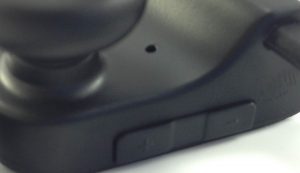 I tried these out on iOS and the V7 earphones managed to control the volume on my iTunes playlist.
These earphones also come IPX4 sweatproof rated, so they won't malfunction when you're getting sweaty working out and can also be used when it's raining outside, just remember they are splash-proof and not fully waterproof!
The cable between both earphones measure around 60cm and can be tied using the rubber wire tie if you find it too long.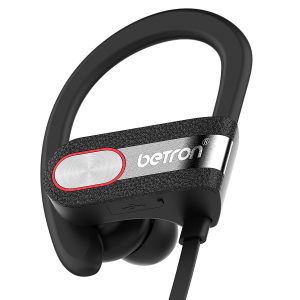 The earhooks are made from soft rubber so they won't hurt whilst running.  The shape of the earhooks also ensure that they don't slip around when moving too.
Technical Specifications.
Connection Type – Bluetooth 4.1 Version
Support Protocol – HFP, HSP, A2DP, AVRCP
Operating Distance – 10M
Battery Type –  Lithium Polymer
Battery Capacity – 110mAh
Charge Time – 1.5 Hours
Charging Port – Micro USB
Standby Time – 240 Hours
Usage Time – 6 Hours
Microphone – Yes
Ratings – IPX4 (Sweatproof)
Compliance – CE, FCC, RoHS
Conclusion.
I really like these V7 earphones from Betron, not only are they comfortable to use but also deliver a brilliant rich sound, I found the wireless Bluetooth connection very good with no signal drop at all.  Overall, I like to the look and would recommend these earphones.
If you want to buy these for yourself, they are available on 
Amazon and do come with a free 1-year warranty.  The RRP for these earphones are £34.99.
---
Thank you for reading this, feel free to comment down below, your input really matters to me.  I can also be contacted here.  Why not check out my other product reviews here.
Darren
---
Win these Betron V7 earphones that I just reviewed!