The Solmore 36 LED UV Stage Light is a 36W light which creates an amazing atmosphere at shows or parties with UV body paint and fluorescent lights.
Create intense colours and special effects using fluorescent materials, use some facial and body paint and glow in the dark.
The Solmore 26 LED UV Stage Light has bright UV LED lighting technology which is environmentally friendly compared to traditional fluorescent UV light tubes.
Retail Packaging.
The Solmore 36 LED UV Stage Light comes boxed in a Blue cardboard box with product images printed on it.  The box measures 20.0cm x 20.0cm x 10.0cm and weighs 1025G.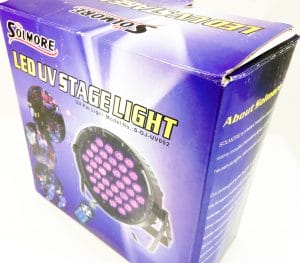 Contents.
When you open your Solmore 36 LED UV Stage Light box you will find: 1x UV LED Light, 1x Bracket, 2x Bracket Fixings, 1x Remote Control, 1x Multi-Lingual User Guide.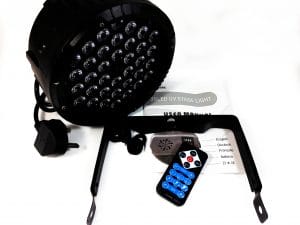 Solmore 36 LED UV Stage Light.
The Solmore 36 LED UV Stage Light is made from highly durable plastic materials, it's Black in colour and measures 19.0cm in diameter with a depth of 8.5cm, the light weighs 550G.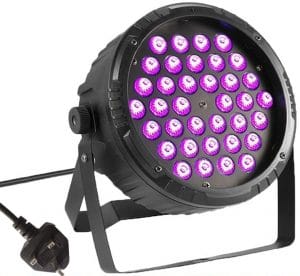 On the back of the light is where the main control settings can be found. You will see a DMX In Port, DMX Out Port, Menu Button, Up Button, Down Button, Enter Button, and an LCD display.
This light also comes with a small in-built 12V brushless cooling fan to assist with heat dissipation.
You get a main power lead with a UK standard BS1363 plug with a fitted 13A fuse. The power lead has a length of 1M.
Using the Solmore 36 LED UV Stage Light.
Firstly, you'll need to plug the light into a mains powered electrical socket.  Now you get two ways of controlling the light, you can either use the control buttons directly on the light itself or use the remote control.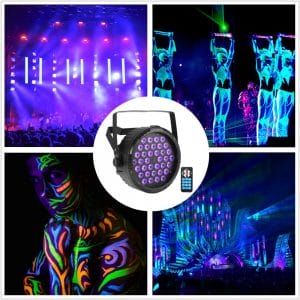 There are 5 different menu options if using the menu button on the back of the light, some of which don't apply to normal everyday use.
The menu options are:
D001 ~ D512 – DMX console mode
PL01 ~ PL16 – Variable Pulse (Use up/down keys to change speed settings)
FL01 ~ FL16 – Strobe Mode (Use up/down keys to change speed settings)
SOUD – Sound Activated, Changing Effects Triggered by Music
U064 ~ U255 – Manual Dimming (Use up/down keys to change brightness)
Remote Control.
The Solmore 36 LED UV Stage Light comes with a remote control that allows you to operate and alter changes to your light. You do need to point the remote control directly at the front of the light for it to work, but it does work all the way to a 5M in distance as advertised by Solmore, which is great!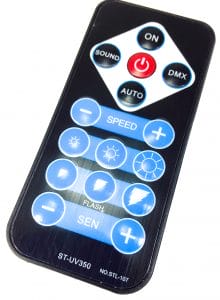 Technical Specifications.
Brand – Solmore
Model – 36 LED UV Stage Light
Model Code – SOLMOREgvygtfyktf22
ASIN – B0792STJPK
Input – 110V – 240V AC
Power – 36W
Frequency – 50 ~ 60 Hz
Light Source – 36 1W UV LED Lights
Beam Angle – 45°
Control – Auto, Sound, DMX512, Strobe
Compliance – CE, FCC, RoHS
Conclusion.
I really like this UV LED light by Solmore.  I was very surprised and happy that the remote control also worked, whenever I've reviewed similar lights before this has always been an issue.  The UV LED lights work well and overall i highly recommend this light for your next party or summer rave!
If you want the Solmore 36 LED UV Stage Light for yourself, it is available only on 
and comes with a full 12 Month Warranty.  The RRP for the light is £78.87.
---
Thank you for reading this, feel free to comment down below, your input really matters to me.  I can also be contacted here.  Why not check out my other product reviews here.
Darren