The Sephia A2 maybe small in size but can still produce a crisp and clear sound.
You get not only a modern and stylish looking speaker but also a portable all-in-one music system.

This Sephia A2 has a wide range of universal compatibility with a reliable Bluetooth connection ensuring all devices can easily connect to this speaker and also a AUX cable is supplied for non-Bluetooth devices.
You also get a built-in microphone for handsfree calling and answering your incoming phone calls!
Retail Packaging.
The Sephia A2 comes packaged very neatly in a Blue and White cardboard box, there is product images and specifications printed on it too.  The box measures 10.0cm x 9.5cm x 6.0cm and weighs 240G.
Contents.
Upon opening the Sephia A2 box you will find the following items. 1x Speaker, 1x USB/AUX Cable, 1x English Written User Guide, and 1x Sephia VIP/Warranty Card.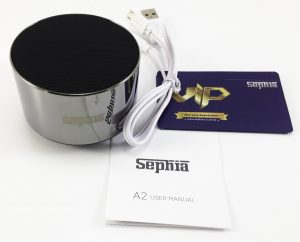 Sephia A2.
The Sephia A2 is made from a combination of metal and plastics.  The main speaker colour is polished Chrome with a Black speaker mesh on top and Black control buttons on the bottom.  The speaker measures 5.0cm tall x 7.0cm in diameter and weighs 175G.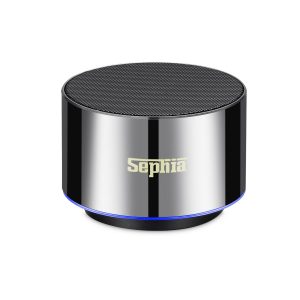 The main controls for the Sephia A2 are situated on the bottom of the speaker, this is rather annoying as you need to lift and look underneath the speaker every time to control any adjustments.  The buttons are located around the power on/off button in a circular tactile position.  These buttons control Volume Up/Next Track, Volume Down/Previous Track, Multi-Function Button, and the Play/Pause & Answer/End Call Button.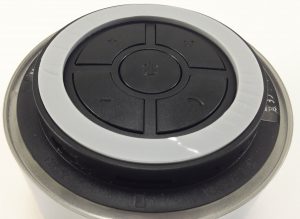 Along the bottom ridge there are numerous ports and functions, these are:  Microphone, Reset, Micro SD Card Slot, Micro USB Charging Slot.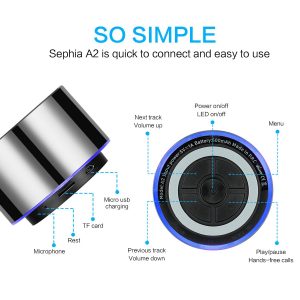 You'll notice there is a Grey rubberised ring around the control buttons, this is there to support the speaker when in use and stop it from vibrating out of control.  There's some packaging film on top of the ring that needs to be removed to allow the speaker to sit firmly on a hard surface and reduce vibration.
Using the Speaker.
As previously mentioned all the controls are located on the underside of the speaker, to start using the Sephia A2 firstly you'll need to give it a charge using the supplied USB cable (Which has a length of 53.0cm) and the speaker requires a standard 5V input to charge.  Charging takes around 2-3 hours, and this will give you around 4 hours of music playtime.  The speaker will light up Red when charging and turn off when fully charged.
You can also use the speaker whilst on charge too!
To pair the Sephia A2 to a Bluetooth device, simply power on the speaker by pressing and holding the power on/off button and the speaker will make a bleep sound and start to flash Blue.  Search on your device for A2 and connect.  If pairing has been successful, the flashing Blue light will turn to a steady lit Blue light.
That's it, you're good to go!
AUX Cable.
You can also use the speaker for non-Bluetooth devices too, simply use the supplied Micro USB cable, it has a AUX splitter cable that can be used in all standard 3.5mm input jack slots.  Press the Multi-Function button to put the speaker into AUX mode.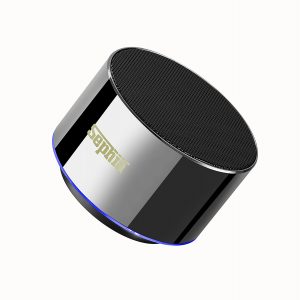 You also get the option to use the speaker in SD card mode, simply insert a Micro SD/TF Card upto 32GB (Like the one below).  The Sephia A2 can support the following formats MP3, WMA, WAV and many more!
The Sephia A2 also comes with a call answering function when using via a Bluetooth connection to any suitable paired device.  Press the Answer button to answer a call and press it again to end the call.
Technical Specifications.
Brand – Sephia
Model – Bluetooth Wireless Speaker
Model Code – A2
EAN – 506264025961
ASIN – B077S9GP4D
Input – DC 5V 1A
Connection Type – Bluetooth V4.2
Operating Distance – ≤10M
Battery Type –  Li-ion 500mAh
Output – 3W
Loudspeaker – 40mm
Frequency Response – 120Hz ~ 20KHz
Charge Time – 2-3 Hours
Charging Port – Micro USB
Usage Time – 4 Hours
Microphone – Yes
Micro SD Card – Support up to 32G
Compliance – CE, RoHS
Conclusion.
Although i love the sound produced from the little speaker the overall design is annoying.  Being polished Chrome, it attracts fingerprints so easily and within no time the speaker looks incredibly grubby.  This is not helped by the fact all the controls are on the underside and to get to them you have to touch the speaker again which transfers even more marks.  The pairing is simple, and the Bluetooth signal is excellent.  Also, you do need to remember to remove the packaging film from around the rubber ring or the speaker will vibrate around, once removed the speaker stays in position and the vibration is reduced.
Overall the Sephia A2 is a great sound producing speaker, but the design lets it down for me.
If you want the Sephia A2 speaker for yourself, it's available only on 
Amazon and comes with a 12 Month warranty.  The RRP for this speaker is £24.99.
---
Thank you for reading this, feel free to comment down below, your input really matters to me.  I can also be contacted here.  Why not check out my other product reviews here.
Darren