The Fancii Trifold Vanity Mirror (FC-VMM1510X) is a 4 panelled LED vanity mirror.
You get 34 bright, eco-friendly, and energy-efficient LEDs that mimic the effects of natural sunlight.  The Fancii LEDs are 2x brighter and have softer illumination than similar models and won't burn out like traditional incandescent bulbs!
The dimmable light function uses touch sensor technology to ensure that you always have the right amount of light, even in dim lit conditions.
Two powerful magnification options in one vanity mirror ensure every detail of your hair and makeup is in perfect place.  The large normal mirror is great for viewing your entire profile while the 5x and 10x mirrors are suitable for close-up and detailed work.
Retail Packaging.
The Fancii Trifold Vanity Mirror comes packaged in a White and Black cardboard box, the box features product illustrations, and specifications.  The box measures 28.5cm x 18.0cm x 9.0cm and weighs 1120G.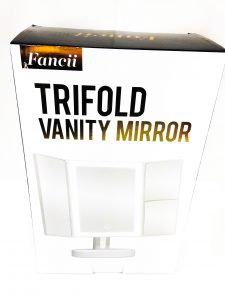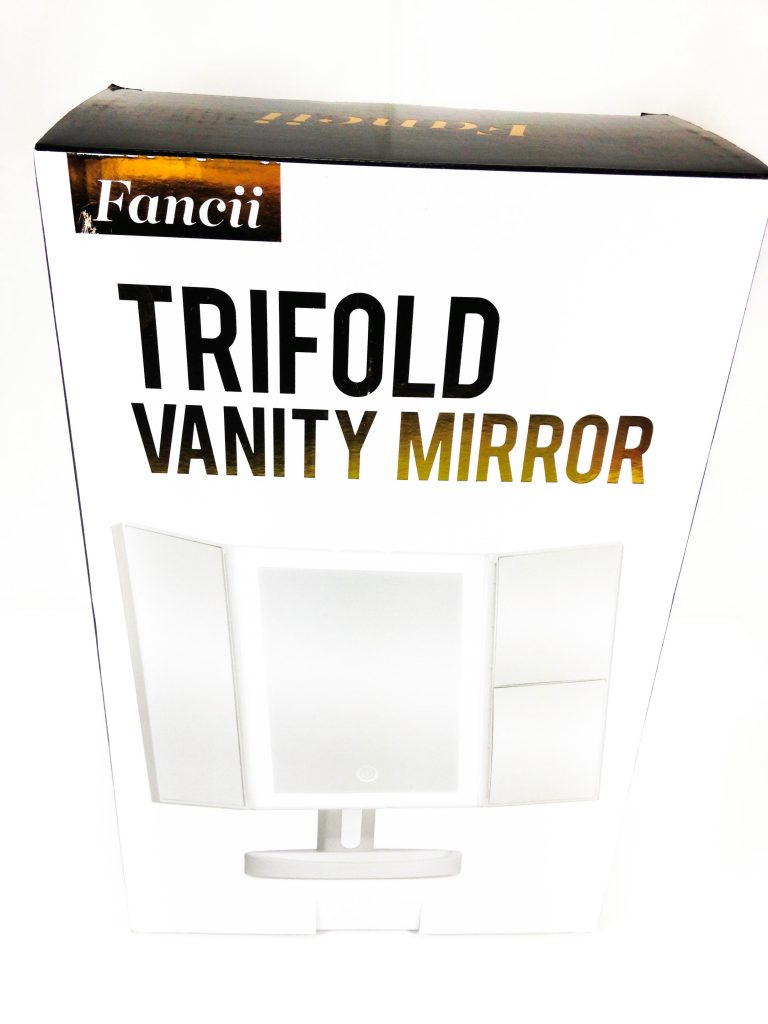 Contents.
Upon opening the Fancii Trifold Vanity Mirror box you will find the following items. 1x Trifold Mirror, 1x Mirror Base, 1x USB Cable, 1x English Written User Guide, 1x Company Contact Card.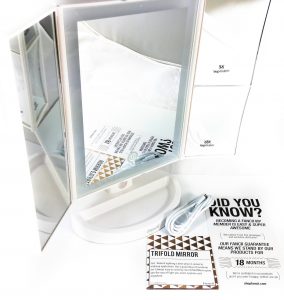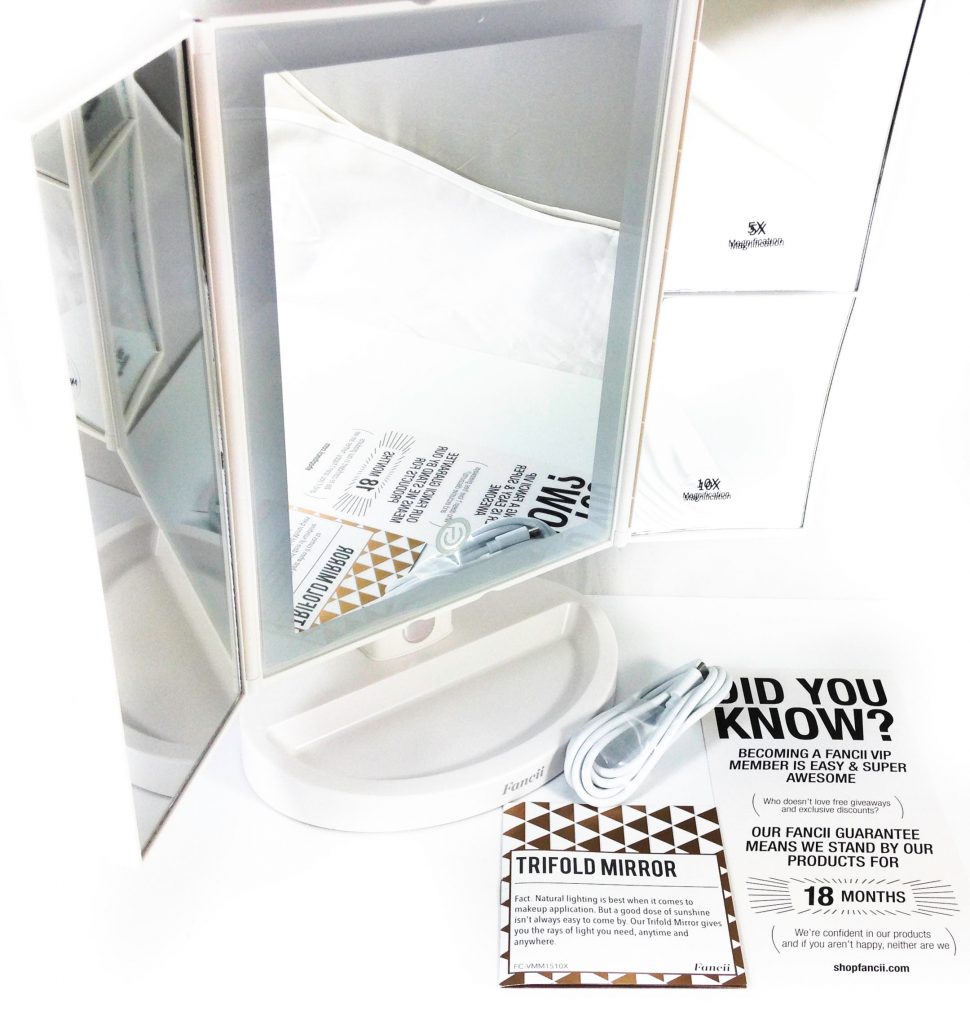 Fancii Trifold Vanity Mirror (FC-VMM1510X).
The Fancii Trifold Vanity Mirror is made from durable plastic and is White in colour.  The mirror when assembled and folded up measures 29.0cm high x 17.5cm wide x 12.0cm deep and can extend to a width of 33.5cm.  The mirror weighs 945G.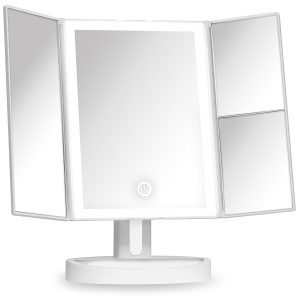 The trifold vanity mirror's base also doubles up as a handy storage tray, perfect for tweezers and other make up items.  At the bottom of the base there are 4 rubber feet that provide grip on any hard surfaces.
You can use either 4x AA Batteries (Not Included) or the supplied USB Cable (Which has a length of 150.0cm) to power on the LED lighting on the mirror.  To turn on/off the lighting you need to simply touch the power button on the main mirror screen.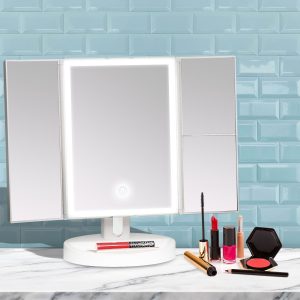 The trifold vanity mirror features 4 different mirrored glass sections.  You get two normal mirrored glass sections, and you also get both a 5x and 10x magnified mirror section too!
Adjustment.
You can adjust and position the trifold vanity mirror in any upward and downward direction and can position the mirrored panels inward and outward to give you all round wide angle view.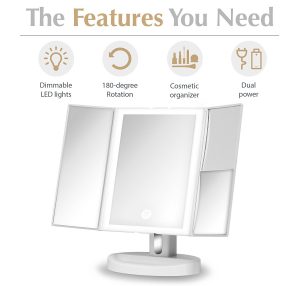 On the back is where you can insert the batteries and USB plug. There is also a main USB port power button.

The Fancii trifold vanity mirror comes with 34 built-in LED lights, the lighting replicates natural daylight and can also be dimmed by pressing and holding the power button on the front panel to your desired lighting level.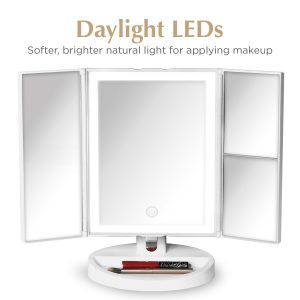 The battery powered lighting option is best suited for a bathroom environment.  Whilst the USB powered option is best suited for a bedroom type environment where no water can ingress into the mirror.  The Fancii trifold mirror is not waterproof!
Technical Specifications.
Brand – Fancii
Model – Trifold Vanity Mirror
Model Code – FC-VMM1510X
EAN – N/A
ASIN – B077XNFXTJ
Power Type – 4x AA Batteries (Not Included) or 5V USB Power
Compliance – CE
Conclusion.
I really like the simple design of the Fancii trifold vanity mirror.  The plastic base is also great for a bathroom environment as a metal base would start to rust over time.  The base is secure and supports the mirror with ease and the rubbered feet on the bottom of the base stops the mirror from moving around too!
Overall i highly recommend this mirror.  The LED lighting is bright and the magnified mirrored panels will ensure all areas of your beauty regime are to a high and professional standard.
If you want the Fancii Trifold Vanity Mirror (FC-VMM1510X) for yourself, it's available on 
Amazon and on the Fancii Website and comes with an 18 Month warranty.  The RRP for this mirror is £59.99.
---
Thank you for reading this, feel free to comment down below, your input really matters to me.  I can also be contacted here.  Why not check out my other product reviews here.
Darren