The Digoo DG-TH8888 Weather Station is a large LCD screened device that can accurately tell you both indoor and outdoor temperatures.
You can also use it to for weather forecasts, moon phase indication, date/time information, and even use it as an alarm clock.
You get 1 outdoor sensor supplied with the kit.  But, for really accurate results you can purchase 2 additional outdoor sensors to record accurate recordings.
But is it accurate? Is it any good? Time to test it out!
Retail Packaging.
The Digoo DG-TH8888 Weather Station comes packaged very neatly in a Grey cardboard box, there're product images and specifications printed on it too.  The box measures 27.0cm x 14.0cm x 4.0cm and weighs 400G.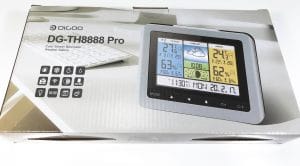 Contents.
Upon opening the Digoo DG-TH8888 Weather Station box you will find the following items. 1x Indoor Station, 1x Outdoor Station, 1x Micro USB Cable, 1x User Guide.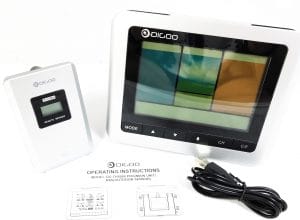 Digoo DG-TH8888 Weather Station.
The Digoo DG-TH8888 Weather Station is a two-part system, the main colour scheme is Silver with some Black detaling.  The indoor unit measures 16.5cm x 12.5cm x 3.0cm, whilst the outdor unit measures 9.5cm x 6.0cm x 2.0cm and both feature a pull out stand too.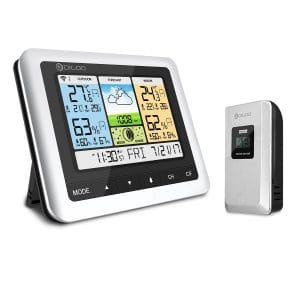 On the top of the indoor unit you'll see a top bar which will light up the screen for around 5 seconds (On Battery mode).  There're 6 user control buttons on the front too!
Setting up is easy.  You need to insert 2x AAA batteries into the outdoor unit and place it outside, you can choose to place on a table with the stand or hang it up using the hanging hole on the reverse.
The indoor unit can be run using either 3x AA batteries or using the supplied power USB lead (Which has a length of 120.0cm) but, you'll need to plug one end into any 5V DC plug adapter if using the cabled option.
That's pretty much it for powering them both up.
Setting the Time/Date.
You'll need to set up the time/date on the indoor unit.  To do this press and hold the Mode button for 3 seconds and the clock area will start to flash.  Use the Up and Down keys to adjust hour, minute, year, month, date, language selection, and time zone and pressing the Mode button to save each entry each time.
That's it, you're all set up and ready to predict the weather like an absolute pro!
You can if you wish choose to use the in-built alarm clock.  To snooze the alarm, press the top wake up button.
As previously mentioned you can if you wish purchase another two outside units to give you a more precise reading but I think just the one is fine.
Using the Weather Station.
The actual using of the weather station is very easy.  You don't have to do much to be perfectly honest with you.  The LCD is large (Measuring 11.0cm x 7.0cm) and is easy to read.  You can also light up the screen by pressing the top bar.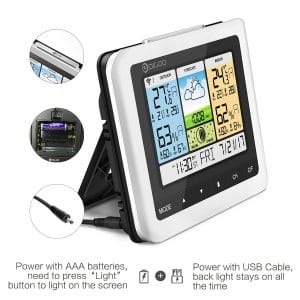 I chose to power the indoor unit using 3x AA batteries as the cable supplied wasn't long enough to reach any power outlet.  I'm not sure how long the unit will stay alive on battery power alone.
You can see both the temperature and the humidity for indoor and outdoor readings.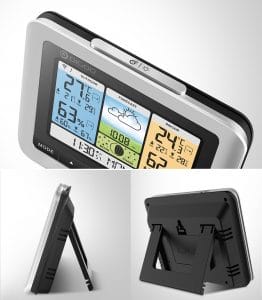 The weather forecast uses the in-built barometer and will display a forecast for sunny, partly cloudy, cloudy, rainy, stormy, and snow forecasts.  The barometer has a working range of 800hpa~1100hpa.
Technical Specifications.
Brand – Digoo
Model – Wireless Weather Station
Model Code – DG-TH8888 Pro
EAN – N/A
ASIN – B072MPW547
Indoor Temperature Range – 0°C – 50°C
Outdoor Temperature Range – -20°C – 60°C
Indoor & Outdoor Humidity Range – 20% RH ~ 99% RH
Pressure – hPa/inHg
Radio Frequency – 433.93 MHz
Barometer Range – 800hPa – 1100hPa
Compliance – CE
Conclusion.
I really like this weather station from Digoo.  It's easy to set and use and easy to see the information on the large LCD screen too!  It's also quite a modern looking piece and doesn't look out of place in a modern living room environment either.  I wish the cable was around 30cm longer and came supplied with a UK Plugtop rather than a USB lead only.  But, overall, I can't fault it really.
If want the Digoo DG-TH8888 Weather Station for yourself, it's available only on 
Amazon and comes with a 12 Month warranty.  The RRP for this weather station is £33.59.
---
Thank you for reading this, feel free to comment down below, your input really matters to me.  I can also be contacted here.  Why not check out my other product reviews here.
Darren