Business Description
I make bags, and bag-related items, using as much reclaimed fabric as possible. Each is unique and features either my own appliqued designs or patchwork, hence maximising the use of even the smallest pieces of fabric!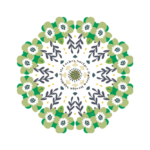 Business Description
Lyla Forbes is a featured artist and partner at Limited Art Collections, specialising in Surface Pattern Design. Lyla Forbes designs can be found worldwide on home decor, wearable art, textiles and unique accessories. An Eco friendly business and a @justacard supporter, rooting for and shopping at local Indie businesses.