Business Description
Bridal tiaras to fashion jewellery all handmade to create that perfect piece for you.
Business Description
I make a variety of hair accessories; headbands, headties, snoods and scrunchies. I have an exclusive range using different fabrics and patterns, suitable for any age. I have been inspired by many years of worldwide travel and love of beach life. My handmade hair accessories make a lovely gift, but why not treat yourself!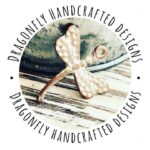 Business Description
Hi I'm Lou and I am the owner of Dragonfly Handcrafted Designs. I am based in Devon where I design, create and sell handmade jewellery and gifts in my little workshop. My jewellery is inspired by my love of nature and my kids jewellery and gifts are carefully curate, designed and tested by my two daughters! I pride my business on every piece being unique and not mass produced like you see on the high street. I ensure that I take lots of time in each piece and pay the utmost attention to detail to ensure you purchase a high quality design. I am very keen to provide you with designs that complement your chosen outfits and to make maximum impact wherever you go and so that you look and feel fabulous! I offer ready made items, bespoke designs service, sterling silver craft supplies and stationery.