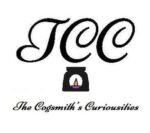 Business Description
The Cogsmith's Curiosities is a small business in the Black Country supplying alternative giftware such as dragon, fairy, skull and wolf ornaments as well as incenses and holders. We strongly believe in being an ethical business and our products are sourced accordingly – we try to ensure that everyone in our supply chain treats their employees well, from warehouse workers in the UK to the artisans in Northern India who produce our handcrafted incense holders.
Business Description
Maker of magical fairies using recycled fabrics.