Business Description
RachieRooCards is an online card shop which makes handmade, bespoke cards. Cards which are special cards and can be personalised. RachieRooCards wire cards are particularly popular with dog lovers. What's great is the unique communication between seller and buyer, creating the perfect card.
Business Description
At Button Moon Creations you'll find framed embroideries and jewellery, but now and then I'll add mosaics and pebble-people pictures. I'm a small new online business based in Nottingham, UK, where everything is handmade in my spare bedroom! I'd love you to pop along to my website for a look around, because you won't find any of my gifts in the shops.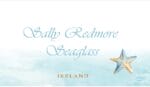 Business Description
Greeting cards and art pieces created from seaglass and sea pottery found on the beaches of The Wild Atlantic Way in Ireland.